Trump's Attack On Sadiq Khan Is Sadly What People Have Come To Expect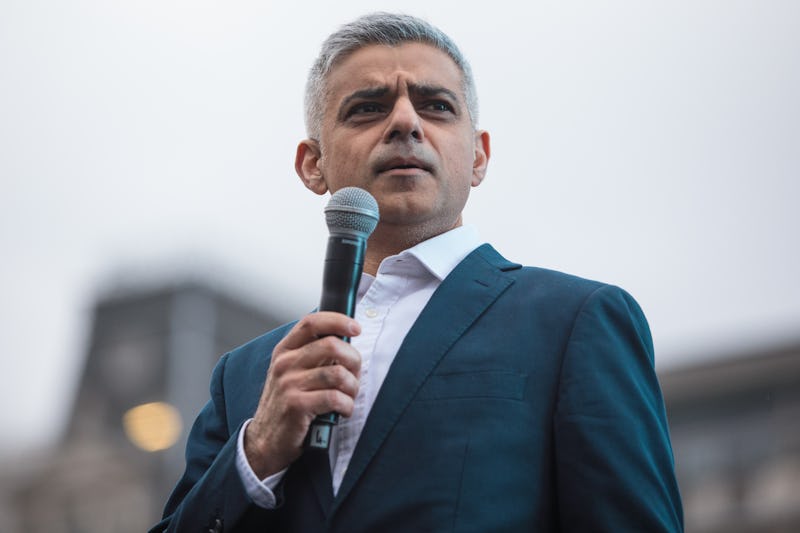 Jack Taylor/Getty Images News/Getty Images
While leaders the world over offered words of support and condolences, President Donald Trump took a markedly different tack in his response to the terrorist attack in London. On Twitter, Trump appeared to attack London mayor Sadiq Khan and tried to boost support for his hyper-controversial immigration ban that's currently mired in the courts.
Trump's combative tone in the immediate aftermath of the attack was neither subtle nor diplomatic. Rather than cast himself on the same side as Khan ― the mayor of the capital of one of America's longest-standing and most durable allies ― Trump decided to drag him through the mud.
Specifically, he nabbed a quote from Khan out of context, and used it to paint him as soft, feckless, and unaware. Khan had told the British public there was no need to be alarmed by the police presence in the wake of the attack had ended. On Twitter, Trump removed the context of Khan's statement, writing, "At least 7 dead and 48 wounded in terror attack and Mayor of London says there is 'no reason to be alarmed!'"
As if this weren't bad enough, Trump returned to the same comment the next day, calling it a "pathetic excuse."
Now, you might imagine that this is just standard operating procedure for Trump. That any terrorist incident ― provided the perpetrators are Muslim, since he certainly took his time condemning or even acknowledging the killings of two men by a virulent white supremacist in Portland last month ― is a chance to throw some rhetorical bombs.
But in this instance, there's an incredibly similar event that took place mere weeks ago to compare against his London response: the bombing of Ariana Grande's concert in Manchester, which left 23 people dead, with many still in critical condition. Did Trump attack and make demagogic, misleading statements on Twitter about Manchester mayor Andy Burnham? He did not.
Rather, his only tweets that seemed connected to the incident were exactly the sort of boilerplate, respectful, solemn messages a leader would normally be expected to send out.
So, what gives? Why is Khan, a man who made history by becoming the first Muslim mayor of London, the target of Trump's scorn, while Burnham and Manchester officials didn't feel any of his simmering wrath? It's impossible to say for sure, but it's certainly in line with the rest of Trump's slew of offensive, disparaging remarks about Muslims over the last few years.
This isn't idle speculation, or something that has no basis in his repeated, on-the-record public statements. While Trump has softened his rhetoric ever-so-slightly since becoming president ― when speaking in Saudi Arabia for example, in a situation where it made political sense with a potential arms deal in the works, he adopted a far more conciliatory tone ― his pre-presidential record was nothing to boast about.
During the campaign, he falsely insisted that thousands of New Jersey Muslims celebrated the 9/11 attack. He called for the families of terrorists to be executed, and repeatedly shared a (likely false) story about the late General John Pershing executing Islamic insurgents in the Philippines by shooting them with bullets dipped in pig's blood. He called for a "total and complete shutdown of Muslims entering the United States," which eventually mutated into the "travel ban" now being stifled by the courts.
And, of course, he cruelly attacked Khizr and Ghazala Khan, the Muslim Gold Star parents of a slain U.S. soldier for opposing him politically, something that was once utter anathema in American politics. The attacks played on explicitly bigoted stereotypes, too ― specifically, Trump implied Ghazala Khan wasn't permitted to speak for herself during the Democratic National Convention, when in reality she stayed silent due to the intense grief that her son's death still causes her.
And, in perhaps the most illuminating remarks on the subject, he explicitly told CNN's Anderson Cooper prior to winning the GOP nomination that he believes Islam "hates us."
I think Islam hates us. There's something, there's something there, there's a tremendous hatred, there. There's a tremendous hatred. We have to get to the bottom of it. There's an unbelievable hatred of us. ... There is a tremendous hatred, and we have to be very vigilant, we have to be very careful, and we cannot allow people coming into this country who have this hatred of the United States and of people who aren't Muslim.
When Cooper asked Trump whether he was talking specifically about radical Islam or Islam itself, the now-president of the United States replied that the distinction wasn't so clear to him:
Well, it's radical, but it's very hard to define. It's very hard to separate, because you don't know who's who.
Despite having broken plenty of promises and shown little commitment to any particular ideology throughout his time as a politician, Trump has remained notably consistent in his views about Islam. Which makes it totally fair to question whether the real reason he took a swing at Khan was because of a deep seated anti-Muslim bias.
The White House, for the record, has denied the suggestion that he attacked Khan because he was Muslim; Deputy Press Secretary Sarah Huckabee Sanders called it "utterly ridiculous" during a Monday press briefing. Whether it's actually ridiculous to suspect that of someone with Trump's robust, ugly record of public statements about Islam and Muslims, however, is for anyone to decide.