Trump's Base Will Be Pissed Off About The Paris Climate Pullout, Too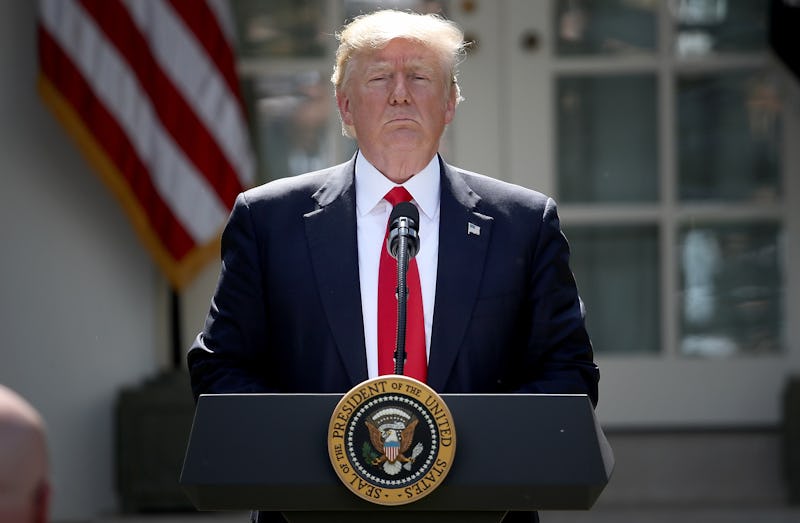 Win McNamee/Getty Images News/Getty Images
On Thursday, after much suspense, President Trump announced that he would withdraw the United States from the Paris Agreement, the landmark climate accord from 2015 which was negotiated by his predecessor, Barack Obama. Trump's decision follows through on a campaign promise to do so, but there are more than a few conservative politicians and sections of his base who are disappointed by the move.
Trump's decision makes the United States one of just three countries — along with Nicaragua and Syria — that are not participating in the worldwide plan to reduce carbon emissions. It comes after 20 top Republican senators pressured him to do it. But despite the support from his party's leadership, Trump's action does not reflect a universal agreement among the GOP.
According to a study by the Yale Program on Climate Change Communication, 47 percent of Trump voters support staying in the agreement, and such notable Republican leaders as former presidential nominee Mitt Romney and Maine Sen. Susan Collins have expressed their unhappiness with the president's decision to go back on America's commitment to lower its carbon emissions. For conservatives who fight for climate action, Trump's actions are a step in the wrong direction, but don't have to be a step too far.
"The president said that he didn't want other nations of the world laughing at us, but his actions today will cause the rest of the world to laugh at us," Bob Inglis, a former Republican Congressman from South Carolina and founder of RepublicEN, an advocacy group that tries to get Republicans to care about climate change, tells Bustle. "Because he's in the process of becoming the worldwide face of climate hoaxerism. And we really have gone to the sidelines of civilization here."
But Inglis doesn't see this fight as over, and remains committed to pushing the Republican party away from climate denial. "What I know from contacts with members of Congress and senators is that there are a good number that are looking for a way to move away from this disputation of the science," Inglis says. "They've just got to figure out how to do that while keeping support on the right."
One model for that might be the advocacy of Debbie Dooley, president of Conservatives for Energy Freedom, and a longtime supporter and organizer for Trump since the early part of the Republican primaries. Though she thinks conservatives (and the president) need to do more to fight climate change, she thinks that Trump's remarks about the withdrawal show some positive progress. "I would have felt better if he were to stay in it and renegotiate it," Dooley tells Bustle. "But the fact Donald Trump's talking about renegotiating — and I really believe that he is going to make a good faith effort to renegotiate Paris — I have a lot of faith seeing his speech. America needs to lead on clean energy."
Dooley says says that the way to convince Republicans to act on climate change is by focusing on economic arguments like energy independence, which is what she thinks the President did. "I don't care one bit about why someone wants to invent clean energy," says Dooley. "I just care that they do."
However, for all advocates on this issue, it's clear that there is a big challenge ahead. Kyle Meyaard-Schaap, national organizer for Young Evangelicals for Climate Action, tells Bustle that Trump's actions with regards to Paris are "discouraging," but adds, "I always have hope."
"The work doesn't end here," says Meyaard-Schaap. He points to how young people in this country — including many evangelicals, who are normally on the right on so many issues — have such overwhelming views in favor of acting on climate change. The challenge is turning those views into action from politics.
The key, according to Meyaard-Schaap, will be getting conservatives to make it clear to their reps that climate change is important to them. He says, "We continue to drive people to engage with their political leaders in their communities, to show up to town halls, to build relationships with their local political leaders, to build relationships with their congressional offices, to continue to communicate about their desire for them to show leadership on climate."