Trump Wished Maxine Waters A Happy Birthday With The Shadiest Tweet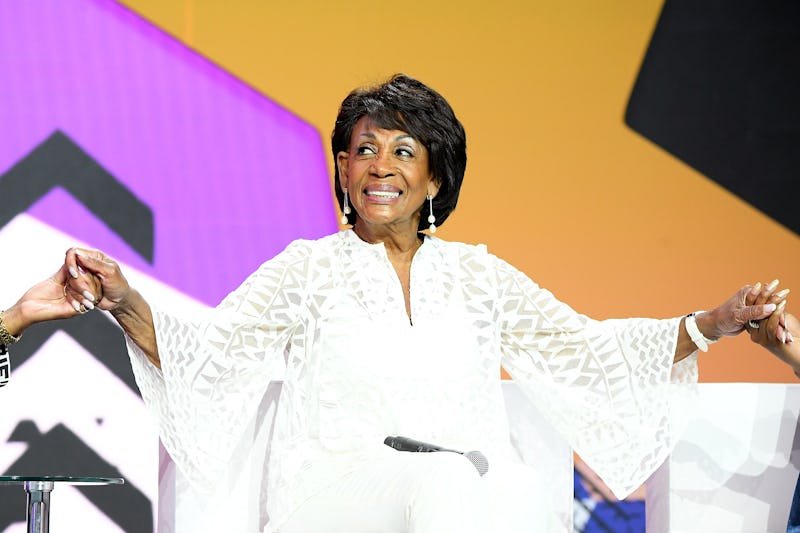 Paras Griffin/Getty Images Entertainment/Getty Images
Wednesday is California Rep. Maxine Waters' 80th birthday — and she got at least one happy birthday wish from an unexpected source. Trump wished Maxine Waters a happy birthday on Twitter — but even his happy birthday tweet contained an apparent jab at the Democratic congresswoman.
"Happy Birthday to the leader of the Democrat Party, Maxine Waters!" Trump tweeted on Wednesday morning. Waters, of course, is not the leader of the party in any formal sense — she's the representative from California's 43rd district, which she's served since 2013. However, Trump has ignited and then kept alive a feud with Waters — and this seems to be his latest jab in that effort. While she hasn't responded to his birthday wishes, she has become quite adept at pushing the president's buttons.
Trump, in his Twitter insults of Waters, has routinely grouped her with figures like House Minority Leader Nancy Pelosi and even labeled her as the "Face of the Democrat Party" in one tweet. While "leader of the Democrat Party" may not seem like an insult, it can be seen as a comment meant for Trump's base, who has been listening to Trump calling Waters a person with "low I.Q."
In Trump's attacks on Waters, he has repeatedly targeted her intelligence, specifically.
"Congresswoman Maxine Waters, an extraordinarily low IQ person, has become, together with Nancy Pelosi, the Face of the Democrat Party," he tweeted in June. "She has just called for harm to supporters, of which there are many, of the Make America Great Again movement. Be careful what you wish for Max!"
This, as USA Today noted, has led to critics calling Trump's tweets racist, because his attacks on Waters are always so focused on her intelligence level. Waters, meanwhile, has also fashioned herself into one of the most outspoken critics of the president in her party. She really kicked her feud with the president into gear in June, when she gave a speech to supporters of hers and commented on both the zero tolerance policy at the border and the fact that White House press secretary Sarah Huckabee Sanders had been asked to leave a restaurant because of the role she serves in Trump's administration.
"Let's make sure we show up wherever we have to show up. And if you see anybody from that cabinet in a restaurant, in a department store, at a gasoline station, you get out and you create a crowd," Waters said to the crowd. "And you push back on them. And you tell them they're not welcome anymore, anywhere."
This prompted Trump's aforementioned "extraordinarily low IQ person" tweet, and the two have been sparring ever since. Waters, as Politico noted, has been one of the most vocal Democratic congresspeople in calling for Trump's impeachment, even before he started questioning her intelligence on Twitter. Waters' own birthday wish directed towards Trump fell right into the pattern of that feud — so perhaps this is what Trump was responded to on Wednesday morning.
Her wish, she said, was that "we will be able to get a leader of this country who represents us, someone that does not lie every morning when they get up with these tweets," as she said on MSNBC. "I would wish that we could remove him from his office and go about getting the kind of president that we could be proud of."