Proof That Trump's Response To Boston Was The President Picking A Side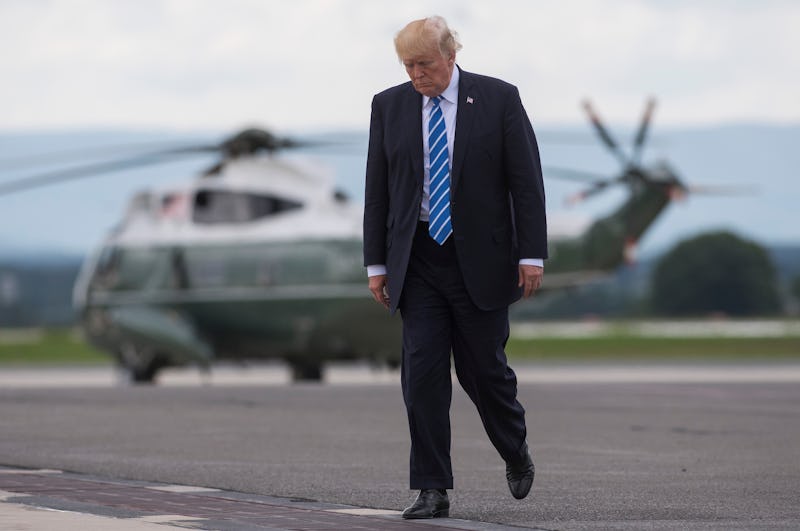 SAUL LOEB/AFP/Getty Images
On Saturday afternoon, thousands of anti-racist protesters showed up to the Boston Commons to stand against an organized attempt at another white supremacist demonstration, much like the one that descended on Charlottesville last week. Despite it being an overwhelmingly peaceful protest, and successfully dwarfing the assembled white supremacist demonstrators by huge margins, the president of the United States ignored all of that in his first response. And in case you missed it, this one tweet on Trump's reaction to Boston exposes just how bad it was.
Update: More than an hour after his initial reaction, Trump followed-up with a tweet "[applauding] the many protestors in Boston who are speaking out against bigotry and hate."
Hours after the white supremacist protesters disbanded, Trump tweeted about the events in Boston for the very first time, and the focus of his statement was not exactly subtle. Namely, despite already coming under scrutiny for his trio of widely-criticized responses to the violence in Charlottesville, Trump entirely ignored the thousands of peaceful anti-racist citizens who turned out against white supremacy.
Instead, he focused entirely on praising law enforcement for handling "anti-police agitators" ― there were reportedly 20 arrests at the event, out of a crowd of thousands. In short, he seemingly latched onto the one angle he wanted, regardless of how incredibly narrow it was. All in all, the situation was summed up pretty completely by the tweet below.
According to journalist Jamil Smith, Trump's apparent bending-over-backwards to portray the overwhelmingly peaceful anti-racist protesters as violent agitators basically says it all about where his actual sympathies lie ― in other words, when he talks about "both sides," which one he's on.
After news broke on Saturday, August 12 that 32-year-old anti-racist protester Heather Heyer had been killed in Charlottesville, Trump offered up an soft-pedaling response on the incident, saying that there had been violence, hatred, and bigotry "on many sides."
He subsequently delivered a statement more specifically and directly condemning white supremacists and neo-Nazis, echoing how he initially declined to denounce former KKK leader David Duke during his campaign, then spoke more forcefully towards him after a fierce amount of criticism.
He effectively undid even that amount of work on Monday, however, when he reportedly veered off-course during a press conference. In testy and somewhat rambling fashion, Trump insisted "both sides" were to blame for the violence, explicitly drawing an equivalence between white supremacist protesters and people combating white supremacy. It remains to be seen whether he'll have any further comments on the Boston protests.