Here's How Many Women Are Serving On Trump's Cabinet (Including Nikki Haley)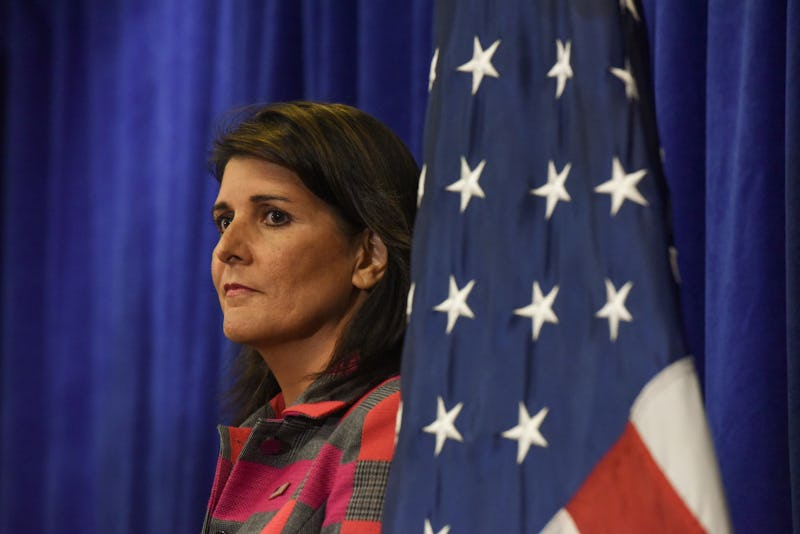 Stephanie Keith/Getty Images News/Getty Images
For many Americans, hers was one of the most recognizable roles within the Trump administration. On Tuesday, Nikki Haley announced her resignation as U.S. Ambassador to the United Nations — without specifying the exact date for her departure — saying that she believed it was "very important for government officials to understand when it's time to step aside." With Haley's impending departure, the number of women in Trump's cabinet is down to five.
Those five women, per CNN, are the Administrator of Small Business Administration, Linda McMahon; CIA Director Gina Haspel; Education Secretary Betsy DeVos; Transportation Secretary Elaine Chao; and Kirstjen Nielsen, the secretary of Homeland Security. In contrast, 17 men hold various leadership positions in Trump's cabinet, CNN reported.
On Tuesday, Haley announced her resignation with Trump in the Oval Office. "It has been an honor of a lifetime," she told reporters. "I said I'm such a lucky girl to have been able to leave the state that raised me, and to serve a country I love so very much. It has really been a blessing, and I want to thank you for that."
Praising Haley for an "incredible job" during her time as ambassador, Trump said on Tuesday, "Right from the beginning, and worked with us on the campaign. It's been really a long time, very intense, and she told me probably six months ago, she said, you know, maybe at the end of the year— at the end of the two-year period, but at the end of the year, I want to take a little time off."
The president also said that he was impressed by Haley's previous record as the former governor of South Carolina. Going forth, he noted that he and Haley would be "in constant touch." Trump added that he knew Haley would reach out to him because she had "ideas" and knew "all the players" on the frontier of foreign policy.
As she fielded questions from the press, Haley said that she was proud of her work at the United Nations. She claimed that the United States apparently "is strong again" in such a manner "that should make all Americans very proud."
Some names for Haley's replacement have already been floated. Per The Washington Examiner, one of the possible replacements for Haley include Richard Grenell. You may not have heard of Grenell before but prior to becoming the U.S. ambassador to Germany, he was UN ambassador from 2001 to 2008, giving him the distinction of being the longest-serving ambassador to the United Nations.
It's also possible that another woman, Dina Powell, could replace Haley. Previously, Powell worked for Trump as a deputy national security adviser and then resigned from her position in December. There was also speculation that Haley's replacement might be Ivanka Trump; during her announcement Tuesday, Haley praised Ivanka and said, "I can't say enough good things about Jared [Kushner] and Ivanka."
Ivanka was quick to hush the speculation, however. The president's daughter tweeted on Tuesday, "It is an honor to serve in the White House alongside so many great colleagues and I know that the President will nominate a formidable replacement for Ambassador Haley."
"That replacement," Ivanka added, "will not be me."