Here's How Trump Could Be Making Your Holiday Shopping Much More Difficult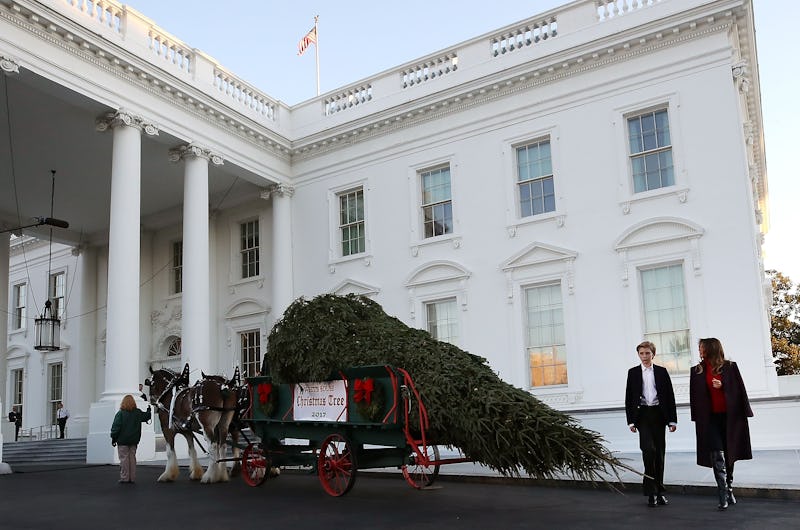 Mark Wilson/Getty Images News/Getty Images
It may seem pretty early to start considering your Christmas list when Starbucks has only just unleashed the Pumpkin Spice Latte and most of America hasn't decided on Halloween costumes yet. However, a recent move by the Trump administration might lead to some difficulties when it comes to holiday shopping. Specifically, Trump's China tariffs might dampen the holiday spirit by driving up the prices of all sorts of consumer goods.
Trump's manufactured trade war kicked into high gear on Monday, when the news leaked that the Trump administration would reportedly be levying import taxes — or tariffs — on $200 billion worth of Chinese goods coming into the U.S. China responded in kind, promising tariffs on $60 billion worth of American goods coming into China. This isn't one of those policy moves that just happens in Washington and then doesn't have much of a visible effect elsewhere — there are already concrete items that we know will be more expensive. This includes, for example, Apple Watches and wireless headphones.
The tariffs Trump is imposing start at 10 percent, according to the New York Times, which essentially means that companies affected by them are probably going to have to slap a 10 percent price increase on the products affected. The companies — many of them American companies like Apple, which merely produce or assemble some products in China — will pay to have their products imported, but the American people will foot the bill in the end.
The administration has made certain promises, like the pledge to Apple that iPhones wouldn't be taxed, as the New York Times reported. Apple still wrote a public letter to the U.S. Trade Representative, warning of dire consequences for American consumers if the tariffs went into effect.
"Tariffs increase the cost of our U.S. operations, divert our resources, and disadvantage Apple compared to foreign competitors," the company wrote. "More broadly, tariffs will lead to higher U.S. consumer prices, lower overall U.S. economic growth, and other unintended economic consequences."
Apple is only one big, iconic American company, and many others will be having to deal with the same considerations come Black Friday. As the Washington Post wrote, prices for everything from electronics to knit hats to bicycles could go up by 10 to 25 percent.
For those who can afford to go out and buy an Apple Watch for multiple family members, a 10 percent tax hike won't necessarily break the bank. But for those who have to really budget to manage their Christmas shopping anyway, Trump's tariffs could be a significant stress factor.
Secretary of Commerce Wilbur Ross told CNBC that the average American family wouldn't even notice the price increase because it would be spread out over so many items. Keep in mind, however, that Ross, a businessman worth approximately $700 million, according to Business Insider, is hardly the best person to say what would or wouldn't affect the average American family. If you look through the trade representative's list of products that will now be subject to tariffs, you'll find a lot of things that don't concern you — unless you were hoping to buy, for example, a bit of argon or a live eel for a loved one. On the other hand, if your list included a baseball mitt for your little cousin, a dog leash for your canine-obsessed bestie, or a nice suitcase to encourage your parents to travel more, then get ready to pay more than you would have last year.