People Were Pissed That Trump's Columbus Day Message Didn't Mention Indigenous Peoples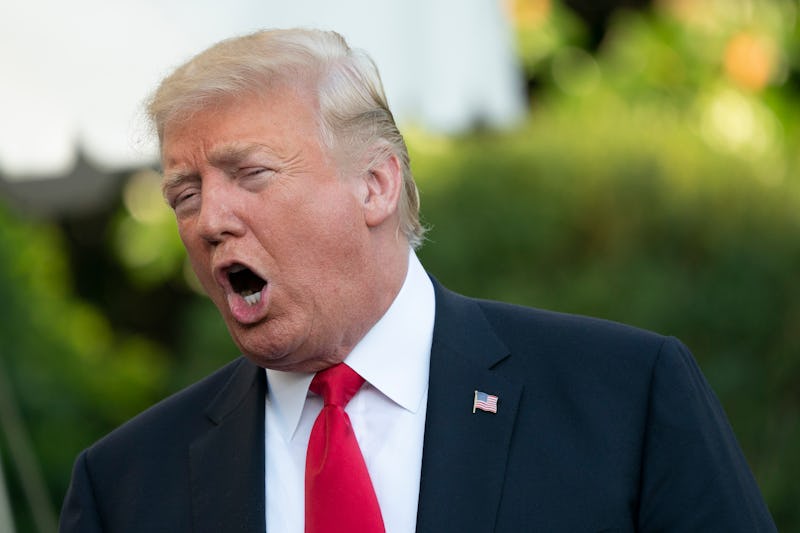 Pool/Getty Images News/Getty Images
President Donald Trump praised the "courage, will power, and ambition" of Christopher Columbus in a presidential proclamation issued Monday to commemorate the controversial federal holiday of Columbus Day. But Trump's Columbus Day Proclamation sparked backlash and criticism on social media, where users were quick to point out his failure to mention Native Americans or indigenous people.
"On Columbus Day, we commemorate the achievements of this skilled Italian explorer and recognize his courage, will power [sic], and ambition — all values we cherish as Americans," President Trump said in his proclamation. "Columbus's spirit of determination and adventure has provided inspiration to generations of Americans. On Columbus Day, we honor his remarkable accomplishments as a navigator, and celebrate his voyage into the unknown expanse of the Atlantic Ocean."
But absent from Trump's proclamation — for the second year in a row — was any mention of Columbus' darker impact on the world nor the achievements or suffering of the indigenous peoples his legacy ultimately affected. Nor did the president touch on the controversial nature of the Columbus Day holiday, which a number of indigenous groups have been pushing — with some success — to have renamed to Indigenous Peoples Day in recent years.
In fact, some social media users moved to clue the president in to a few forgotten historical tidbits related to Columbus. "Donnie, I'm pretty sure we've both read the same text book [sic]," wrote user Bria Smith. "Christopher Columbus is no man to worship.."
However, Trump's decision to completely overlook Native Americans came as no surprise to some. "Is anyone surprised that Trump is out here stanning Columbus #IndigenousPeoplesDay," Concept artist Nikkolas Smith tweeted.
Many users responded to the president's tweet by reflecting on the more historically accurate legacy that Columbus left behind. "The navigator that thought he landed in India & accomplished infecting, raping, & enslaving the natives bravo..." wrote one user, in a post that directly quoted the president's original message.
Others expressed similar sentiments. "Columbus didn't even realise he'd 'discovered' America - he thought it was an East Asian island, refusing to challenge the longheld religious & academic belief that there existed only Asia, Africa & Europe," wrote anther user. "And let's not forget all the raping and pillaging of Natives."
Others suggested that the president celebrating Columbus was a cause for concern. "Pay attention to the type of human beings they love to celebrate..," a user named J'Kim tweeted.
A number of Twitter users, including BuzzFeed's Tom Namako, also pointed out the stark contrast between Trump and President Barack Obama's Columbus Day proclamations. As Namako pointed out, while Trump solely recognized Columbus's achievements, skill, courage, willpower, and ambition, Obama noted the importance of acknowledging Native Americans' "pain and suffering."
Indeed, all of the Columbus Day proclamations Obama issued during his eight-year presidency contained a similar sentiment. "As we mark this rich history, we must also acknowledge the pain and suffering reflected in the stories of Native Americans who had long resided on this land prior to the arrival of European newcomers," Obama wrote in 2016. "The past we share is marked by too many broken promises, as well as violence, deprivation, and disease. It is a history that we must recognize as we seek to build a brighter future — side by side and with cooperation and mutual respect."
Spurred by the controversial nature of Columbus' legacy, a number of cities and states across the country have recently moved to either not observe Columbus Day or recognize a Native American Day or Indigenous Peoples Day holiday in its place.
Monica Busch contributed to this report.
This piece has been updated.