This One Tweet About How Trump Spoke About Immigrants At The SOTU Proves How Toxic It Was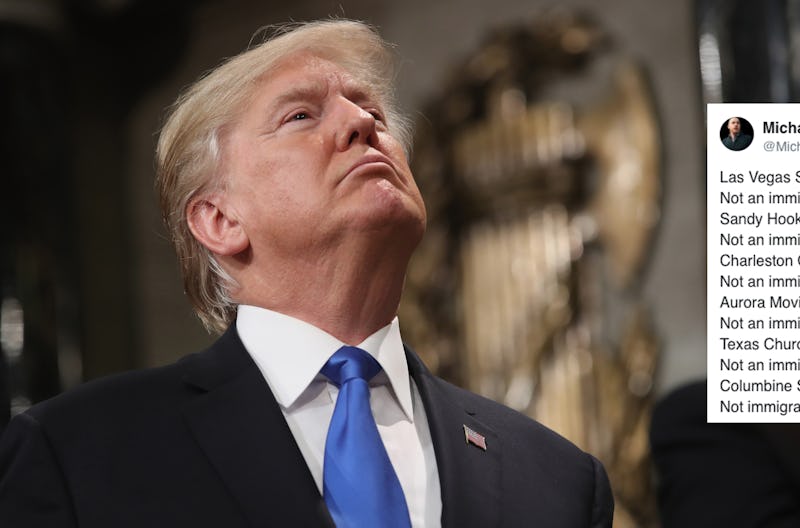 Win McNamee/Getty Images News/Getty Images
During his first-ever State of the Union address on Tuesday night, Donald Trump drew Congress' attention to two families from Long Island and a special agent with Homeland Security Investigations, all of whom have had to contend with MS-13 gang violence. Trump used MS-13's actions to justify his immigration policy, which he claims would keep Americans safe. But Trump's immigration policy is misleading; as producer and activist Michael Skolnik pointed out in a tweet, Trump failed to recognize that most mass shooters, for example, aren't immigrants at all.
In 2016, two families lost their daughters — Kayla Cuevas and Nisa Mickens — to gang violence perpetrated by the MS-13 gang, which formed in Los Angeles in the 1980s before spreading across North and Central America. The ICE HSI agent, Celestino Martinez, has been responsible for tackling this gang violence.
"Many of these gang members took advantage of glaring loopholes in our laws to enter the country as illegal, unaccompanied, alien minors and wound up in Kayla and Nisa's high school," Trump said, using MS-13 to segue into immigration policy. Trump then described his four proposed pillars of immigration policy, arguing that they would "finally close the deadly loopholes that have allowed MS-13 and other criminal gangs to break into our country."
But in addition to repeating multiple myths about immigration — including inaccurate information about "chain migration" and the green card lottery — Trump also neglected to mention that most major crimes in the U.S. are not actually committed by immigrants.
Skolnik's point in the above tweet is two-fold. Firstly, as The New York Times reported last year, immigrants are less likely than people born in the U.S. to commit crimes. Secondly, Trump barely mentioned gun violence in his speech, only briefly referencing the mass shooting in Las Vegas that killed more than 50 people and injured hundreds of others in October.
Although Trump promised an end to "American carnage" in his inauguration speech last year, Merriam-Webster categorized his definition of "carnage" as largely figurative — and, it seems, not encompassing mass shootings and gun violence committed by non-immigrants.
This isn't the first time that Trump has cited violence allegedly carried out by immigrants to justify his immigration policy. On multiple occasions, Trump has used the July 2015 death of Kate Steinle in San Francisco to stir up anti-immigrant sentiment, arguing that her death is proof that undocumented immigrants are violent. But basing immigration policy on a few cases — rather than on existing data, which according to PolitiFact mostly supports the claim that immigrants are less likely to commit crimes — is dangerous, and yet it is precisely what Trump appears to be doing.
During his SOTU address, Trump outlined the following four pillars of his proposed immigration policy:
Offering a path to citizenship to 1.8 million undocumented immigrants
Fully securing the southern border with a wall
Transitioning to a "merit-based immigration system" by ending the visa lottery
Ending chain migration to "protect the nuclear family."
Trump falsely claimed that his plan involved asking Congress to give three times more undocumented immigrants a chance to obtain citizenship than Obama's administration did. This is not entirely accurate; Obama supported offering a path to citizenship for most undocumented immigrants, even if he did not keep that promise.
But the other three pillars should be even more concerning, because they are based almost entirely on the dangers Trump and his administration perceive from immigrants. In his SOTU address, Trump once again advocated for a wall because he believes it would "close the terrible loopholes exploited by criminals and terrorists to enter our country."
Trump called for an end to the visa lottery because he made the false claim that it "hands out green cards without any regard for skill, merit, or the safety of the American people" — when in fact, immigrants who receive green cards through the lottery have to go through significant vetting. Finally, he demanded an end to "chain migration" — he and other Republicans believe that immigrants are able to bring numerous distant relatives into the U.S., when in fact current laws don't actually allow that.
In his first year in office — and during his campaign — Trump invested a lot of time and energy into attacking immigrants, and insinuating that they pose a threat to American workers and families. But he has never called for a ban on white men who commit mass shootings, nor has he taken any steps to implement stronger gun control policies.
It is precisely for these reasons that Skolnik's tweet is so powerful: Trump is scapegoating immigrants and making them out to be the enemy, but that will not help reduce violence in the U.S. Instead, it exploits some of the most marginalized people in the country while failing to address the real causes of violence.