Trump Is Planning To Kick Every HIV+ Service Member Out Of The Military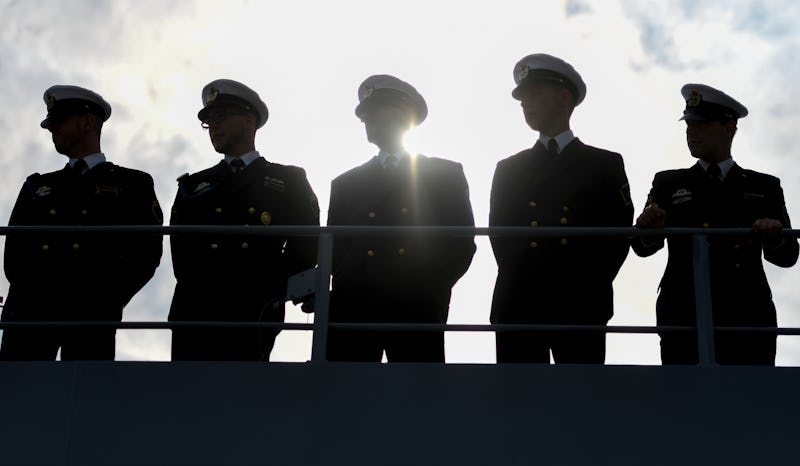 David Hecker/Getty Images News/Getty Images
The stigma coiled around HIV was at its worst in the 1980s, when the public treated those who were positive like lepers. The illness seemed like a death sentence, and the public shunned HIV-positive people. More than 30 years later, the stigma is on the national stage again after the announcement of Trump's "Deploy or Get Out" policy. HIV-positive members, as a result of the rule announced earlier this year, will automatically be discharged from the military. But some soldiers are fighting back: two service members are suing to prevent the White House from implementing the policy.
Under the president's "Deploy or Get Out" policy, which was announced in February, service members who "for any reason" cannot be deployed for more than 12 consecutive months will be discharged later in the fall. The policy officially goes into effect on Oct. 1, though it does allow the military to enforce the rule immediately. The policy affects all HIV-positive military members because of an earlier directive from the '80s that barred positive status soldiers from deploying overseas. There are an estimated 1,200 military members living with HIV, according to The Washington Examiner, citing the Pentagon's Defense Health Agency.
Now, one U.S. soldier has filed an injunction against the president's policy. It "makes it effectively impossible for people living with HIV to serve," said Nicholas Harrison, a 41-year-old man from Oklahoma whose National Guard unit was deployed to Afghanistan in 2006 and Kuwait in 2011, according to the complaint. In 2012, he was diagnosed with HIV, a short while after he returned from Kuwait.
"This case is not just about me," Harrison said in a press release. "This is about every person living with HIV knowing that they can perform any job in the world, including serving in the military. Together, we must stop the Pentagon from closing its doors to successful and talented service members. I look forward to the day that I can serve my country to the full extent of my abilities, based on my performance and unfettered by unfounded fears and misperceptions about HIV."
Department of Defense Secretary Jim Mattis has defended the policy, saying that the rule would make sure deployment rates are fair by preventing some soldiers from being deployed more than others, according to The Military Times. "I'm not going have some people deploying constantly and then other people, who seem to not pay that price, in the U.S. military," Mattis said to reporters back in February.
Per Lambda Legal, a civil rights organization representing Harrison in the suit, HIV-positive service members are already being threatened with discharge and having their duties restricted as a result of the policy. Those who have remained in the states after being diagnosed with HIV are being denied promotions, the lawsuit detailed.
"Soldiers, sailors, fighter pilots and marines are seeing their promising careers cut short, their dreams of service shattered and their health jeopardized due to antiquated notions about HIV and the stigma that results," said Scott Schoettes, Counsel at Lambda Legal, in the organization's statement.
The other lawsuit was brought by an anonymous soldier living with HIV who, despite medical personnel recommendations, was denied an officer commission after his Air Force Academy graduation, according to Lambda Legal and OutServe-SLDN.
Harrison's lawsuit also addresses the stigma surrounding the virus, arguing that modern medicine has allowed HIV-positive people to live relatively normal lives without medical issues that would interfere with military duties. According to the publication them., current treatment requiring a daily pill and occasional blood tests can lower one's viral load to levels that make the HIV essentially unable to be transmitted.
Trump's deployment policy is the latest in a string of directives that critics say disproportionately affect the LGBTQ community. As Slate reported, the Trump administration has also taken funding away from the Ryan White HIV/AIDS program. Furthermore, the administration has tried to ban transgender people from serving (with several courts rejecting that effort).
"Every day, people living with HIV are suffering professional setbacks and losing out on career advancement opportunities," Schoettes said. "And we are asking this court to put an end to these harmful actions."