Trump Inspired Ali Larter To Advocate For Planned Parenthood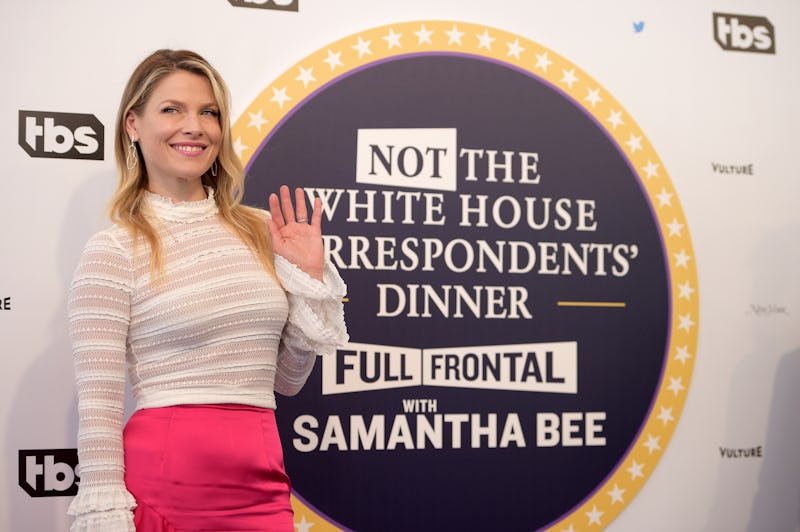 Jason Kempin/Getty Images Entertainment/Getty Images
Although actress Ali Larter has always been a fan of Planned Parenthood, it was the election of Donald Trump, a man who supports defunding the health care organization, that inspired her to really dive headfirst into being a Planned Parenthood advocate. In an interview with Bustle at Samantha Bee's highly anticipated Not The White House Correspondents' Dinner event, Larter talks about her work with Planned Parenthood and staying political amid calls for Hollywood to keep out of politics.
"If you can't support the man, support a cause," Larter tells Bustle on the red carpet. "That's what my husband said to me [after the election], and that's when I started really deeply working with Planned Parenthood."
For Larter, advocating for Planned Parenthood has become one way to deal with Trump's presidency. "I've done five rallies for [Planned Parenthood] and am constantly engaged for interviews, meeting different patients, holding action forums," she tells Bustle. "That's how I'm kind of dealing with some things that I don't agree with in the Trump administration."
In January, Larter joined Planned Parenthood's Cecile Richards as a speaker at the 2017 Philadelphia Action Forum. It was there that Larter revealed she had once been a Planned Parenthood patient when she first moved to Los Angeles at the age of 19. "I am one of the one in five women that will use a Planned Parenthood health center in their lifetime," People Magazine reported Larter said. "I didn't have any friends, I didn't have a net, I didn't know where to go and I didn't have any doctors. But I knew about Planned Parenthood and it was simple and accessible."
Larter went on to emphasize how important and essential the health services Planned Parenthood provides are for many women. "I think that now, more and more, especially for women in rural and underserved areas, this is their only access to be able to take care of their own bodies," Larter said. "What I think is getting lost in this story is that people really use [Planned Parenthood] and it's an essential part of health care for so many women in this country."
Since then, Larter has continued to advocate for Planned Parenthood and encourage other women to stand up and get loud about their reproductive rights. And while Larter is no stranger to criticism, the Resident Evil actress says she simply doesn't have time, let alone concern, for those who believe celebrities shouldn't get political.
"I think that people just need to speak about what they believe in," Larter tells Bustle. "A lot of people think an actress shouldn't be speaking out on this or people in Hollywood shouldn't be talking about that. I have no time for that. This is what I believe in and if people are willing to listen to me, I'm going to stand here and say it."