Trump's EPA Reportedly Takes More Advice From Companies Than Its Own Scientists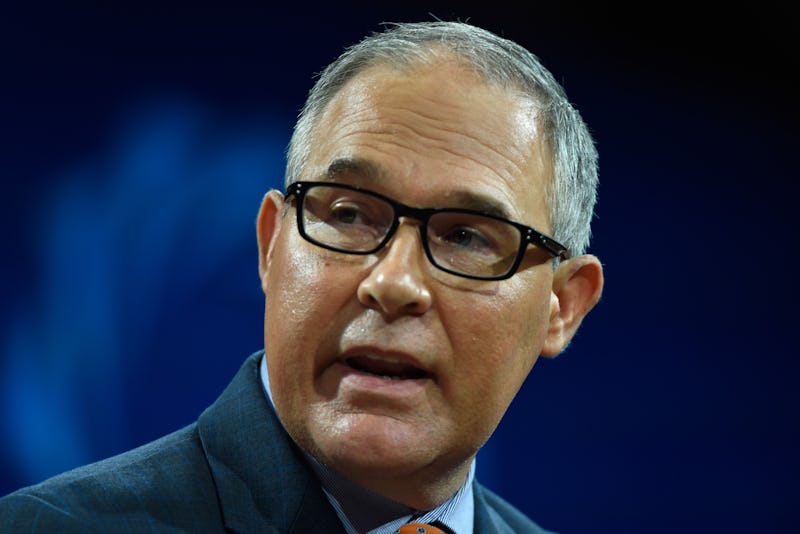 Riccardo Savi/Getty Images Entertainment/Getty Images
According to a report from The Washington Post, the Trump administration's Environmental Protection Agency, led by former Oklahoma district attorney Scott Pruitt, turned to an industry-backed study in arguing that certain Obama administration emissions standards should be repealed. Specifically, the research was reportedly conducted by Tennessee Tech university, but was underwritten ― that is to say, paid for ― by Fitzgerald Glider Kits, the same company formally challenging the regulations. In other words, Trump's EPA is favoring corporate research over its scientists, just another development which is drawing heavy criticism from environmental groups.
The Trump administration has been criticized for its lack of adherence to science throughout its first year. Environmental and climate change activists got their first deeply negative sign back in February, when Pruitt was confirmed to lead the EPA. In his previous job as Oklahoma attorney general, as The New York Times noted upon his confirmation, Pruitt established himself as a crusader against federal regulations on things like air pollution, mercury levels in water, and carbon emissions, suing the agency he now leads more than a dozen times in the process.
Emissions standards are not the only area where Pruitt has shifted EPA policy since taking office, moving the agency from prioritizing environmental concerns to ones more favorable to private industry. For example, in June the EPA opted against banning a pesticide which scientific studies suggest can damage young children's brains, weeks after Pruitt reportedly held a meeting with the CEO of the pesticide's producer, Dow Chemical.
Pruitt has also recently slashed nearly half of the agency's Board ofntific Counselors, opening up the possibility of a massive re-staffing with industry-backed researchers. Needless to say, scientific research conducted explicitly on behalf of major corporations and industries, or achieved through their funding, is often viewed skeptically and with great scrutiny due to potential conflicts of interest.
For example, throughout its history, the tobacco industry has thrown money behind studies and research aimed at downplaying and denying the scientific link between smoking and lung cancer. Similarly, fossil fuel and coal industries have for years helped fund research and literature advancing climate change denial, flying in the face of a staggering consensus among climate scientists.
Back in October, The New York Times looked into some of Pruitt's professional schedule, and found it to be thick with meetings with prominent industry figures, with virtually no meetings with environmental groups or experts in public health.
Thus far, Pruitt's EPA has been pretty friendly to people with decidedly uncommon views in the broader scientific community. Last week, Pruitt welcomed researcher Robert Phalen into the EPA in an official capacity, as part of the agency's Scientific Advisory Board. Phalen, formerly a pollution researcher at UC Irvine, told the American Association for the Advancement of Science back in 2012 that air quality in the United States was "a little too clean" for children's health.
Phalen also vigorously condemned efforts to ban smoking on the university's campus in 2013, insisting it was an attempt at "social activism," and telling The Orange County Register he smoked tobacco to aid his mental concentration.
In short, it's not hard to see why advocates for a science-based approach to environmental regulations are up in arms about the first year of the Trump administration's EPA. It's not terribly surprising that this is the approach to environmental oversight it's taken, however, given the president's own record of statements on scientific matters. Back in 2012, Trump claimed that climate change was a scheme orchestrated by the Chinese to hamper America's industrial economy, and earlier this year, he announced his intention to pull the U.S. out of the Paris climate accords.