Trump's Former Advisors Warn The GOP Health Care Bill Would "Kill People"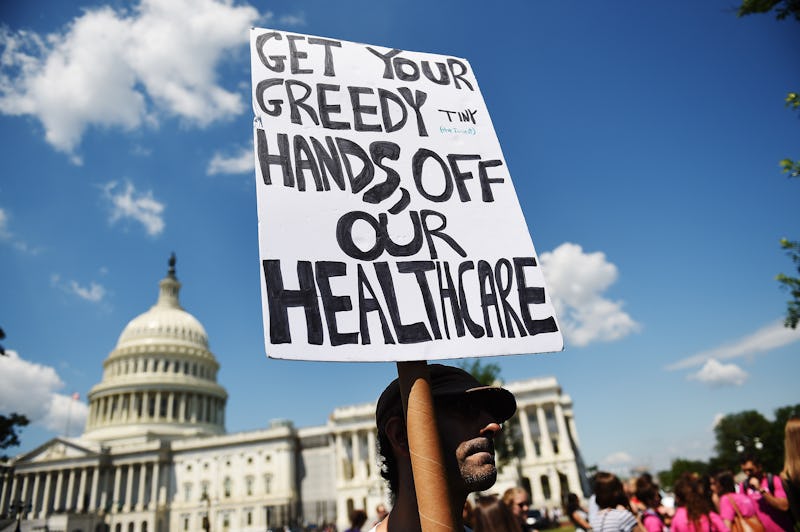 Astrid Riecken/Getty Images News/Getty Images
Former members of the Presidential Advisory Council on HIV/AIDS (PACHA) spoke to BuzzFeed News Thursday about Senate Republicans' new health care bill. In interviews, those who resigned in protest of the Trump administration's policy on HIV/AIDS warned how the GOP's health care bill bill could affect Americans. Scott Schoettes, former PACHA member and project director of LGBTQ+ advocacy group Lambda Legal, told BuzzFeed News that it would "kill people — that's not hyperbole."
The Senate's highly secretive version of the new health care bill was released on Thursday, promising deep cuts to Medicaid and tax breaks for wealthy Americans and health insurers. Some things, like coverage for pre-existing conditions, remain protected, but the former presidential advisers spoke out against provisions in the Senate bill that would be devastating for Americans' health coverage.
"I would say [the Senate version is] at least as bad as the old House one — maybe worse, depending on where it goes from here," Schoettes said "It will kill people — that's not hyperbole. There will be some people who will die from this."
There's no score yet from the Congressional Budget Office on the Senate's bill, but if it's anything similar to the 23 million people who will lose their insurance coverage in less than 10 years if the House bill becomes law, Schoettes' projection may not be far off.
On June 13, six members of PACHA resigned from the council, citing indifference to the HIV/AIDS threat facing the country.
"As advocates for people living with HIV, we have dedicated our lives to combating this disease and no longer feel we can do so effectively within the confines of an advisory body to a president who simply does not care," the group wrote in a letter last week announcing their resignation. "The Trump Administration has no strategy to address the on-going HIV/AIDS epidemic, seeks zero input from experts to formulate HIV policy, and—most concerning—pushes legislation that will harm people living with HIV and halt or reverse important gains made in the fight against this disease."
Dr. Michelle Ogle of the Warren-Vance Community Health Center in Henderson, North Carolina, a PACHA member who resigned from the group, spoke with NPR to defend the defectors' position. Ogle detailed the removal of the Office of National AIDS Policy website shortly after the inauguration, without the consent or notification of PACHA. She also stated that the counsel tried several times to communicate with both Trump and HHS Secretary Tom Price, but received little more than a "lackluster" response.
"The budget proposal that he sent forward shows that he doesn't care about the issue," Ogle said during an interview with NPR. "Also, the American Health Care Act, the bill that he's put forward that they celebrated in the Rose Garden with, shows that he doesn't care."
Not every PACHA member resigned last week, but even one who remained on the counsel spoke out against the Senate bill. University of North Carolina at Chapel Hill Professor Adaora Adimora, a PACHA board member who is still sitting on the counsel, told BuzzFeed News that this bill could be detrimental for all Americans, not just those in the lower class.
"A number of hospitals in the rural South have had to close because they can't get paid for uninsured patients," Dr. Adimora told BuzzFeed. "When this happens it's a major blow to the local economy: employees lose their jobs, and residents have to travel much, much farther for care. This bill will sabotage progress that's been made in the HIV epidemic — and the public health of America in general."
These seem like dire warnings that Congress should heed immediately, but don't get your hopes up for that happening. Senate Republicans have used sneaky tactics to push the bill through to a vote, denying their Democratic colleagues and other opponents the opportunity to voice their concerns about the bill in hearings. These cautionary messages may go ignored by the people who have the power to make policy, and if these health care experts are right, it could be disastrous for the American public.