Trump's GIF Of Hillary Clinton Being Knocked Down Is A Blatant Endorsement Of Misogyny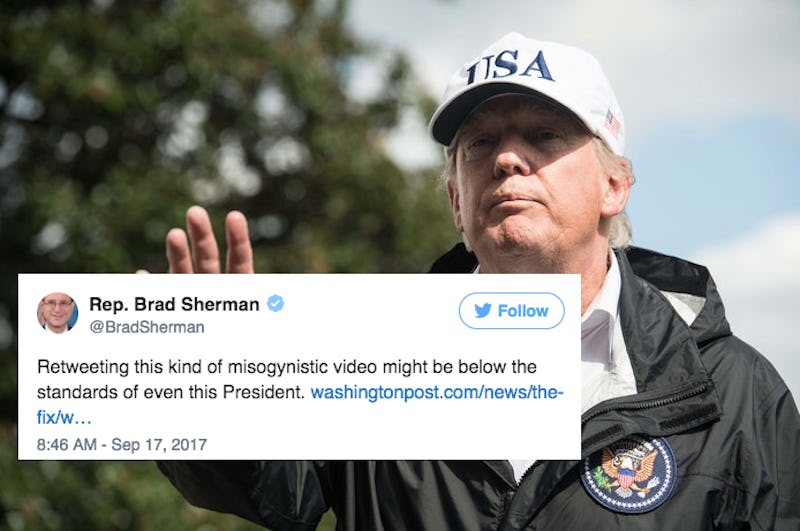 NICHOLAS KAMM/AFP/Getty Images
Donald Trump's tweeting habits often elicit public shock, to say the least. This time the president's retweet of a particular gif has sparked outrage among observers. After Trump retweeted an account called "Fuctupmind" on Sunday, a Democratic lawmaker slammed Trump's violent Hillary Clinton gif as misogynistic. And that's exactly what it is.
The tweet read "Donald Trump's amazing golf swing #CrookedHillary" and featured a doctored gif of Trump playing golf and knocking over Clinton with the ball as she's entering an airplane. Rep. Brad Sherman of California strongly criticized Trump for his retweet and described the content as "misogynistic" while saying, "Retweeting this kind of misogynistic video might be below the standards of even this president." The bio section of the account that Trump shared the gif from contained several hashtags, including one calling for Clinton to be locked up in prison, another hashtag about a conservative conspiracy theory concerning the young and late Democratic National Committee staff member named Seth Rich, and a vow to stand with right-wing talk show host Sean Hannity.
This isn't the first time that a prominent individual cosigned or personally called for violence against Clinton. Last week, Martin Shkreli — otherwise known as the notorious "Pharma Bro" — offered to pay $5,000 to anyone who could "grab" Clinton's hair while she was conducting a tour for her book, What Happened. U.S. District Court judge Kiyo Matsumoto revoked Shkreli's bail on Wednesday and sent him to jail for "solicitation of an assault in exchange for money that is not protected by the First Amendment."
It is obvious that Trump isn't shy to tweet violent content on his social media. Prior to the golf ball retweet directed at Clinton, Trump had already tweeted a gif of him punching and slamming CNN in a wrestling match in July with hashtags like "#FraudNewsCNN" and "FNN" which is presumably an abbreviation for "fake news network." In the modified gif, Trump can be seen violently attacking WWE CEO Vince McMahon whose face is covered with CNN's logo instead. "Fake news" has become a common insult directed at mainstream media by conservatives who don't agree with various networks' coverage.
It is worth noting that the same kind of violent humor directed at Trump, however, is not received so kindly. Take, for example, the rage directed at comedian Kathy Griffin for holding a fake decapitated head of Trump in an image. This led to Griffin's ousting from CNN and a barrage of insults from Trump admirers as well as from media figures such as Anderson Cooper who found the image "disgusting and completely inappropriate."
In spite of the rage directed towards Griffin's imagery, Clinton told the Huffington Post that Trump fans were reportedly "selling T-shirts and mugs at the Republican [National] Convention with my head" but that "nobody said a word." While it isn't confirmed that severed head merchandise was sold, it is a fact that Trump supporters had worn T-shirts with statements like "Trump that bitch," images of Trump violently knocking Clinton out in a wrestling match, pins with lines like "Life's a bitch - don't vote for one" and one particularly misogynistic pin that read, "Two fat thighs, two small breasts, [and] left-wing" directed at Clinton.
While a retweet may not automatically mean an endorsement, the implications of a public official retweeting such content are significant. On a fundamental level, such a retweet reads like an approval of the text and imagery in the tweet. In this case, it is making light of aggression toward a woman. Former Trump adviser David Urban insisted that Trump's retweet was a trivial matter and that it "shouldn't be taken seriously" but that sounds like the complete opposite of what former press secretary Sean Spicer said about Trump's tweets.
Just a few months ago in June, Spicer told the press, "The president is the president of the United States, so [tweets] are considered official statements by the President of the United States." By that assertion, it is clear that Trump's tweets and retweets are not merely fleeting thoughts but the president's approval of bizarre and disturbing thought and imagery.