Trump's Pick Opposes Guaranteed Maternity Leave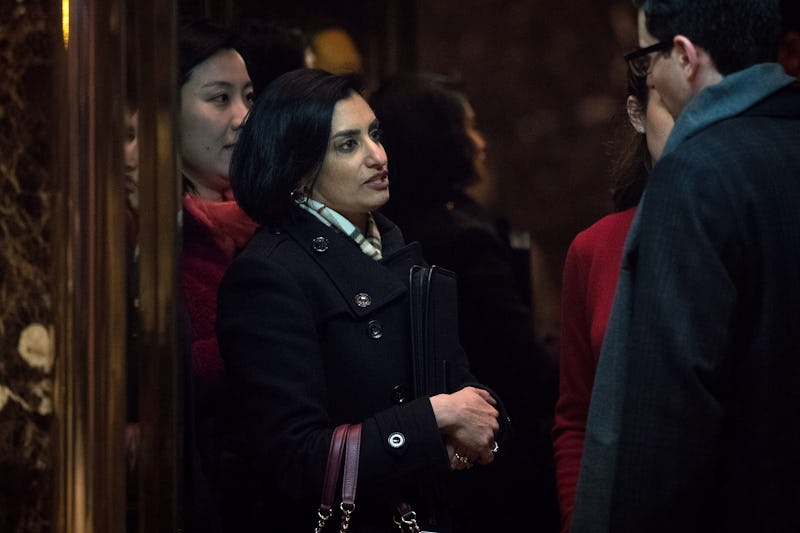 Drew Angerer/Getty Images News/Getty Images
Don't look now, but President Donald Trump's pick to lead the government's health insurance programs is hitting Capitol Hill for hearings before the Senate Finance Committee this week. And from the sounds of things, she's got a gripe with what's currently a guaranteed, mandatory aspect of private health insurance ― maternity leave. As revealed in her hearing, Seema Verma doesn't believe maternity leave should be required for health insurance plans to cover, believing instead that it should be an extra, optional piece of coverage that women can "choose" whether to purchase.
The upshot is that such a change to existing law would almost surely cost more money for those women who do want maternity leave covered in their plans. If it weren't mandated as an essential provision of private health insurance (something that was codified into law in the Affordable Care Act, which the GOP ostensibly wants to repeal but is having a hellacious time figuring out how to do), it'd be something that would require women to purchase extra coverage. If such coverage was even available ― prior to ACA's passage (also popularly known as Obamacare), many plans didn't offer it.
That's exactly that point Michigan's Democratic senator Debbie Stabenow raised to Veema in the hearing, pointing out that prior to the signature of the landmark health care law, a majority of health insurers didn't cover maternity leave coverage. Stabenow cites a figure of 70 percent, while The New York Times pegged the number at 62 percent back in 2011.
Veema's answered that "women should be able to make the decisions that work for them," framing the issue as one of freedom to choose the specific aspects of a health plan. That's a cagey and tactful way to approach it, but the implications both for women having access to maternity leave, and not having to pay a markedly higher cost for their insurance than a man would, are real. That's the point Stabenow made when she asked whether being a woman, in effect, should qualify as a pre-existing condition.
Do you believe that women should have to pay more to get prenatal care, and basic maternity care, as coverage? As a rider, as extra coverage? ... should we as women be paying more for healthcare because we're women?
Verma's answer, both times the same basic question was put to her, was effectively "yes," albeit in the language of conservative orthodoxy on health insurance.
"Obviously I don't want to see women being discriminated against," Verma said. "I'm a woman, and I appreciate that. But I also think that women have to make the decisions that work best for them and their family. Some women might want maternity coverage, and some women might not want it, might not choose it, might not feel like they need that. So I think it's up to women to make the decision that best works for them and their families."
Paid maternity leave became a plank of the Trump campaign following the Republican National Convention, after the president's daughter Ivanka made a point of it during her big speech. The Trump plan had nothing to do with guaranteeing coverage, however ― rather, it worked through child care tax deductions and health care savings accounts.