Homeland Security Chief Said A Full Border Wall Is "Unlikely"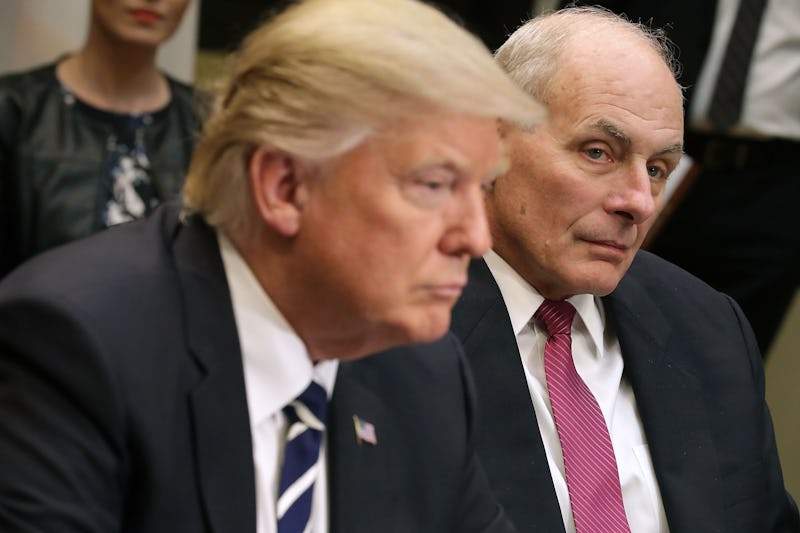 Chip Somodevilla/Getty Images News/Getty Images
During a meeting of the Senate Homeland Security and Governmental Affairs Committee on Apr. 5, Homeland Security Secretary John F. Kelly spoke about President Donald Trump's proposed border wall with Mexico, and said it's "unlikely that we will build a wall, a physical barrier, from sea to shining sea." Instead, Kelly told the committee, they will likely put barriers like concrete walls and fences in various spots along the border, and that the department is still studying where exactly those barriers should go. He did not provide a cost for any of these barriers to the Senate committee. Bustle has reached out for comment from the White House regarding Kelly's comments.
Kelly told the Homeland Security committee that the construction of more barriers along the U.S.-Mexico border is "very likely." When asked by Sen. Claire McCaskill, the highest-ranking Democratic on the committee, whether President Trump approves of fencing over walls, Kelly explained the choice:
The president has told me, 'Kelly, go do it. We need to protect the Southern border in any way that makes sense.' The president knows that I'm looking at variations on the theme, and I have no doubt that when I go back to him and say, 'Wall makes sense here, high-tech fencing makes sense over here, technology makes sense over here,' I have no doubt he'll tell me to go do it.
In response to Kelly's comments, Sen. McCaskill had strong words about the status of the border wall:
As soon as we stop this, 'from sea to shining sea we're going to build a wall and the Mexicans are going to pay for it' -- it's embarrassing. Everyone in Congress knows it's not going to happen... It appears the only person who won't say it out loud is the president.
Despite what may appear at first glance to be a lack in confidence in President Trump's border wall plan, Kelly went on to claim that the president's executive orders on undocumented immigration have resulted in an "absolutely amazing" drop in apprehensions at the Southern border. Fewer than 12,500 people were caught attempting to cross the border in March, which marks the lowest number of apprehensions at the border in 17 years.
Responding to this news, New Mexico Rep. Michelle Lujan Grisham, who heads the Congressional Hispanic Caucus, said "they don't need a wall no matter what," and went on to describe why she believes this drop occurred:
Do I think the administration has created such panic, fear and alarm that people are unwilling to reunite with their families or think twice about that they're going to be immediately detained or mothers would be separated from their children? I'm a mother, I would think twice about that.
News that a complete concrete border wall that stretches across the entire U.S.-Mexico border has been deemed "unlikely" but the chief of Homeland Security is certainly welcome, but there's likely still going to be a taxpayer cost to build a wall that so many believe is unnecessary.