Trump Went On A Heated Twitter Rant About Immigration & All Caps Were Involved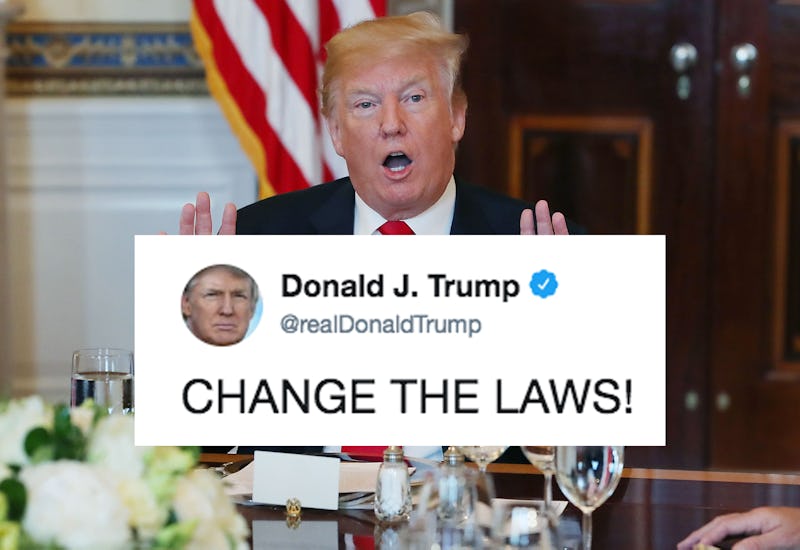 Mark Wilson/Getty Images News/Getty Images
In resolute defense of his administration's controversial family separation policy, President Trump went on an immigration Twitter rant on Monday morning, demanding that Democrats "change the laws!"
Trump claimed that children are being used as pawns by criminals attempting to enter the United States, and blamed Democrats for current issues in the immigration process. "Children are being used by some of the worst criminals on earth as a means to enter our country. Has anyone been looking at the Crime taking place south of the border. It is historic, with some countries the most dangerous places in the world. Not going to happen in the U.S.," he said.
Less than a minute later, he tweeted, "CHANGE THE LAWS!" and followed up saying, "It is the Democrats fault for being weak and ineffective with Boarder [sic] Security and Crime. Tell them to start thinking about the people devastated by Crime coming from illegal immigration. Change the laws!"
These statements followed a pair of tweets from earlier this morning claiming, incorrectly, that crimes rates are increasing in Germany as a result of immigration, and decrying German Chancellor Angela Merkel's open-door policy for asylum-seekers.
"We don't want what is happening with immigration in Europe to happen with us!" he said.
On Friday, the Department of Homeland Security reported that almost 2,000 children have been separated from their families after crossing the border into the United States. The administration's "zero tolerance" policy, which forces children and adults to be detained separately, has come under fire by numerous Democratic and Republican political figures.
Democratic Rep. Vicente, toured a detention facility for children in New York and told the Washington Post, "It was orderly, but it was far from what I would call humane."
Trump has repeatedly blamed the policy on Democrats, tweeting on Friday, "Democrats are forcing the breakup of families at the Border with their horrible and cruel legislative agenda."
The White House has claimed it is merely defending an established law, when in fact, the policy of family separation is an interpretation of a 1997 lawsuit settlement, Flores v. Reno. The settlement gives the government three options for handling minors and their families at the border — release the family together, establish a law to allow for family detention, or separate children and adults. So far, the Trump administration has adhered to the third choice.
Attorney general Jeff Sessions has claimed the policy will act as a deterrent against other would-be immigrants seeking to cross the border. Sessions and Homeland Security Secretary Kirstjen Nielsen have spoken about the policy as simply a consequence to an illegal action, and on Thursday Sessions cited bible verses which tout "orderly and lawful processes" — also used during the American Revolution, and by defenders of slavery during the Civil War — in support of it.
Then on Sunday, Nielsen contradicted herself and DHS, tweeting "We do not have a policy of separating families at the border. Period."
Trump is set to meet with House Republicans about two immigration bills on Tuesday. The more moderate measure would end separation of migrant families as well as "catch and release" immigration loopholes, protect Deferred Action for Childhood Arrivals (DACA) recipients, and create a failsafe to stop issuing the new visas if Congress defunds plans for the border wall.
This comes after Trump upended the GOP leadership's plans on Friday, telling FOX News, "I certainly wouldn't sign the more moderate [bill]. I need a bill that gives this country tremendous border security. I have to have that."
Trump continues to use the issue of family separation as leverage in immigration negotiations against Democrats, demanding support for a border wall, tighter border security regulations, and limiting legal immigration.
The White House later walked back the president's Friday statements, saying he had misunderstood the question, and would be supporting both bills.