For $100,000 Per Couple, You Could Join Trump's Swanky Inauguration Anniversary Dinner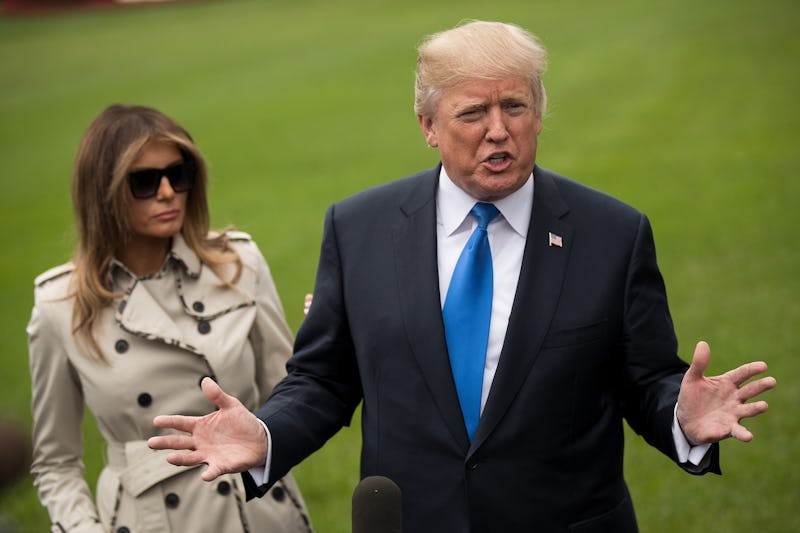 Drew Angerer/Getty Images News/Getty Images
President Trump plans to celebrate the one-year anniversary of his inauguration as POTUS this weekend at his Mar-a-Lago resort in Palm Beach, Florida. But the swanky dinner event is no small affair for family and close friends — it's a fundraiser put on with the Republican National Committee. And for a cool $100,000, couples can join Trump's inauguration anniversary dinner party.
That hefty donation would secure two seats at the dinner and a photo op with Trump himself. Those who shell out $250,000 can join Trump at a round-table discussion, although the topics of that talk have not been announced.
The Mar-a-Lago inauguration anniversary fundraiser represents a break with previous presidents' campaign activities. As Bloomberg's Jennifer Jacobs and Bill Allison noted, former President Obama did not headline any fundraisers until two years after his inauguration. Former President Bush raised just $268,423 in his first year in office, the equivalent of roughly two-and-a-half pairs of tickets for Trump's upcoming Mar-a-Lago bash. To put that in perspective, Trump Victory, the joint fundraising organization putting on Saturday's event, collected $11.1 million during the first three quarters of Trump's presidency.
RNC Chairman Steve Wynn, better known for his many casino property holdings, and the current chairwoman of the RNC, Ronna Romney McDaniel, are hosting the event. For those wondering: Yes, McDaniel is related to Mitt Romney — the former Republican presidential and regular Trump critic is her uncle. In a bit of intra-party intrigue, McDaniel has dropped the "Romney" from her name on certain occasions, reportedly to appease Trump. Invitations to Saturday's Mar-a-Lago fundraiser feature her name as simply "Ronna McDaniel."
Trump's decision to leave Washington, D.C., while the specter of a government shutdown still looms over the city has been met with criticism from some corners. The government will run out of funding at midnight Friday unless lawmakers can come to an agreement on spending levels.
Matt House, the communications director for Senate Minority Leader Chuck Schumer, tweeted that while Senate Majority Leader Mitch McConnell said they awaited Trump's approval on any spending measure, "@realDonaldTrump is wheels up to Mar-A-Lago." Rep. Don Byer tweeted, "With the country facing the threat of a shutdown Donald Trump plans to head to Mar-A-Lago to schmooze with the wealthy people whose taxes he just cut."
And Rep. Steve Cohen called Trump's trip to Mar-a-Lago "irresponsible," "self absorbed," and a "dereliction of duty." Cohen made some disparaging remarks about Trump's work ethic and eating habits, too.
According to NBC's presidential travel tracker, Trump has spent 121 days of his first year in office at his private properties. That's precisely one-third of his presidential tenure to date. Assuming his travel plans go as scheduled, Trump will kick off the start of his second year as POTUS at Mar-a-Lago, about 1,000 miles away from the White House.
Trump's campaign asked prospective donors to give as little as $3 to be entered for a chance to win two free tickets to Saturday's event. That giveaway includes the cost of travel to Trump's south Florida resort, which means at least one couple present on Saturday should have skirted the $100,000 price of entry.
Other sources of incoming campaign cash for Trump Victory include an online store selling various Trump paraphernalia.
Lawmakers were up late Thursday night on Capitol Hill, trying to negotiate a deal to avoid a government shutdown. And while it's clear that Republicans and Democrats are finding themselves in disagreement on a number of issues, one thing they did find common ground on was the timing of Trump's trip. According to Politico, they've received "a whole lot of 'what-is-he-thinking' emails from both sides of the aisle."