Trump's Instagram Tribute To John McCain Featured A Photo Of Himself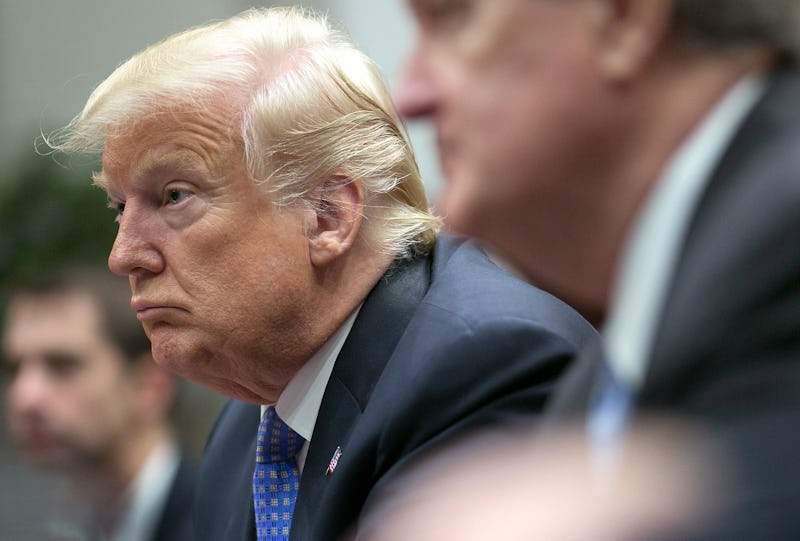 Win McNamee/Getty Images News/Getty Images
President Donald Trump's tribute to the late Sen. John McCain on Twitter has been widely quoted — as most of his tweets are — but that's not the only place the president has sent his well wishes to McCain's family. Trump honored McCain on Instagram, copying the same words from his tweet but adding a photo of himself.
The text is an exact copy of the Twitter post, but on Instagram it's been blown up into large white, capitalized letters over a black background. On the left side, is a picture of Trump looking serious. The photo blends into the black background.
"My deepest sympathies and respect go out to the family of Senator John McCain. Our hearts and prayers are with you!" reads the text. The caption of the post has the same text — all exactly as it was written on Twitter.
McCain died on Saturday after a battle with brain cancer. He was 81 and had spent much of the last years not only battling the disease but speaking out against President Trump and his economic policies, attacks on the media, and more.
The New York Times reported in May that those close to McCain were planning a funeral in Washington's National Cathedral but that Trump would not be attending. Instead Vice President Mike Pence would go.
In one of his last criticisms of the president, McCain indirectly blamed chemical attacks in Syria on the president. "President Trump last week signaled to the world that the United States would prematurely withdraw from Syria," McCain said in a statement in April. "Bashar Assad and his Russian and Iranian backers have heard him, and emboldened by American inaction, Assad has reportedly launched another chemical attack against innocent men, women and children, this time in Douma."
Most of McCain's criticisms were relatively polite or indirect — at least in their wording. Even when he is said to have criticized Trump for evading the Vietnam War draft with a bone spur, he didn't do so blatantly. In that case he said later on The View that he wasn't attacking the president so much as the system that allowed such things to happen.
Trump on the other hand was widely criticized after attacking McCain on the campaign trail in 2015. "He's not a war hero," Trump said at the time in Iowa. "He's a war hero because he was captured. I like people that weren't captured."
Perhaps the strongest condemnation of the president, then nominee, came after the Access Hollywood tape was released, in which Trump spoke of grabbing women by the genitals without their consent, McCain spoke out again and withdrew his support from the then nominee.
"It's not pleasant for me to renounce the nominee of our party. He won the nomination fair and square. But this is — I have daughters. I have friends. I have so many wonderful people on my staff. They cannot be degraded and demeaned in that fashion," McCain said in October 2016, about a month before the election.
Without a doubt, the two were at odds throughout the Trump presidency and McCain's illness. Now that McCain has passed away, the president may be ready to move on with kind words of tribute — even if the Instagram picture is of himself.