How Trump's "Jobs Not Mobs" Hashtag Is Making Its Way Into His Rallies Now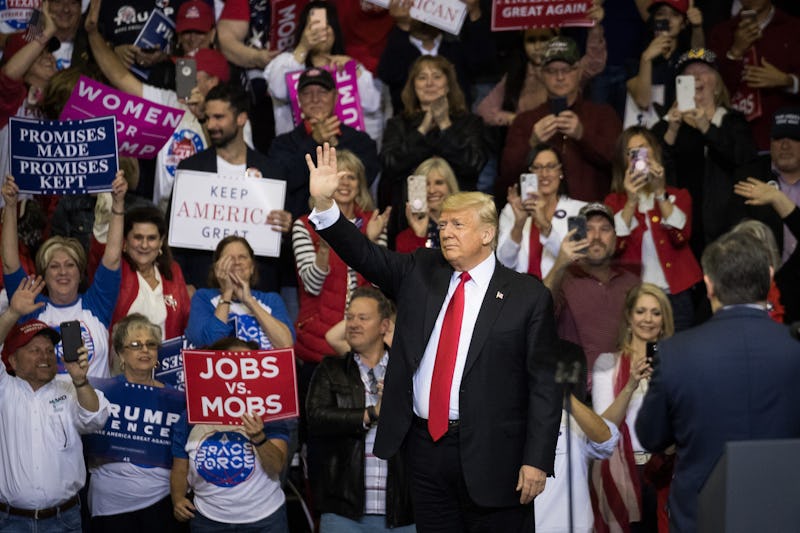 Loren Elliott/Getty Images News/Getty Images
You could say POTUS has a penchant for coming up with phrases. Over the last week, Trump's "jobs not mobs" hashtag has been a frequent and increasingly pointed jab at Democrats — and it showed up in full force at his Houston rally on Monday night. Trump has been calling Democrats a "mob" in various fashion for over a month now, but he first coined the "jobs, not mobs" phrase in an Oct. 18 tweet following a rally in Montana. On Monday, the new slogan could be seen in posters throughout the crowd. In fact, Trump seemed to use it as a battle cry throughout the evening, too, telling the crowd that they had a "clear choice" to make in the upcoming midterms.
Trump said to the Houston crowd that they had two choices: to choose to vote Republican and to enjoy the "continued prosperity" that his administration has established, or to let the "radical Democrat mob take a giant wrecking ball and destroy our country or our economy." Trump later repeated his assertion, claiming that the Democrats "want to replace the rule of law with the rule of mob."
Trump has continually and increasingly referenced the Democratic Party as a "mob" for the last few weeks. He frequently tweets #jobsnotmobs, and has been speaking out against the "radical Democrats" throughout his many recent speeches in the last month.
Trump's attacks on the "party of crime," as he dubbed the Democratic Party on Oct. 1, have been intensifying as the midterms draw near. He even released a video condemning the "mob" on Oct. 19, saying, "The Democrats don't like being called an angry mob, but really, that's what they've become. They've gone so far left they can't even believe that they're over there –they don't know what's going on."
Trump concluded his #JobsNotMobs video by saying, "We should be a unified country, and it'll happen some day."
On Oct. 20 at a rally in Nevada, Trump said point-blank to the crowd, "The Democrat party has become an angry, ruthless, unhinged mob determined to get power by any means necessary."
Some Democrat politicians have responded to Trump's claims. Sen. Dick Durbin said to CNN's Jake Tapper of the #JobsNotMobs slogan on Oct. 20, "Here we have a situation where the president goes to Montana and praises again a Republican congressman for body-slamming a reporter, and we're supposed to be the mob? Give me a break."
John Weaver, a Republican strategist and longtime critic of Trump, said to The Washington Post that the new slogan is simply another form of "fearmongering." He said, "I'm sure there is some little old lady in Iowa who now keeps her doors locked because she thinks there's going to be some anarchist mob coming through Davenport."
Trump's pushing of the #JobsNotMobs rhetoric might just invigorate Republicans to show up in droves for the midterms. But if it doesn't, Trump has already established another clear argument to voters and politicians alike: It will not be his fault, should Republicans fail to win seats on Nov. 6.
According to the Associated Press, Trump said in an interview on Oct. 16 that it wouldn't be his fault if his party failed to win elections in the midterms. Instead, he replied, "No, I think I'm helping people. I don't believe anybody's ever had this kind of an impact."
On Monday night, though, following the Houston rally, Trump took to Twitter to return his focus to rallying his party. He tweeted, "Today's Democrat Party would rather protect criminal aliens than AMERICAN CITIZENS - which is why the Democrats must be voted OUT of OFFICE!"