Trump's Latest Speech Sounds Eerily Similar To 'Legally Blonde'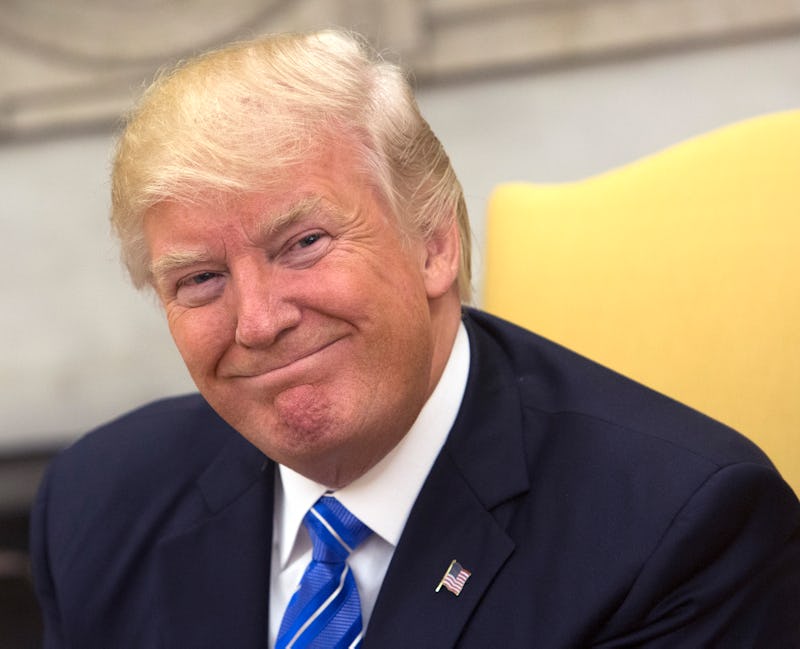 Pool/Getty Images News/Getty Images
Side-by-side comparisons are fun. Especially when it's a side-by-side comparison involving Donald Trump's commencement speech at the Christian Liberty University and Elle Wood's commencement speech from Legally Blonde. Recently, Jimmy Fallon showed how similar Trump and Woods, a fictitious character, sound by sharing a video clip where certain words from both their commencement speeches almost sound as if the former copied the latter. The tweet from The Tonight Show read, "Trump plagiarized his commencement speech from Elle Woods in Legally Blonde."
In the clip, you can see Woods cheerfully encouraging her peers to "take our next steps into the world" followed by Trump saying, "You must go forward into the world." Then Woods brings up "passion" and so does Trump. The same goes for "courage and conviction" — two things every student can do well with, no doubting that.
When Woods encourages her peers to maintain faith in themselves while venturing out into their post-graduation lives, Trump's clip shows him saying, "Be true to yourself." But the best part is where Woods' style actually differs from Trump's. When Woods exclaims to her audience, "We did it!" Trump diverges from that unifying call and nonchalantly informs the crowd, "I did it."
The skit appears to be a subtle reference to the far more serious case of allegations of plagiarism against Melania Trump whose speech in at the Republican National Convention in 2016 startled viewers across the country, to say the least. Melania was accused of lifting a considerable amount of content from Michelle Obama's 2008 speech at the Democratic National Convention. The entire episode became a popular meme online.
Later on, the person who was supposedly behind the speech-writing fiasco — Meredith McIver, a Trump organization writer — apologized for her "mistake" and attempted to resign. The resignation was rejected by Trump on the basis that "people make innocent mistakes." You can read McIver's entire letter here.
To be clear, Trump did not plagiarize Woods' speech though it would have been quite the sight if he did. Both just share eerily similar words here and there. It's bound to happen especially with commencement speeches, which almost always sound the same across the board.
Even if you don't care for Fallon's show or knowing precisely what Trump said in a commencement speech, a side-by-side comparison like this one can be great if for no other reason than to see how monotonous and trite platitudes can be. That's something we all can agree on.