Trump's Personal Lawyer Cussed Out A Stranger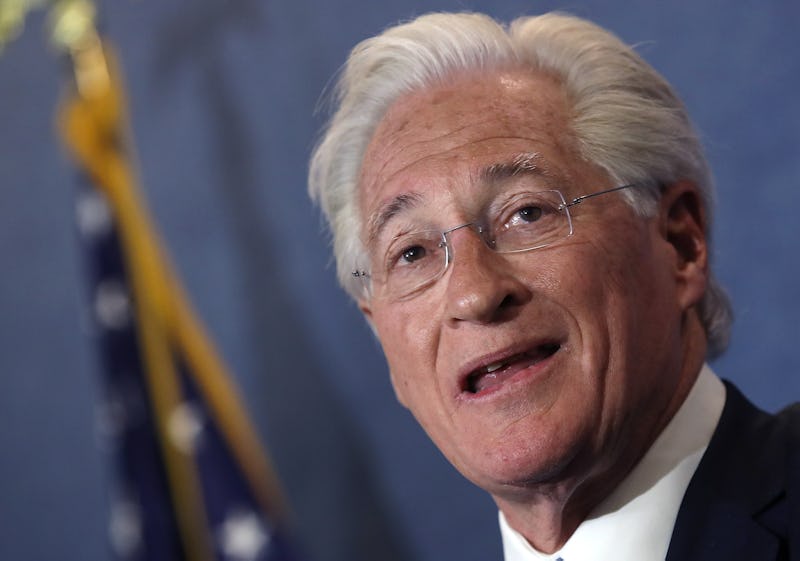 Win McNamee/Getty Images News/Getty Images
Donald Trump's personal attorney Marc Kasowitz found himself in the media spotlight after a ProPublica report revealed that Trump's personal lawyer sent profanity-laced emails to a random stranger. A spokesperson told ProPublica that Kasowitz intends to apologize to the recipient of the emails and that it was sent "at the end of a very long day." Bustle has also reached out to Kasowitz for comment.
Kasowitz has a reputation for being a tough lawyer and has even been described by CNBC as the "toughest lawyer on Wall Street" while Bloomberg called him an "uberlitigator," as Kasowitz points out on his personal website.
According to the ProPublica report, an unnamed retired public relations specialist contacted Kasowitz after reading a previous ProPublica report about him. The report claimed that Kasowitz was not seeking security clearance — in spite of his position as Trump's personal attorney — and added that even if he tried to obtain clearance, he may face "trouble" in doing so. The report alleged that Kasowitz had issues with alcohol abuse and that some of his behavior left "employees uncomfortable," which would be obstacles to him gaining security clearance.
After the story was published, Kasowitz's spokesperson denied the allegations of alcohol abuse and questionable behavior from the lawyer.
After this report was published, the unnamed PR specialist emailed Kasowitz and said, "I believe it is in your interest and the long-term interest of your firm for you to resign from your position advising the President." Kasowitz's alleged response, however, was furious. The first reported reply simply contained two words: "F--k you."
According to screenshots shared by ProPublica, Kasowitz allegedly sent another email 15 minutes later. In this email, Kasowitz reportedly said, "[Y]ou don't know me, but I will know you. How dare you send me an email like that. I'm on you now. You are f--king with me now. Let's see who you are. Watch your back, b---h."
The stranger reportedly responded with, "Thank you for your kind reply. I may be in touch as appropriate." But this did not put a lid on the correspondence. According to ProPublica, Kasowitz reportedly went on, saying,
Call me [...] if you want a conversation. I will have it with you. You are such a piece of s--t. Call me. Don't be afraid, you piece of s--t. Stand up. If you don't call, you're just afraid. Call me.
The content of the emails reportedly disturbed the recipient so much that he contacted the FBI to file a written report about Kasowitz's reported threats. Since then, ProPublica has shared views of different legal experts on online harassment. Some believe that Kasowitz's reported emails contained malicious content of the threatening variety, while others believed that Kasowitz did not violate any law.
"The person sending that email is entitled to his opinion and I should not have responded in that inappropriate manner," Kasowitz said in a statement from his spokesperson. "I intend to send him an email stating just that. This is one of those times where one wishes he could reverse the clock, but of course I can't."