Here's Why Trump's Lawyers Want $340,000 From Stormy Daniels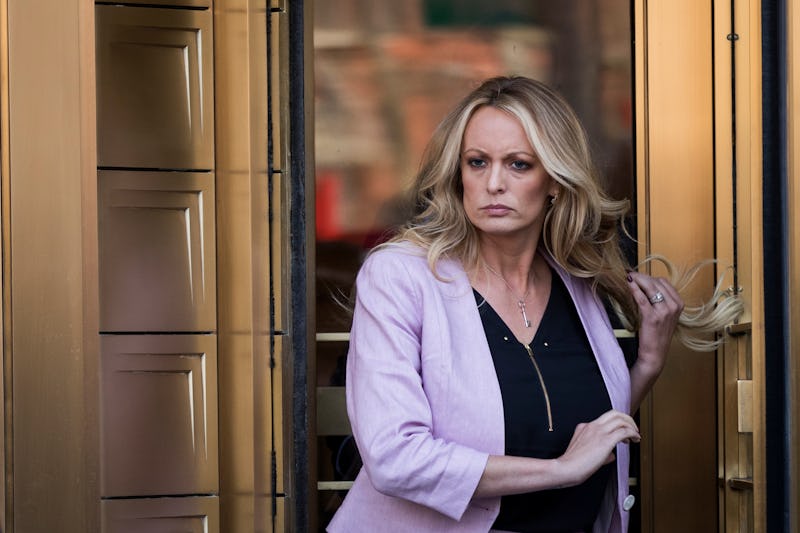 Drew Angerer/Getty Images News/Getty Images
Months after a judge dismissed a defamation lawsuit against the president, Donald Trump's lawyers are asking Stormy Daniels to pay $340,000 in legal fees. Earlier this year, the adult film star claimed former Trump attorney Michael Cohen paid her $130,000 in 2016 to keep quiet about an alleged extramarital affair she'd had with Trump in 2006. While President Trump disclosed reimbursing Cohen for $130,000, he has, on multiple occasions, denied Daniels' allegations of an affair, calling them "false and extortionist accusations."
According to the Associated Press, Trump's legal team is expected to appear before a federal judge in Los Angeles on Monday to argue that Daniels should have to cover the cost of their legal fees for the president. Trump's legal team reported working more than 500 hours at rates as high as $840 an hour, the news outlet reported.
While Daniels' attorney, Michael Avenatti, has reportedly called the $340,000 bill from Trump's legal team "staggering and grossly inflated," Trump's attorneys have argued it was because of Avenatti's own tactics that they wracked up such a high bill.
"This action is virtually unprecedented in American legal history," Trump attorney Charles Harder wrote in documents filed with the court, according to the AP. "[Daniels] not only brought a meritless claim for defamation against the sitting president of the United States, but she also has engaged, along with her attorney, in massive national publicity."
Daniels sued Trump for defamation earlier this year after he responded to a sketch she released of a man she alleged threatened her to keep quiet about her and Trump's alleged affair by calling it "a total con job" and the man "nonexistent."
"A sketch years later about a nonexistent man," Trump tweeted in April. "A total con job, playing the Fake News Media for Fools (but they know it)!" The president later retweeted a tweet suggesting the man in the sketch was Daniels' husband, according to Business Insider.
In October, a judge ruled against Daniels and claimed Trump's tweet was "rhetorical hyperbole" and not defamation and thus protected under the First Amendment. That same judge also noted that Trump would be entitled to have his legal fees covered by Daniels, the Associated Press has reported.
But Avenatti appears to have high hopes that the judge's initial ruling will be reversed on appeal. He has also argued that whatever Daniels may have to pay in legal fees to Trump's team in the defamation suit will likely pale in comparison to what she'll be awarded in her other lawsuit against both Trump and Cohen.
"Be clear: Any attys fees that may be awarded in the defamation case (that is going to be reversed on appeal) are but a small fraction of what Trump & Cohen will owe Stormy in the main NDA case," Avenatti tweeted Monday. "We have already forced them to admit they lied to the court and the judge repeatedly."
Earlier this year, Daniels sued Trump and Cohen for the right to speak publicly about her alleged affair with Trump on the grounds the non-disclosure agreement she signed with Cohen in 2016 is invalid because Trump allegedly never signed it.