Trump's "Made In America" Event Apparently Used Cutlery Made In China & It Gets Worse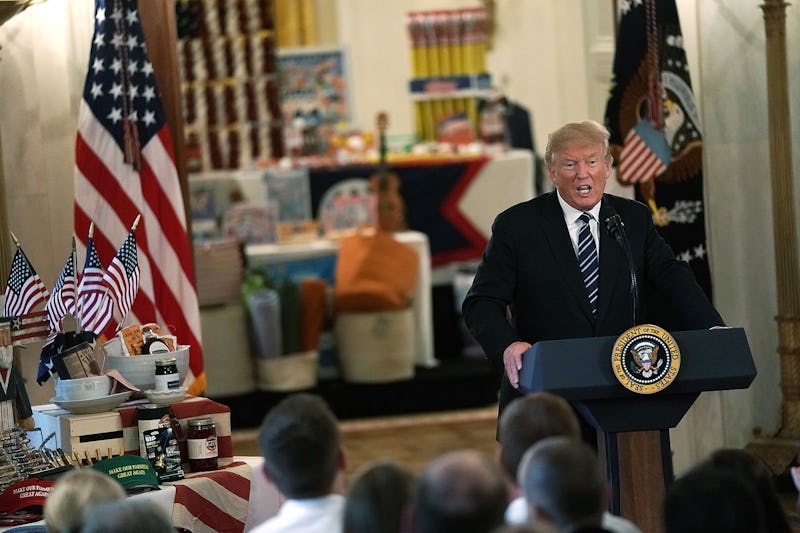 Alex Wong/Getty Images News/Getty Images
In one of the more ironic news stories this week, Trump's "Made In America" event used cutlery from China, according to Syracuse.com. Trump's Made in America Product Showcase also inspired another form of irony, albeit online: people took to Twitter to post pictures of various Trump products, many of which have been produced in countries such as China, Indonesia, Turkey and Canada. This event came in the midst of a series of trade battles the Trump administration is waging with several countries, many of which stand to injure American manufacturing.
At the Made In America Showcase, Trump said, via NBC News, "We're here today to celebrate the greatest products in the world, products made with American heart, American sweat, and American pride. The event that featured companies as large as Ford and Lockheed Martin, and as small as businesses for pens, puzzles and clothing.
Matt Roberts, president of Sherrill Manufacturing, which is America's last flatware maker, was the one who confirmed that the cutlery at the Made In America Product Showcase was supposedly made in China. Apparently Sherrill Manufacturing, as well as a few lawmakers like Rep. Claudia Tenney (R-NY) have been pushing the Trump administration for a while now to purchase American-made flatware. In an exchange that was recorded on camera last November, at Tenney's request that the administration start buying flatware made in the United States, Trump said, "I'll buy it, I'll buy it. Done!"
Roberts has reportedly been contacted by the White House before about interest in buying his flatware, but it has never led to an actual purchase. "With all of the things going on in the world, forks and spoons in your kitchen are not exactly the top priority at the White House," he said.
American cutlery wasn't the only thing that was absent from the Made In America Showcase: most Trump products weren't eligible to be there, either.
In the wake of the Showcase, the variety of Trump products that are non-American made have been brought to the spotlight: the ties that Trump wears are made in China, Trump-brand suits are made in Indonesia, Trump eyeglasses are made in China, and Trump vodka is manufactured in the Netherlands, to name a few products.
Users have taken to Twitter, posting photos of their various Trump products that reflect tags indicating they were made in countries other than the United States. Even Jimmy Kimmel got in on the action, going on a Trump merchandise shopping spree to see which items were made in America. Kimmel only found one domestic product: a golf club cover that was technically made in China, but "decorated" in the United States.
The question of where products have been made is one of increasing importance, as Trump has threatened several trade partners in recent months with potential tariffs and import freezes. Last week, he told CNBC that he was ready to impose tariffs on all $500 billion of imported goods that the United States receives from China. This would be on top of the 25% duties that have already been imposed on Chinese imports.
What's more, the Trump administration imposed tariffs on aluminum and steel imports from Mexico, Canada and the European Union in June.
Though Trump has insisted that these trade battles are necessary to benefit the United States in the long run, as The Atlantic writer Amy Merrick notes that tariffs can eventually hurt the country who is imposing them, for a variety of reasons, and that economies eventually benefit far more from innovation than by "stifling" trade.
Merrick writes, "Over a longer period, whether countries retaliate or not, consumers in the country that imposes the tariffs become much worse off. If countries do not retaliate, companies have less fear of foreign competitors entering their home market. If countries do retaliate, companies have fewer opportunities to expand overseas."
In response to the pain of "retaliatory trade tariffs on U.S. farmers," Trump has recently unveiled a three-part, $12 billion plan to provide aid to farmers who have been hurt by the trade battles.