Trump's Immigration Policies Haven't Stopped Mar-A-Lago From Trying To Hire Foreigners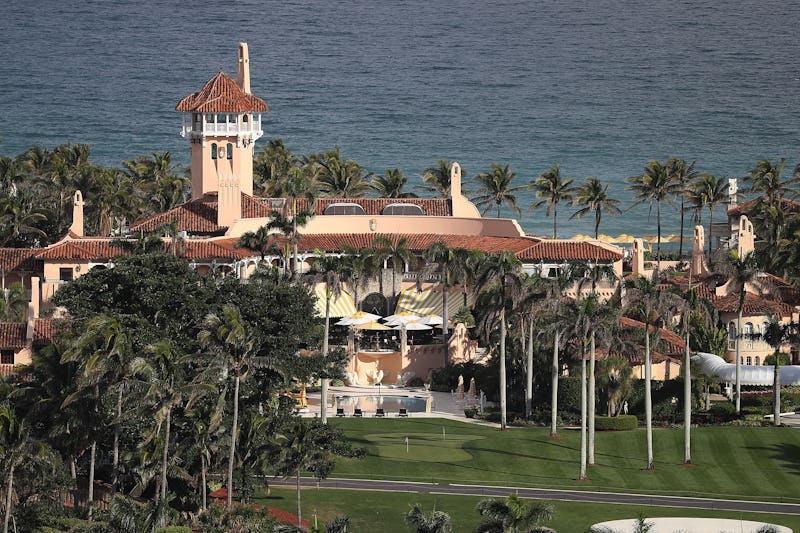 Joe Raedle/Getty Images News/Getty Images
As the Trump administration continues to sustain criticism for its "zero-tolerance" immigration policy, the Trump Organization wants to hire more foreign workers. As BuzzFeed reported Thursday, Federal Department of Labor documents show that Trump's eponymous organization filed a request asking for permission to hire temporary foreign workers at Mar-a-Lago. Forty of them would be employed as wait staff, while 21 would be hired as cooks, The Washington Post reported.
According to the Department of Labor requests, the waiters and waitresses would make $12.68 an hour with a possibility for overtime. This rate for wait staff is higher than it was in 2017, climbing from $11.88 per hour last year, The Washington Post reported. Meanwhile, the cooks would make $13.31 per hour, which is 3 cents less than last year. If approved, the requests would bring the workers to Palm Beach from October of this year until the end of May 2019 through the controversial H-2B visa program.
This visa program allows guest workers to use temporary visas if there aren't any qualified workers in America who want the jobs, according to U.S. Citizenship and Immigration Services. The Trump Organization will need to go through a procedure to prove that they can't find qualified American workers to fulfill these common server and cook jobs to comply with labor laws. But if the foreign workers are hired, after finishing their work in May under these visas, they would have to return to their home countries.
In a previous interview with MSNBC's Morning Joe, Trump said he used foreign workers at Mar-a-Lago for tourist season because "during the season in Palm Beach, it's very, very hard to get help." However, this seems to be a step away from his general stance on hiring American workers rather than foreign workers.
Neither the White House nor the Trump Organization has responded to requests for comment from Bustle.
Mar-a-Lago is a for-profit club that was described in a report by The Miami New Times as "the douchey villa he owns in Palm Beach that will hopefully be swallowed by the ocean one day soon." It has been more favorably dubbed by Trump as the "Winter White House."
According to BuzzFeed, since Trump's presidential campaign was launched in 2015, businesses he owns or those bearing his name have tried to hire almost 500 temporary foreign workers. And apparently about 240 of them were for Mar-a-Lago. Just last year, The Palm Beach Post reported that 70 foreign workers were hired at the social club to serve as maids, cooks, and servers for the 2017-2018 tourist season.
Plenty of folks on Twitter think it's ironic that the Trump Organization is hiring foreign workers even though Trump himself has taken such a hard stance when it comes to migrants.
Rep. Pramila Jayapal (D-Wash.) went so far as to call it "total hypocrisy," writing to the president on Twitter: "You know America needs immigrant workers, but you villify them---then file to hire more! Just pass real immigration reform, once in for all and stop using immigrants as your punching bag."
And Jayapal isn't the only one coming in hot with the word "hypocrisy."
Former CBS Evening News anchor Dan Rather jumped in to tweet, "Because I'm sure they couldn't find any Americans to do the job. Hypocrisy thy name is..."
But according to The Washington Post, this isn't just a Trump Organization thing. Mar-a-Lago's competitor social clubs and hotels in Palm Beach have also hired foreign guest workers for the winter months, noting that seasonal work is less appealing to American workers because it's not as consistent.
But standard practice or not, the decision to hire so many foreign workers in the current climate is a bold move for the Trump Organization.