Trump Reportedly Racked Up Millions In Travel Costs To Stump For Midterm Candidates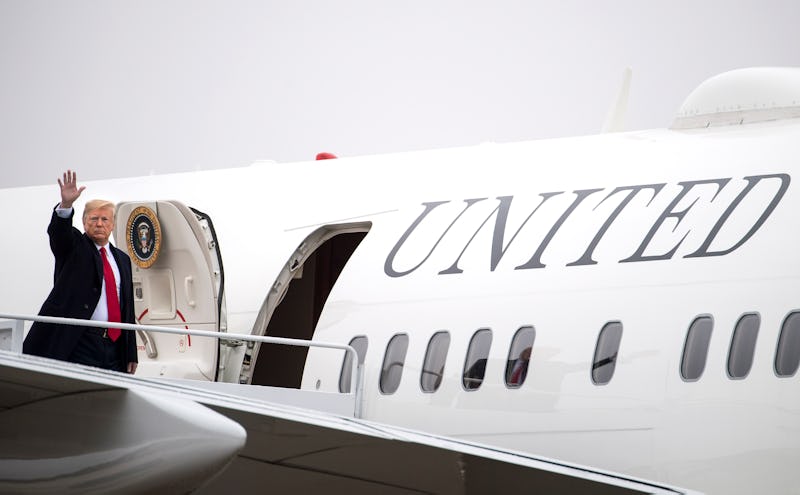 Pool/Getty Images News/Getty Images
The presidential plane hangar rally has become a hallmark of the 45th presidency. But how much President Donald Trump's travel cost during the 2018 midterm campaign, according to Quartz, will shock you. An analysis by the outlet found that the airfare for to travel to those rallies cost an estimated $17 million. Quartz broke down the estimated cost for nearly 50 political rallies between March 10 and Election Day.
The most expensive rally, according to the Quartz analysis, was $1,310,232 to support Dean Heller in Las Vegas, while the least expensive, according to the analysis, was $35,641.20 to support Mike Braun in Indianapolis. Braun won his Senate race while Heller did not.
Of that estimated $17 million air travel, the reelection campaign or political party is supposed to pay a portion, so taxpayers don't front the entire bill, according to the Federal Election Commission. For example, Quartz reported that Trump's campaign paid about $112,000 for air travel in March and April of this year, but no paperwork for following months has been filed. Bustle has reached out to the White House for comment.
In February 2017, The Washington Post reported that Air Force One costs about $200,000 per hour to operate. Through a Freedom of Information Act request by conservative oversight group Judicial Watch, the Air Force said it cost $142,380 per hour to operate Air Force One in the 2017 fiscal year. By comparison, the Air Force said a Boeing 757 used for shorter runways will cost roughly $25,641 per hour, according to Quartz.
Regardless of plane size, that's not the only travel expense the president incurs while traveling. As Quartz pointed out, there's Secret Service and the presidential support staff, hotel costs, rental fees and other security.
Beyond the $1.3 million trip to stump for Heller in Nevada — who would eventually be defeated — Trump also incurred $1.2 million in travel costs to stump for Matt Rosendale in Montana. A second rally on Sept. 6 for Rosendale cost about $550,000, followed by a third rally in mid-October that cost $940,000, according to Quartz. Rosendale also lost his Senate race.
And, as always, there's a Trump tweet (or two) about the topic of airline costs. On July 5, 2016 — months before he would be elected commander in chief — Trump tweeted, "Taxpayers are paying a fortune for the use of Air Force One on the campaign trail by President Obama and Crooked Hillary. A total disgrace!"
A Quartz analysis found that because the Trump campaign and the Republican National Committee have only reimbursed the Treasury Department for $112,667.90 so far, that means "taxpayers may have so far been reimbursed for about 0.7 percent of the cost of the president's flights to political rallies."
There's still two years of Trump's presidency left — and an entire re-election campaign. Trump filed for re-election on the day he was inaugurated, so it's highly unlikely that he would stand a Republican challenger in a primary. Time will tell how much more in travel expenses he can rack up.