Trump's Net Worth Just Fell By A LOT & It's (Partly) His Fault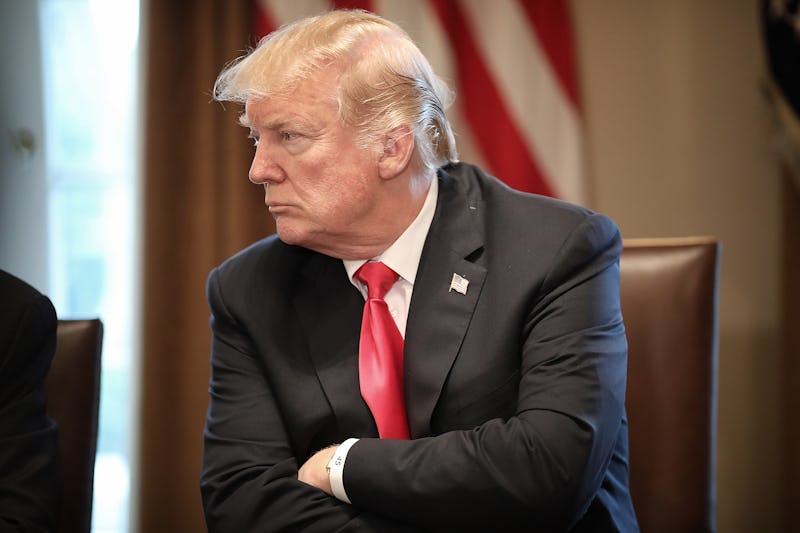 Win McNamee/Getty Images News/Getty Images
He may be the richest president in U.S. history, but his wealth is reportedly declining: Donald Trump's net worth has plummeted on Forbes' billionaires list, dropping more then 200 spots in the magazine's latest ranking of the world's richest people. Forbes reports that Trump's net worth has fallen by roughly $400 million since before he took office, in part because the president's "polarizing personality is costing him business."
According to Forbes, Trump is worth $3.1 billion as of March 2018, making him the the 776th richest person on Earth. This is a precipitous fall from the year before, when the president was ranked the 544th wealthiest person alive. The year before that, which was the last time his net worth was ranked before his inauguration, Trump was the 156th richest person on Earth, according to Forbes.
The financial magazine attributes several factors to Trump's steadily-decreasing net worth, some of which are wholly beyond his control. For instance, many of Trump's properties are in New York City, and the retail real estate market in New York is struggling. Trump Tower has fallen in value by $41 million in the last year alone, according to Forbes, thanks in large part to the success of e-commerce businesses.
However, there's evidence that Trump's conduct as a candidate and now as president have also been bad for business. Before he even won the Republican nomination, for instance, Macy's stopped selling Trump-branded ties after Trump made comments likening Mexican immigrants to rapists.
This trend appeared to continue after Trump took office. In March 2017, it was reported that some attendees of the Toronto International Film Festival, including representatives from Lionsgate Films, refused to stay in the centrally-located Trump International Hotel out of opposition to the president, and instead booked more remote lodgings. That hotel, usually a popular venue for press conferences during the annual festival, was also the site of anti-Trump protests, and in June, it opted to stop using the Trump name entirely.
The Trump SoHo hotel has also struggled since Trump launched his political career. According to the New York Times, the hotel was forced to drop its rates in order to fill rooms. Like the Toronto property, it had been the source of anti-Trump protests, and in April, a restaurant in the hotel closed because, according to one of its lawyers, revenue had gone down "since the election."
In November, that hotel also removed the Trump name from its buildings, and reportedly paid the Trump Organization for the right to do so. (Trump makes much of his money by licensing his name to properties that he does not own.)
It isn't only Trump's hotels that are flailing. In October, documents released by the British government showed that the president's two golf courses in Scotland lost a combined $41.4 million in 2016. In Los Angeles, revenues from the Trump National Golf Club in Los Angeles fell by double digits in the first six months of 2017, according to the Times. In May, hundreds of protesters assembled at that course and, by laying down strategically on the grass, spelled out "RESIST!" with their bodies.
Of course, a $3.1 billion net worth is nothing to sneeze at. But in addition to the fact that it's nowhere near the $10 billion he claimed to be worth in 2016, Trump's loss in value now puts him behind several other billionaires with whom he's launched public feuds. Amazon founder and Washington Post owner Jeff Bezos, who Trump once accused of "screw[ing] the public," is now the richest man in the world, with a net worth of $112 billion — roughly 36 times that of Trump. Mark Cuban, who Trump said "is not smart enough to run for president," is around $600 million richer than Trump.