Diplomats' Same-Sex Partners Won't Be Granted U.S. Visas Unless They're Married Now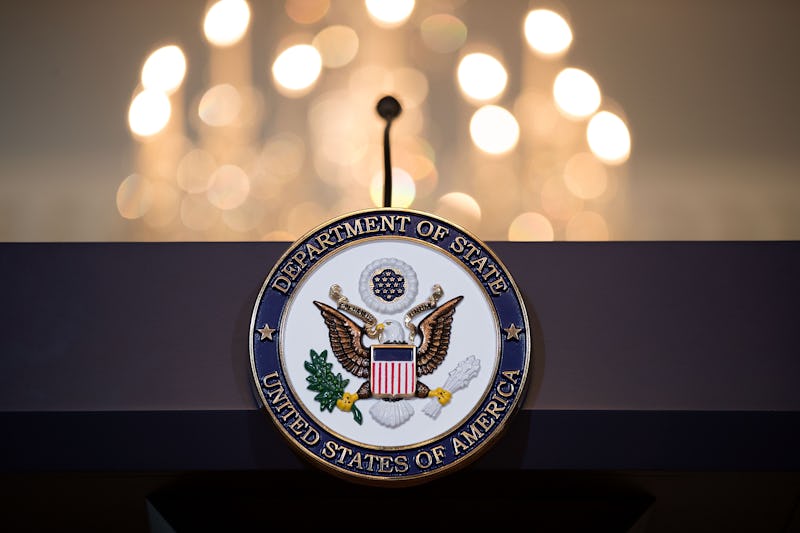 Drew Angerer/Getty Images News/Getty Images
As of the first of October, the Trump administration's new visa policy for foreign diplomats has taken effect — and it's quite controversial. The administration will now no longer issue diplomatic visas to unmarried same-sex partners of foreign diplomats, claiming the new rule provides fairer measures that are more in line with those for heterosexual couples. However, critics characterize the new policy as unjust and discriminatory, as many countries do not allow same sex couples to marry.
The new policy mandates that same-sex foreign domestic partners of United Nations officials and diplomats based in the United States furnish proof of marriage by Dec. 31 in order to maintain their diplomatic visas, as Foreign Policy reported. Otherwise, they have to leave the country. Moreover, domestic partners of diplomats and U.N. officials who are currently abroad but planning to enter the United States in the future must now show proof of marriage in order to obtain a diplomatic visa to enter and stay in the country. The outlet indicated that, currently, there are at least 10 United Nations employees based in the United States who will need to get married by the end of the year in order to allow their partners to keep their visas.
As Foreign Policy reported, the U.S. Mission to the United Nations characterized the decision as a positive one, writing in a July 12 memo to U.N.-based delegations,
Same-sex spouses of U.S. diplomats now enjoy the same rights and benefits as opposite-sex spouses. ... Consistent with [State] Department policy, partners accompanying members of permanent missions or seeking to join the same must generally be married in order to be eligible [for a diplomatic visa].
The U.S. State Department echoed similar sentiments, telling ABC News that the decision was made to "ensure and promote equal treatment" between same-sex and opposite-sex couples. In 2009, a State Department policy was put in place that mandated that heterosexual staffers be married in order to obtain diplomatic visas for their partners. However, same-sex couples were offered an exemption from the marriage rule for their domestic partners.
In contrast to the administration's characterization of the decision, there has been widespread condemnation of the new policy by a host of human rights advocacy organizations, as well as by many individuals. For example, U.N. Globe, a U.N. LGBTI staff advocacy group, said in a statement, "It is an unfortunate change in rules, since same-sex couples, unlike opposite-sex couples, have limited choices when it comes to marriage." The group also encouraged U.N. staffers in the United States who will be affected by the rule change to consider getting married.
Others also took to social media to criticize the decision. Samantha Power, the former U.S. ambassador to the U.N., characterized the decision as unjust on Twitter, writing,
Needlessly cruel & bigoted: State Dept. will no longer let same-sex domestic partners of UN employees get visas unless they are married. But only 12% of UN member states allow same-sex marriage.
Charlotte Clymer, a Human Rights Campaign staffer, offered similar condemnation, characterizing the policy as an attack on LGBTQ rights. "This is an unnecessary, cruel, and dangerous assault on the rights of LGBTQ people," Clymer wrote on Twitter. "There is no reason for Trump and Pence to do it other than to pander to conservative extremists."
The State Department has indicated that it will offer "limited exceptions" to the policy for diplomats from countries where same-sex marriage is prohibited, Foreign Policy reported. However, those countries would have to agree to extend diplomatic visas to the same-sex partners of American diplomats in return. Moreover, the Department noted the exceptions would only be available for diplomats — not United Nations staffers. Time will soon tell how many officials and their partners will be affected by the new visa policy.