Trump Reportedly Thinks Drug Dealers Are Like Serial Killers & Wants To Execute Them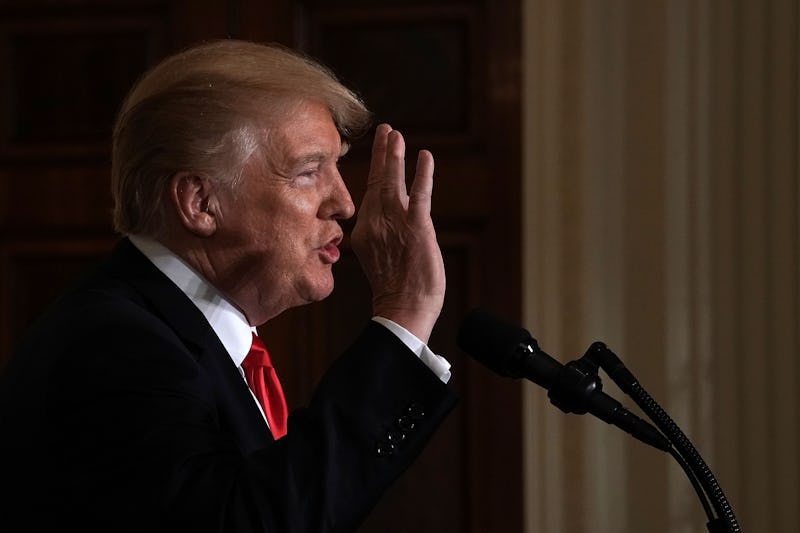 Alex Wong/Getty Images News/Getty Images
In private conversations with aides, President Trump supported drug dealers facing the death penalty, hoping to model his anti-drug policy on the likes of the Philippine's Rodrigo Duterte. This would be his preferred response to the opioid epidemic. According to friends and associates, he has joked about countries with lower rates of drug users, saying, "You know the Chinese and Filipinos don't have a drug problem. They just kill them."
Axios reported late Sunday that the president hasn't just mentioned this once or twice, but regularly gives impassioned speeches to his staff where he compares drug dealers to serial killers. Trump has said he'd like to execute all drug dealers in the United States, according to the report, although he has acknowledged that kind of law wouldn't pass.
This is also advice Trump's apparently received from foreign leaders. A source who has spoken with him "at length about the subject" told Axios that Trump claims foreign dignitaries point to capital punishment as the source of their success. "He says, 'when I ask the prime minister of Singapore do they have a drug problem [the prime minister replies,] 'No. Death penalty','" the source told Axios.
Speaking on the record, Trump aide Kellyanne Conway defended his drug policies and said that the president was especially worried about fentanyl, an opioid pain killer that's had a devastating impact on some communities. Instead of the death penalty, she said Trump advocated a 5-year minimum sentence for dealers selling as little as 2 grams of the drug. Under current law, 40 grams triggers a 5-year sentence; the Drug Enforcement Administration argues 2 milligrams of fentanyl can kill someone.
Conway told Axios that Trump's fentanyl sentencing push is something that "many law enforcement, health professionals, and grieving families" are seeking out, too. "We must toughen up our criminal and sentencing statutes to match the new reality of drugs like fentanyl, which are so lethal in such small doses," Conway told the news site.
In a comparison to current capital punishment laws, Conway made the argument that opioid dealers can be responsible for many deaths and yet not face much prison time, whereas many states allow for a murderer to be put to death.
"The president makes a distinction between those that are languishing in prison for low-level drug offenses and the kingpins hauling thousands of lethal doses of fentanyl into communities, that are responsible for many casualties in a single weekend," Conway said told the news site; that would seem to contradict the report that Trump wants to execute all drug dealers.
The Axios report may be our first peek at Trump's drug policy, which is a long time coming. He hinted in January that he had the answer to the country's opioid crisis, but said that the United States just may not be ready for it. "I think I know the answer," Trump told members of Congress and health care professionals who visited the Oval Office for a bill signing.
The opioid epidemic has long been a key talking point of Trump's, but even after a presidential commission led by former New Jersey Gov. Chris Christie recommended that the issue be declared a national emergency last year, little has changed. Trump did declare the epidemic an emergency, but experts said no funding or staff were made available to state and regional agencies working on the epidemic.
"I have not seen an explosion of activity linked to this declaration," Rob Morrison, executive director of the National Association of State Alcohol and Drug Abuse Directors, told POLITICO in January. "None of our members have knocked on my door to say they have been provided money or actual people on the ground."
The national emergency declaration expired in January. Now it's largely up to the states to work on the issue, and some of them have had more success than others — none have instituted the death penalty.