Trump's Parading Mike Pence's NFL Walkout To Raise Campaign Dollars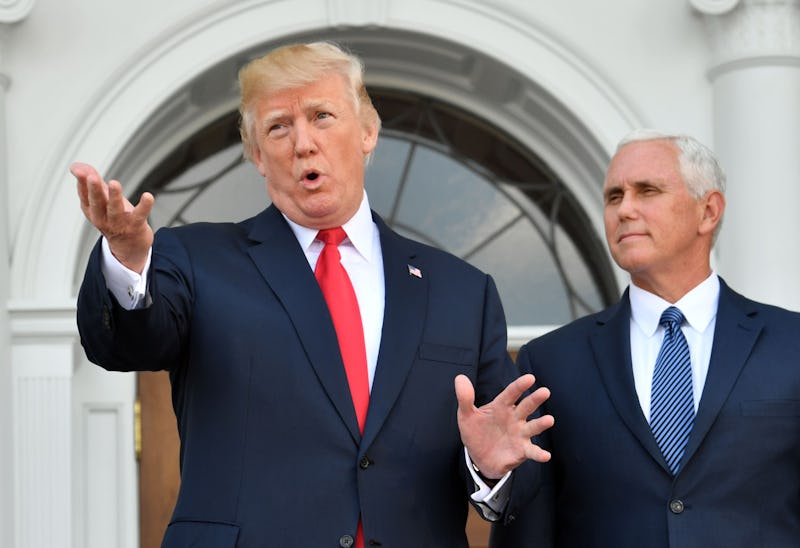 NICHOLAS KAMM/AFP/Getty Images
On Sunday, Vice President Mike Pence walked out of an Indianapolis Colts game after several San Francisco 49ers players chose to kneel during the national anthem. Now, President Donald Trump is parading Pence's NFL walkout to raise campaign dollars, sending an email to supporters on Monday extolling the vice president's actions and soliciting campaign contributions.
Pence walked out of Sunday's Colts-49ers game prior to game play, after observing several 49ers players kneeling during the national anthem. Pence subsequently tweeted about his decision as well as issued a statement on the matter, saying,
I left today's Colts game because President Trump and I will not dignify any event that disrespects our soldiers, our Flag, or our National Anthem ... While everyone is entitled to their own opinions, I don't think it's too much to ask NFL Players to respect the Flag and our National Anthem. I stand with President Trump, I stand with our soldiers, and I will always stand for our Flag and our National Anthem.
Trump sent Monday's email regarding Pence's walkout via the Trump Make America Great Again Committee, a joint fundraising committee composed of Donald J. Trump for President, Inc. and the Republican National Committee (RNC). In his email, which, according to CNN, was sent with the subject line "VP under fire for standing for" the US flag. In his e-mail, Trump both chastised the 49ers players for kneeling as well as praised Pence for leaving the game, writing,
Yesterday members of the San Francisco 49ers took a knee during our National Anthem ... Their stunt showed the world that they don't believe our flag is worth standing for. But your Vice President REFUSED to dignify their disrespect for our anthem, our flag, and the many brave soldiers who have died for their freedoms ... Friend, I was so proud of the Vice President.
Trump then went on to chastise the media in his email, saying that "immediately after the Vice President's honorable display of leadership and patriotism, the Fake News Media relentlessly ATTACKED him."
The email then concluded by asking for donations, with Trump's fundraising committee offering to send an "I STAND FOR THE FLAG" sticker if supporters donate $5 or more to the Trump Make America Great Again Committee. Recipients could directly donate by clicking a hyperlink that was available in the email.
Pence's anthem walkout has been criticized by some as a political publicity stunt, with many people expressing aggravation that the vice president spent over $200,000 on travel to and from the game — all while only very briefly attending.
Others accused the vice president and Trump of pre-planning Pence's walkout, as CNN reported on Sunday that journalists who traveled to the game with the vice president were not allowed into the stadium and were asked to remain in their vehicles. They were reportedly told by one of Pence's staffers that "there may be an early departure from the game."
Other elected officials also took Trump and Pence to task for Pence's decision to leave the Colts game, with CNN reporting that Hawaii Democratic Sen. Brian Schatz tweeted, "Wait. This was orchestrated to make a point? That's not an inexpensive thing to do."
Trump appeared to defend the notion that Pence's walkout was not a political stunt on Twitter, saying on Monday that "The trip by @VP Pence was long planned." The president also added that, "He [Pence] is receiving great praise for leaving game after the players showed such disrespect for country!"
Pence's decision to leave the Indianapolis Colts game after several 49ers players kneeled during the national anthem was clearly controversial — as is Trump's decision to fundraise for re-election funds while extolling the decision. Many will likely be closely watching to see how much funding Trump secures through his email regarding Pence's walkout.