Here's What Trump Had To Say At His Pennsylvania Rally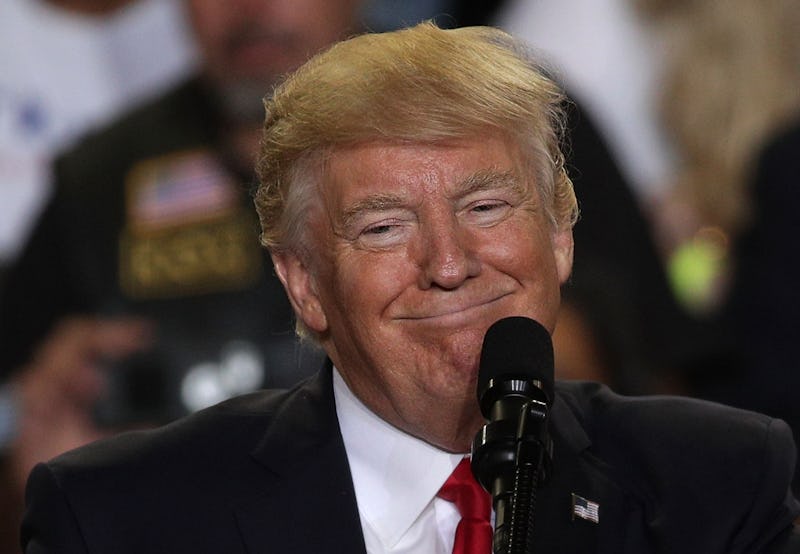 Alex Wong/Getty Images News/Getty Images
If you spent your Saturday evening escaping the world by watching your favorites movies, relaxing, or dancing with your friends, you may have missed what Donald Trump said at his Harrisburg, Pennsylvania rally. It's also worth mentioning that the timing of Saturday night's rally is also extra significant, because Trump missed the annual White House Correspondents' Dinner in order to deliver this speech to his supporters.
It's also worth noting that Trump was the first president in 36 years to skip the annual dinner. The last president to miss the White House Correspondents' Dinner was Ronald Reagan back in 1981, and that was because he was recovering from an assassination attempt.
The tension between the mainstream media and the president was not only made clear through Trump's absence from the dinner, but also, in his statements at his rally. According to a transcript from CBS News, Trump's opening statement in Pennsylvania made his feelings about journalists very clear:
As you may know, there's another big gathering taking place tonight in Washington, D.C., did you hear about it? A large group of Hollywood actors and Washington media are consoling each other in a hotel ballroom in our nation's capital right now.
As he continued his hour long speech, Trump's feelings about the White House Correspondents' Dinner weren't limited to the journalists attending the event itself, but rather, the political institution of D.C. itself. A live-stream from CNN shares him saying these sentiments with the crowd at the farm expo.
They are gathered together for the White House Correspondents Dinner without the president, and I could not possibly be more thrilled than to be more than 100 miles away from Washington's swamp, spending my evening with all of you and with a much, much larger crowd and much better people, right?
During more pointed moments of media criticism, The New York Times reported that Trump named specific newspapers and websites that he disagrees with, even going so far as to mention "the failing New York Times," before accusing MSNBC and CNN of dishonesty.
When he wasn't criticizing the media, Trump's 100-day rally speech included him mentioning North Korea, hinting, "we have somebody there who's causing a lot of trouble for the world." He also mentioned that he hopes China will assist with North Korea, conceding that maybe it was not "exactly the right time to call China a currency manipulator right now," reported The Washington Post.
While his speech started heavy with criticism towards the media, Trump also made sure to address the Mexico border wall he promised voters during his campaign. He said, "We will build it, it will get built," The Washington Post reported. He continued, "We will prosper. We will make America great again."
Surely, that sentiment can take a lot of vastly different, and potentially terrifying shapes. Hopefully, the next 100 days brings better things, or at least, less anxiety.