This Photo Of Trump & His GOP Pals Is Getting Ripped To Shreds On Twitter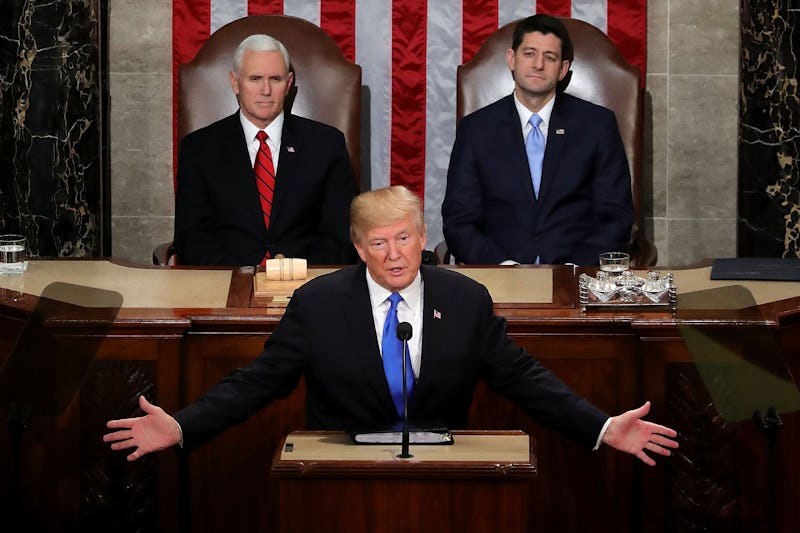 Chip Somodevilla/Getty Images News/Getty Images
You don't have to be an eagle-eyed detective to notice the glaring absence in a photo President Donald Trump tweeted of himself, Vice President Mike Pence, and GOP lawmakers on Wednesday. While the president said he was "honored" to meet with Republican congressional leaders, Trump's photo had two omissions that people were quick to point out. One, none of the leaders are women. Two, all of the leaders are white.
In other words, Trump's bros-only photo reminds us (yet again) that America still has a longstanding reputation of "old, white men" running the show.
The photo was taken at the White House, where Trump met with GOP leaders for a private dinner. Dinner attendees included House Speaker Paul Ryan (R-WI), House Majority Leader Kevin McCarthy (R-CA), House Majority Whip Steve Scalise (R-LA), Senate Majority Leader Mitch McConnell (R-KY), and Senate Majority Whip John Cornyn (R-TX).
"Lots to discuss as we continue MAKING AMERICA GREAT AGAIN!" Trump said in his Tweet. The photo shows Trump standing in the middle of the group, grinning widely while giving the thumbs up alongside his peers. While the men were all smiles in the photo, people took to social media to criticize the homogenity of the Republican Party's top circle.
Five hours after it was tweeted, Trump's photo received more 31,000 likes and more than 20,000 people re-tweeted it. Plenty pointed out the obvious — no women, no people of color.
Some Twitter uses were more sarcastic and took the deadpan route to comment on the diversity problem in Trump's top GOP confidantes.
While others found the group to be similar to a certain American food product.
The Hill reported that the dinner with Republican congressional leaders has been planned for several days, but Trump didn't specify beyond what the meeting was about "Making America Great Again." One name that might have come up though: Robert Mueller. The special counsel is still investigating possible ties between Russia and the Trump campaign team, ties which Trump has denied and once called a "made-up story." (He later backtracked and falsely claimed he never said Russia did not meddle in the 2016 election.)
Days before sharing the photo, Trump verbally attacked Mueller and press secretary Sarah Huckabee Sanders said on Tuesday that President Trump "certainly believes he has the power" to fire Mueller, ending the Russia investigation. Sources close to the president also told Axios that the Muller probe might be a "breaking point" for Trump.
One of the dinner attendees Sen. McConnell, however, told Politico on Tuesday he was almost certain Mueller wouldn't be fired and that the special counsel did not need any special protections from Congress. It "would be a mistake" for Trump to fire Mueller, he added.
"He shouldn't be removed from the office; he should be allowed to finish the job," McConnell said to Politico. "I'm not going to answer the hypothetical, because I don't think he's going to be removed. I think he'll be allowed to finish his job."
Sen. Cornyn also told CNN earlier on Wednesday that it would not be appropriate to discuss the possible Mueller firing at the dinner table. Progressive organizations are already preparing "Nobody Is Above The Law" protests in case Trump does decide to fire Mueller, though.
Trump's dinner party of all white men happened during a flurry of other new developments as well. The same day Ryan announced he will not be running for re-election, leaving the House Speaker position up for grabs. Trump also caused alarm when he tweeted:
Russia vows to shoot down any and all missiles fired at Syria. Get ready Russia, because they will be coming, nice and new and "smart!" You shouldn't be partners with a Gas Killing Animal who kills his people and enjoys it!
Between the Russia probe, conflict in Syria, and a shaking up of Republican staff, Trump and his GOP leaders have a lot to address in the coming weeks.