Trump's Reason For Why He'll Never Return To 'The Apprentice' Is Peak Trump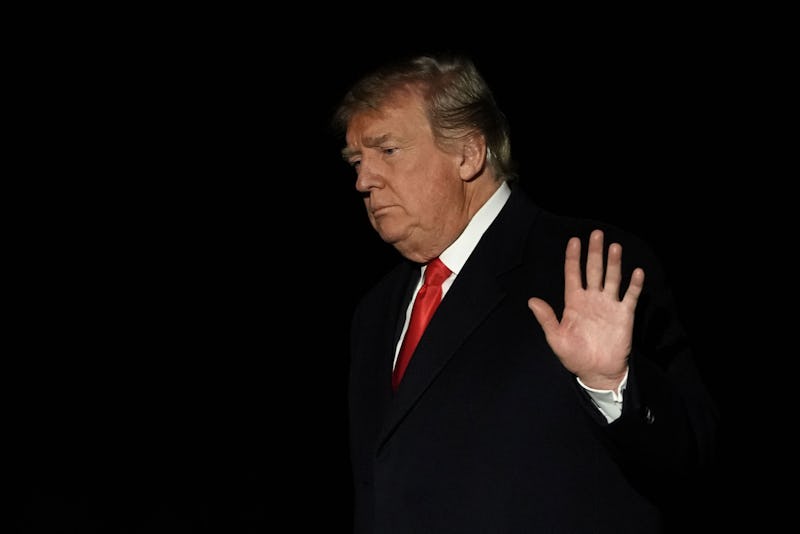 Alex Wong/Getty Images News/Getty Images
In case you were wondering, Donald Trump's post-presidency plans don't involve The Apprentice, according to the New York Post. The Post reports that Trump is unhappy with how Arnold Schwarzenegger handled the show after taking over for him, and as a result, won't return to the show after leaving the White House.
According to the Post, Trump began talking about The Apprentice while discussing the possibility of receiving the Nobel Peace Prize, and suggested that because his television show was never given an Emmy, he will never be awarded the Nobel Prize.
"Well, they'll never give it to me. We should have gotten the Emmy for The Apprentice, you know?," Trump said, according to the Post. "I had the No. 1 show, The Apprentice. Arnold Schwarzenegger blew it. Big movie star. It was dead in two nights. I had it for 14 seasons."
When asked if he'd consider returning to the show after his presidency, Trump said he wouldn't.
"No. No. Arnold put that out of business," Trump said, according to the Post.
Schwarzenegger took over hosting duties on The Apprentice in 2015, but quit after one season. At the time, he said that he was quitting because he didn't want to be associated with Trump, who at that point was still serving as an executive producer of the show.
"With Trump being involved in the show, people have a bad taste and don't want to participate as a spectator or as a sponsor or in any other way support the show," Schwarzenegger told Empire magazine. "It's a very divisive period now and I think this show got caught up in all that division."
In addition to his storied acting career, Schwarzenegger served two terms as California's governor. But although he ran and served as a Republican, he's harshly criticized Trump on many occasions, refusing to endorse him in 2016 and instead throwing his support behind Trump's more moderate primary opponent, Ohio Gov. John Kasich.
Since then, Schwarzenegger has denounced Trump on several occasions, knocking the president's policies on energy, immigration and U.S.-Russia relations. In response to Trump's pledges to revive the coal industry, Schwarzenegger said it was "foolish to bring back laughable, outdated technology to suit your political agenda."
"I mean, what are you going to bring back next?," Schwarzenegger asked Trump in a video message. "Floppy disks? Fax machines? Beanie Babies? Beepers? Or Blockbuster? Think about it. What if you tried to save Blockbuster?"
In July, when Trump appeared with Russian President Vladimir Putin at a press conference, Schwarzenegger chided him for not standing up to the Russian president on the issue of election meddling, and called the president's conduct "embarrassing."
"You stood there like a little wet noodle, like a little fanboy," Schwarzenegger said in another video message. "I was asking myself, 'When are going to ask him for an autograph or a selfie or something like that?'"
Trump, for his part, once referred to Schwarzenegger as "my friend," but began insulting him on Twitter after becoming president. He claimed that Schwarzenegger hadn't quit the Apprentice but was fired; in response, Schwarzenegger said that Trump "should think about hiring a new joke writer and a fact checker."
Although Trump has made it clear that he won't return to the Apprentice, it's unclear whether NBC has any interest him doing so.