Why Trump's Reaction To A Journalist's Possible Murder Sounds Familiar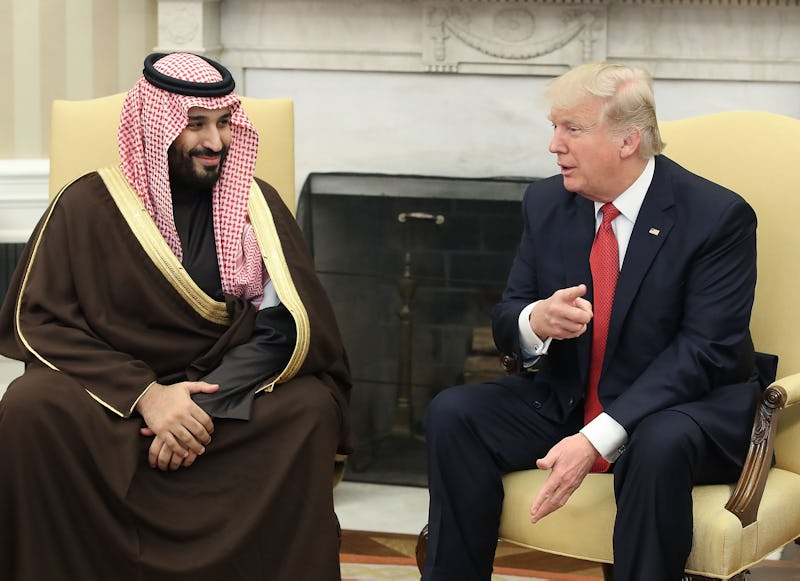 Mark Wilson/Getty Images News/Getty Images
Saudi journalist Jamal Khashoggi is missing — that much is absolutely clear. According to evidence gathered by Turkish authorities, a coordinated and brutal murder carried out by Saudi authorities is behind that disappearance. Trump's reaction to Khashoggi's alleged murder, though, hasn't been exactly what the world has come to expect from the U.S. when it comes to perceived threats to the free press from around the globe — and it will also remind you of a few comments he's made in the past.
So far, Trump has equivocated about whether the Saudis are to blame for Jamal Khashoggi's alleged murder. On Monday, though, he tweeted about a talk he had with Saudi Arabia's King Salman.
"Just spoke to the King of Saudi Arabia who denies any knowledge of whatever may have happened 'to our Saudi Arabian citizen,'" Trump wrote on Monday morning. "He said that they are working closely with Turkey to find answer. I am immediately sending our Secretary of State to meet with King!"
When he was speaking with reporters on the White House lawn on Monday, then, Trump repeatedly stressed that the Saudis had denied any wrongdoing, CNN correspondent Abby Phillip wrote on Twitter. She also noted that the president had suggested that perhaps "rogue killers" were behind Khashoggi's death.
You might have noticed that these comments from Trump fit directly into a pattern he's established when talking about certain foreign countries and leaders. For example, during the 2016 presidential campaign when all evidence pointed to Russia meddling in the election in his favor, Trump suggested that the hack of the Democratic National Committee's servers wasn't necessarily Russia's fault.
"It could be Russia," he said in September 2016. "But it could also be China. It could also be lots of other people. It also could be somebody sitting on their bed that weighs 400 pounds, OK?"
Two years later, during his meeting with Russian President Vladimir Putin in Helsinki, Trump explicitly said that he believed Putin's repeated denials of having meddled in the American election, despite the findings of the U.S. intelligence community.
"My people came to me … They said they think it's Russia. I have President Putin. He just said it's not Russia," Trump said at the press conference following the meeting. "I will say this. I don't see any reason why it would be."
Trump later walked that comment back after considerable media fallout, eventually claiming that he simply misstated a single word. "The sentence should have been, 'I don't see any reason why it wouldn't be Russia,'" Trump said the following day. "Sort of a double negative."
He's also expressed trust in North Korean dictator Kim Jong-un over North Korea's unsubstantiated promise to roll back its nuclear program. Just on Sunday, Trump told CBS' 60 Minutes that he trusted Kim and had "good chemistry" with the brutal dictator, who is believed to have executed at least 340 North Koreans since he assumed leadership, according to USA Today.
What these leaders have in common is that they head up authoritarian governments with little — or no — respect for the democratic norms that America had, at one point, come to symbolize in the world. Trump's reaction to Khashoggi's likely murder at the hands of Khashoggi's own government is yet another way that Trump has drawn himself closer to the authoritarians of the world — and pushed himself away from the U.S.' democratic allies.