This Meme Of Presidents With Hurricane Victims Makes Trump Look Like A Fool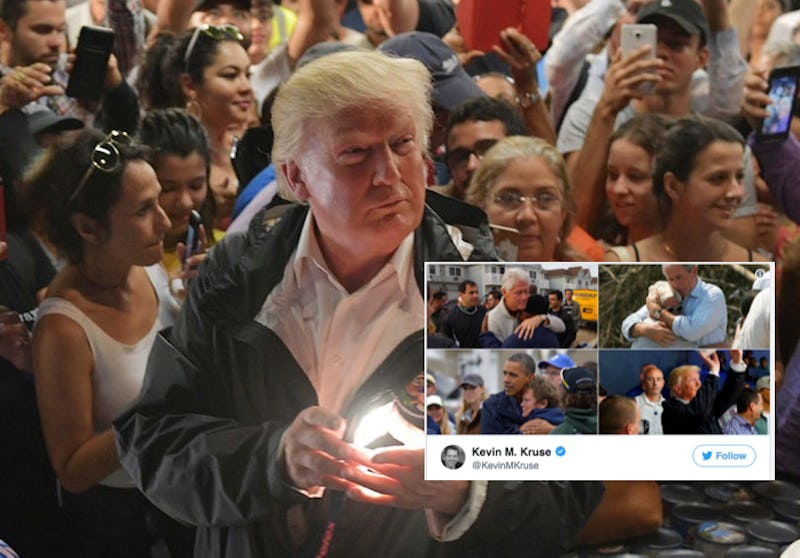 MANDEL NGAN/AFP/Getty Images
Donald Trump's visit to Puerto Rico was supposed to make things better. But the president's trip the region ravaged by Hurricane Maria ended up only exacerbating his public image among locals and other Americans across the country. One particular meme of Trump with hurricane victims in Puerto Rico captures just how ridiculous the president appeared when he decided to hurl paper towel rolls into a crowd of victims. Trump shot not one, not two, not three, but seven rolls of paper towel into his audience until one member from the audience appeared to have asked for a selfie with the president. Trump obliged.
In the meme made by Kevin Kruse, author of White Flight: One Nation Under God, Trump makes the fourth cut in the set of photos but the first three images are of former presidents Bill Clinton, George Bush (who was, to be fair, criticized for his response during Hurricane Katrina), and Barack Obama. The first image is of Clinton holding a Hurricane Sandy victim during the operation known as "A Day Of Action For New York" while the second image is of Bush embracing an elderly victim of Hurricane Katrina. The third image depicted Obama hugging another Hurricane Sandy victim.
In contrast to the aforementioned photos, Trump isn't seen with any victims in a long embrace or even a handshake but he is pretty visible when he reaches for a roll of paper towel and shoots it in the air for anyone, really, to catch. Some rolls were caught by the spectators while a few simply landed on the floor, presumably by the hurricane victims who found such a gesture mildly peculiar.
But it wasn't just Trump playing basketball with paper towel rolls that infuriated people during his Puerto Rico. The president's selection of words for the Americans hit by Hurricane Maria was also criticized by observers. Paraphrasing won't do justice to what Trump actually said; his actual words are worth reading.
"Every death is a horror," Trump said, "but if you look at a real catastrophe like Katrina, and you look at the tremendous — hundreds and hundreds and hundreds of people that died, and you look at what happened here, with really a storm that was just totally overpowering, nobody's ever seen anything like this."
Trump didn't stop there and went on to say, "What is your death count as of this moment? Seventeen? Sixteen people certified, 16 people versus in the thousands. You can be very proud of all of your people and all of our people working together. Sixteen versus literally thousands of people. You can be very proud. Everybody around this table and everybody watching can really be very proud of what's taken place in Puerto Rico."
This isn't the first time that Trump has been criticized for his post-hurricane response. Reports of the president not meeting any Hurricane Harvey victims in Texas ended up in the form of memes, too. Trump did, however, take a moment to say, "What a huge turnout" while talking to a crowd of victims.
In terms of Puerto Rico, there are quite a few moments from Trump that stunned people. In one case, the president said, "Now, I hate to tell you, Puerto Rico, but you've thrown our budget a little out of whack, because we've spent a of money on Puerto Rico." Apparently, it was a joke but since no one really laughed at that poorly-timed quip, Trump shrugged it off. In another case, Trump told a hurricane victim to "have a good time."
In fact, media websites are now keeping a tally of hiccups and missteps from the Trump administration in its hurricane response. But if there's one word that encapsulates the amount of cringe caused by Trump's recent performance in Puerto Rico, it's "yikes."