Trump Responded To His Lawyer's Guilty Plea In The Pettiest Way Possible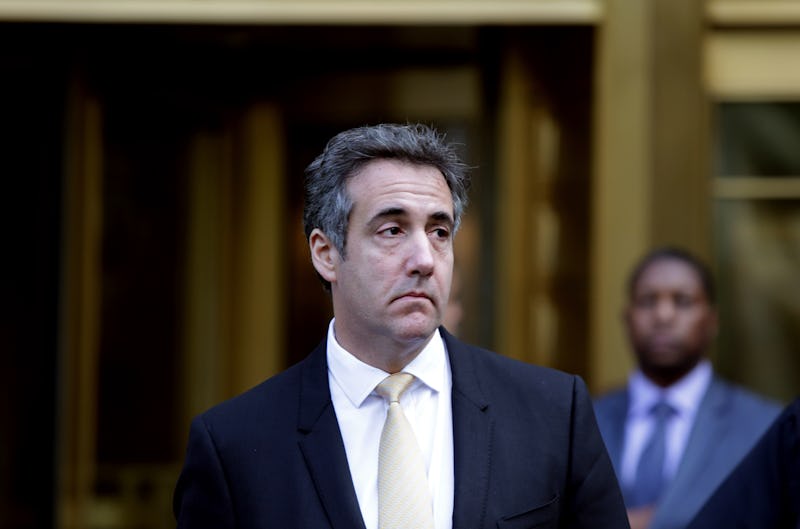 Yana Paskova/Getty Images News/Getty Images
In New York on Tuesday, President Trump's longtime personal lawyer pleaded guilty to eight criminal counts and, in the process, said Trump had directed him to commit a crime. On Wednesday, Aug. 22, Trump responded to Michael Cohen's guilty plea in a tweet, and it got seriously petty.
As Bloomberg reported, on Tuesday Cohen agreed to a plea deal in a New York federal court that saw him pleading guilty to eight criminal charges, including tax fraud and campaign finance violations. Following the plea agreement, Cohen's lawyer, Larry Davis, released a statement saying his client alleges that President Trump instructed his Cohen to commit a crime. Namely, Cohen alleges that Trump directed him to pay two women, Karen McDougal and Stephanie Clifford (otherwise known as Stormy Daniels) hush money to keep quiet about alleged affairs — in violation of campaign finance laws. As Davis wrote on Twitter:
Today he [Cohen] stood up and testified under oath that Donald Trump directed him to commit a crime by making payments to two women for the principal purpose of influencing an election. If those payments were a crime for Michael Cohen, then why wouldn't they be a crime for Donald Trump?
Trump did not immediately respond to the announcement of Cohen's guilty plea and the allegations his former attorney made against him on Tuesday. However, on Wednesday morning, he took to Twitter, saying:
If anyone is looking for a good lawyer, I would strongly suggest that you don't retain the services of Michael Cohen!
Notably, Trump has also always denied having affairs with both McDougal and Daniels, as CNBC reported in July. However, in May he did admit to reimbursing Cohen for a payment made to Daniels, but insisted money from the campaign was never part of the transaction.
Trump's statement echoes similar assertions made by his lawyer, Giuliani, immediately following news of the plea deal on Tuesday. Bloomberg reported that Giuliani decried Cohen's allegations against Trump, saying:
There is no allegation of any wrongdoing against the president in the government's charges against Mr. Cohen. It is clear that, as the prosecutor noted, Mr. Cohen's actions reflect a pattern of lies and dishonesty over a significant period of time.
Cohen worked for Trump as his personal lawyer from 2006 until May 2018. As recently as April (after the FBI raided Cohen's office), Trump offered praise for his former attorney on Twitter, writing, "Michael, a fine person with a wonderful family. Michael is a businessman for his own account lawyer, who I have always liked and respected. Most people will flip if the government lets them out of trouble, even if it means lying or making up stories. Sorry, I don't see Michael doing that."
However, Trump's tune changed after Cohen released a recording of Trump discussing the aforementioned alleged payment made to McDougal. On Twitter on July 25, Trump took Cohen to task for releasing the recording, writing:
What kind of a lawyer would tape a client? So sad! Is this a first, never heard of it before? Why was the tape so abruptly terminated (cut) while I was presumably saying positive things? I hear there are other clients and many reporters that are taped - can this be so? Too bad!
Following the release of the recording, Trump's lawyer, Giuliani, also called Cohen a "scumbag" during multiple television interviews in July.
Overall, Trump's response to Cohen's plea deal is perhaps unsurprising, given the allegations made by Cohen against the president and Trump's recently-expressed disdain for his former lawyer. It remains to be seen whether the president will comment further on Cohen's case in the future.