Trump's State Dept. Might Ban Diplomats From Using Terms Like "Sexual Health"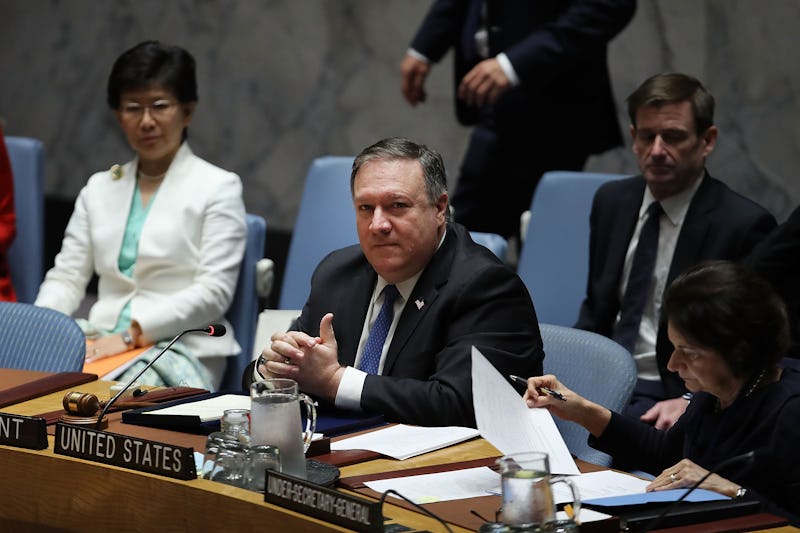 Spencer Platt/Getty Images News/Getty Images
Last week, internal Trump administration documents revealed possible plans for foreign policy protocols that could have devastating effects on women and girls worldwide. These documents showed that Trump's State Department may ban "sexual health" phrases from diplomats' rhetoric — something which could have widespread implications, as Foreign Policy (FP) reported. Bustle reached out to the Department of State for comment on the issue.
FP noted that it acquired internal memos from the Department of State that suggest banning the use of certain terminology in international diplomatic negotiations. As FP described, these terms include "sexual and reproductive health" (SRH) and "comprehensive sexuality education" (CSE). The outlet indicated that the memos suggest that the terms encourage abortion and sexual activity among youth, and therefore should not be used in diplomatic discussions or documents. As Politico pointed out, at this stage the diplomatic language requirements in these memos are considered a proposal. They would need Secretary of State Mike Pompeo's approval to become actual State Department guidelines.
When asked to comment on the potential new diplomatic directives, the State Department emphasized to FP that it does not comment on allegedly leaked materials. However, a spokesperson for the department did say that the United States is committed to improving the health of women and girls.
FP explained that the term "sexual and reproductive health" is widely accepted and used on the international stage, including by international development organizations and the United Nations. "Comprehensive sexuality education" is a phrase also commonly used by many global health organizations, though, according to FP, there is still some debate about its usage at the UN.
Many who work in global health fear that a change in U.S. diplomatic rhetoric could have far-reaching negative consequences related to sexual and reproductive health funding and outcomes. A press release from the Sexuality Information and Education Council of the United States (SIECUS) highlighted some of these concerns:
This leaked memo is the latest in a never-ending effort to strip all people — and especially young people — of their right to the sexuality information, education, and skills they need to ensure their lifelong health and well-being. We need to talk about sex. And, specifically, the fact that far too many people — both at home and abroad — lack medically accurate, age- and developmentally appropriate information about sex and sexuality.
Beirne Roose-Snyder, the director of public policy at the Center for Health and Gender Equity, also told FP that the proposed language changes could have significant real world consequences. "This is not a symbolic gesture," she said. "It is a real harm to the health and rights of individuals, families, and communities and undermines the prevention and treatment of HIV as well as the avoidance of maternal deaths and unwanted pregnancies."
It's not yet clear whether Secretary Pompeo plans to sign the memo and approve the reported changes, as Politico noted. However, it's apparent that many who work in the global health field perceive these proposed changes as highly problematic — and are concerned about them coming to fruition.