Trump Paid Tribute To Aretha Franklin And Sent "Warmest Best Wishes" To Her Family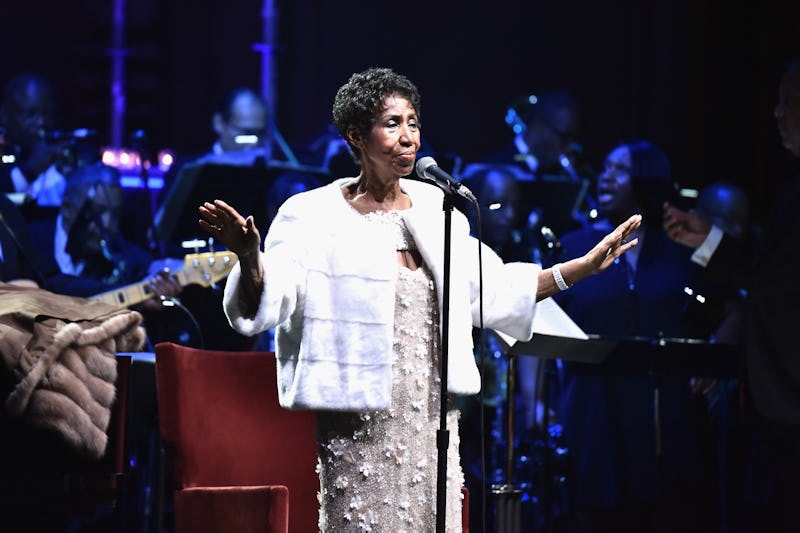 Theo Wargo/Getty Images Entertainment/Getty Images
Famously known as the "Queen of Soul," Aretha Franklin died on Thursday at 76 years old. Tributes to the renowned singer immediately began pouring in from all over the world, including from political leaders like the Obamas, the Clintons, and Donald Trump. In comments made to reporters on Thursday, Trump honored Aretha Franklin's legacy by sending the "warmest best wishes" to her family — and by suggesting that she had worked for him in the past, though he did not clarify in what capacity. Bustle has reached out to the White House for comment.
"I want to begin today by expressing my condolences to the family of a person I knew well," Trump told reporters. "She worked for me on numerous occasions. ... She brought joy to millions of lives and her extraordinary legacy will thrive and inspire many generations to come. She was given a great gift from God — her voice, and she used to well. People loved Aretha. She was a special woman. So just want to pass on my warmest best wishes and sympathies to her family."
According to the New York Daily News, Franklin has performed at multiple Trump properties in the past, and also attended the grand opening of the Trump International Hotel and Tower in New York City back in 1997. Although Trump and Franklin were photographed together at that grand opening, it is still unclear in what capacity Franklin may have worked for him, and Trump has already sparked criticism for suggesting that she had.
Trump's decision to send his "warmest best wishes" to Franklin's family also prompted skepticism from social media users, many of whom found his wording inappropriate. Some also contrasted his statement to the one issued by Barack and Michelle Obama, who said that "Aretha may have passed on to a better place, but the gift of her music remains to inspire us all." The Obamas also conveyed their "prayers and warmest sympathies" to Franklin's family.
Per Vanity Fair, Trump centered his tribute to Franklin on himself by remembering her as someone he had known well — despite not providing any indication that they had been close — and who had supposedly worked for him in the past. In light of his remarks, Vanity Fair's Erika Harwood suggested that the beginning of the Obamas' tribute was an indirect critique of the current president, even if that was not the intent:
"America has no royalty," the Obamas said in their statement honoring Franklin. "But we do have the chance to earn something more enduring."
But Trump and the Obamas were not the only political figures honoring Franklin and celebrating her legacy. Lawmakers from all over the country described Franklin as a legend whose voice and music would continue to live on from generation to generation. Georgia Rep. John Lewis recalled listening to Franklin's music after being released from jail following protests during the Civil Rights Movement, while Alabama Rep. Terri Sewell honored her as "a powerful black woman when black women were denied any power."
However, d the wide range of tributes that poured in from across the political spectrum, Trump's statement received a significant amount of attention on Thursday — largely because many of his critics found his tribute and his phrasing both generic and unsuitable.