Trump's Tampa Rally Has Twitter Wondering When He Last Visited A Grocery Store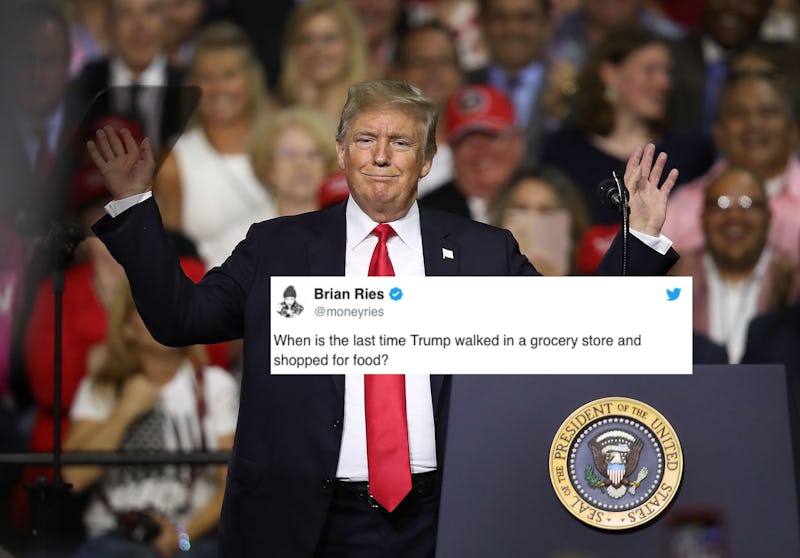 Joe Raedle/Getty Images News/Getty Images
There have been a number of doubtful claims made by President Trump during his time in office, many of which could not easily be fact-checked without the institutional memory and data resources of large news organizations. But his latest claim is one that the vast majority of Americans can fact-check with their own experience. Trump's grocery store ID remark during his Tampa rally on Tuesday has inspired a variety of jokes from people calling the president out for his false claim.
The president was in Florida to show support for Republican Rep. Ron DeSantis' bid for governor, according to The Hill. During his campaign rally, while he was arguing for more stringent voter ID laws, Trump tried to use examples in which he thought Americans would need to show picture identification. That's when he made the claim that an ID with a photo on it is required to buy groceries.
"You know if you go out and you want to buy groceries, you need a picture on a card. You need ID," Trump said. "The only time you don't need it, in many cases, is when you want to vote for a president, when you want to vote for a senator, when you want to vote for a governor or Congressman. It's crazy."
The remark has brought all kinds of sarcastic Twitter reactions out, with many wondering when the last time Trump actually bought anything in a grocery store was.
Another one was willing to take a gamble on it.
One NBC News reporter was reminded of President George H.W. Bush's own grocery faux pas, though he deemed Trump's mistake to be worse.
Another politics reporter had a sardonic response, calling out his groceries stores for not doing their (unknown) due diligence.
A CBS politics reporter pointed out that of all the things you do need an ID for, buying groceries is definitely not one of them.
Another brought up the hilariously elitist and out-of-touch matriarch from Arrested Development, whose quote about banana prices is a favorite for its blazing obliviousness.
The issue of showing a picture ID at the voting polls stems from the belief that voter fraud is easily committed without an identification requirement. According to The Hill, voting rights groups have challenged a number of voter ID laws across several different states, contending that these laws are meant to reduce voter turnout among minorities. These types of ID laws, advocates argue, create burdens for marginalized people, particularly the black population, the elderly, students, and people with disabilities. According to Slate, minorities are less likely to have IDs because many don't have a use for them. The most common voter ID used is a driver's license, but minorities are less likely to have those licenses because they are statistically more likely to be poor and reside in urban areas, where public transportation systems are available.
Republican lawmakers have pushed for more robust voter ID laws, saying that it's crucial in preventing ineligible people from voting, though there's been no evidence that electoral fraud is widespread.
It's not clear what Trump thinks the process of buying groceries is like. Perhaps he was referring to places that ask to see IDs from people who pay with credit cards. Or perhaps he's thinking of people who are buying alcohol and need to go through an age check. Still, the word he used was "groceries," and when you command the highest office in the land, a slip-up like that will lead to no shortage of social media ridicule.