Trump's Title X Abortion Funding Ban Could Change Everything For Women In America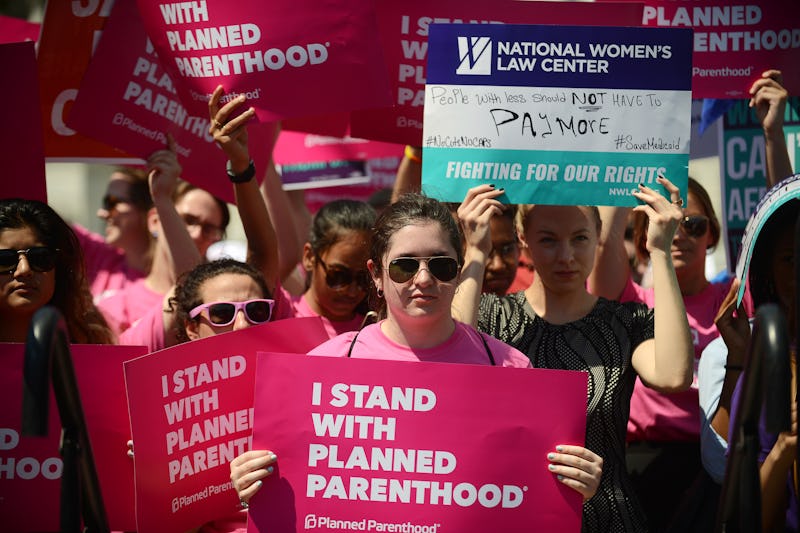 Astrid Riecken/Getty Images News/Getty Images
On Friday, the White House will unroll a plan intended to force Planned Parenthood to choose between offering abortion services and receiving federal funding. The resolution would allow the Trump administration to ban abortions under Title X, and if it's successful, it could dramatically hurt women's access to reproductive care and other health services.
Title X of the Public Health Service Act, enacted in 1970, directs federal money to family planning services. Section 1008 of the law stipulates that these funds should not be used for abortion procedures, and Planned Parenthood has always followed that rule: While many of its clinics do offer abortions, it pays for them with private funds. The money it receives from the federal government does support the clinics themselves, though, and other activities occurring within them.
For some time, anti-abortion activists have been advocating for the complete separation of Planned Parenthood from abortion services if the organization continues to receive federal funds. The Trump administration's new plan would do just that by preventing Title X money from going toward an organization that performs abortions. The measure is meant to back Planned Parenthood into a corner: If it passes, it could be the equivalent of defunding the organization. Planned Parenthood would have to stop providing abortions or rely entirely on private money to fund all of its extensive health care offerings.
The passage of the White House's plan would be bad news for women's health care. Here are many of the ways that the Title X abortion ban could negatively impact women's reproductive services.
It Could Hurt Low-Income Women's Ability To Access Health Care
Planned Parenthood offers services regardless of patients' ability to pay for them. The organization claims that over 20 percent of the U.S. counties that host its clinics don't have similar "safety-net providers" that serve everyone. A 2017 Congressional Budget Office analysis of the impact of defunding Planned Parenthood found that around 15 percent of people who live "in areas without other health care clinics or medical practitioners who serve low-income populations" would lose health care access if the organization was denied funding.
It Could Make It Harder For Women To Get Birth Control
A 2014 study from the Guttmacher Institute found that 20.2 million women in the United States were in need of contraception but couldn't afford it without a federal subsidy. Providing affordable birth control is one of Planned Parenthood's key services. The organization has been a pioneer in increasing contraception access: It participates in research studies, fights for legislation that expands health care access, and spearheads new delivery services.
Kami Geoffray of the Women's Health and Family Planning Association of Texas told FiveThirtyEight that Planned Parenthood often offers more birth control options than other places, as well as shorter wait times and better hours. "Other clinics don't necessarily have night or weekend hours," she said.
It Could Endanger Women's Lives
Without Planned Parenthood, many women would lose access to cancer screenings, life-saving abortion procedures, and important pregnancy services. A 2016 study from the University of Maryland studied the impact of Texas' decision to massively cut funding for the organization in 2011 and found that the number of women who died from pregnancy-related causes almost doubled in the following years.
It Could Lead To A Hike In Unplanned Births
The New England Journal of Medicine also analyzed the effect of defunding Planned Parenthood in Texas. Its 2016 report found that the number of births among lower-income women who'd previously received an injectable contraceptive from a Planned Parenthood clinic spiked 27 percent in the three years after the organization's budget was cut.
It Could Lead To A General Shortage Of Health Care Services
Planned Parenthood says that it helps over 4.6 million patients a year; it's also the largest provider within Title X and serves 40 percent of that program's clients, according to a 2017 Guttmacher Institute analysis. There's no way that other Title X providers — or even other health care providers in general — could absorb all of the patients who currently rely on Planned Parenthood. The American Public Health Association calls such an idea "ludicrous."
It Could Cause An STD Outbreak
When Indiana cut its funding for Planned Parenthood in 2011 (at the hands of its then-governor, Mike Pence), among the branches forced to shut down was a clinic in Scott County that had been the area's only HIV testing center. An outbreak of the virus occurred in the county two years later.