Trump's Abortion Funding Ban Could Be A Disaster For Planned Parenthood — But The Fight Has Just Begun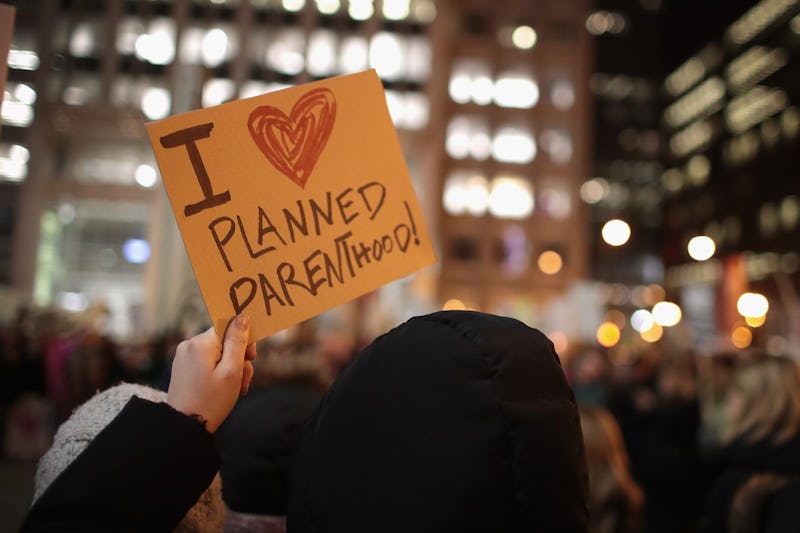 Scott Olson/Getty Images News/Getty Images
The White House is expected to announce plans Friday to reinstate a Reagan-era gag rule that would prohibit health care organizations who provide abortions or abortion referrals from receiving federal funding through Title X. The Title X program provides funding for contraception, Pap smears, cancer screenings, breast and pelvic exams, and pregnancy and sexually transmitted disease testing among other reproductive health services. Trump's domestic gag rule would impact Planned Parenthood's funding directly despite the fact that federal family planning funds are already barred from being used to cover the cost of abortion procedures.
"This is an attempt to take away women's basic rights, period," Dawn Laguens, the executive vice president of Planned Parenthood Federation of America, said Friday, cautioning that the new rule could undermine women's reproductive health care. "Everyone has the right to access information about their health care — including information about safe, legal abortion — and every woman deserves the best medical care and information, no matter how much money she makes or where she lives. No matter what. They won't get it under this rule."
Health care organizations like Planned Parenthood are currently prohibited from using federal funding to pay for abortions. However, conservatives looking to roll back abortion access have long pushed for defunding organizations that provide, refer, or counsel abortion as a family planning method by taking away Title X money. Under the rule, which is expected to be announced by the Department of Health and Human Services as early as Friday, federally-funded organizations would be forced to not only stop providing abortions but also refrain from referring patients for abortions or risk losing their federal family planning funding. It was unclear as of Friday morning whether or not the rule would also explicitly prohibit Title X-funded health centers from even discussing or counseling abortion with patients.
Critics of the rule say it will undermine women's care in a major way by restricting what methods of care health care providers can discuss or offer to patients. "This 'gag rule' is not only unconscionable, but it undermines medical ethics by forcing health care professionals to withhold accurate and timely medical information from patients," Jenn Conti, a fellow with Physicians for Reproductive Health, told Politico. "If I can't mention the word 'abortion,' then I am not providing my pregnant patients who want to know all of their options with complete, accurate, unbiased medical information."
But anti-abortion groups and supporters of the rule, which has reportedly been named The Protect Life Rule, are hailing it as a step in the right direction. "We thank President Trump for taking action to disentangle taxpayers from the abortion business," Marjorie Dannenfelser, president of the anti-abortion group Susan B. Anthony List, said in a statement Friday. "President Trump has shown decisive leadership, delivering on a key promise to pro-life voters who worked so hard to elect him. This is a major victory which will energize the grassroots as we head into the critical midterm elections."
As the largest health care provider in the Title X program, serving at least 40 percent of Title X clients, Planned Parenthood stands to be significantly impacted by the Trump administration's new rule as it would effectively pull millions of dollars in federal funding from them. While the rule's language and specific restrictions has yet to be fully revealed, Planned Parenthood has said it doesn't plan on rolling back the health care services it provides. "We have, I think, been very clear," Laguens told reporters in a press call Friday. "Planned Parenthood has an unwavering commitment to ensuring that everyone has access to the full range of reproductive health care no matter what, and that includes abortion."
The health care provider has also not ruled out the possibility of challenging the rule in court. "As always we will do everything we can to fight for our patients and ensure that all people can continue to access the care they need through us and the Title X program," Carrie Flaxman, a staff attorney for Planned Parenthood Federation of America told reporters Friday.
The Office of Management and Budget did not return Bustle's request for a comment and it is unclear exactly when the Trump administration plans to announce or implement the new policy.