What The Decision On Trump's Abortion Rule Means For Planned Parenthood & Other Clinics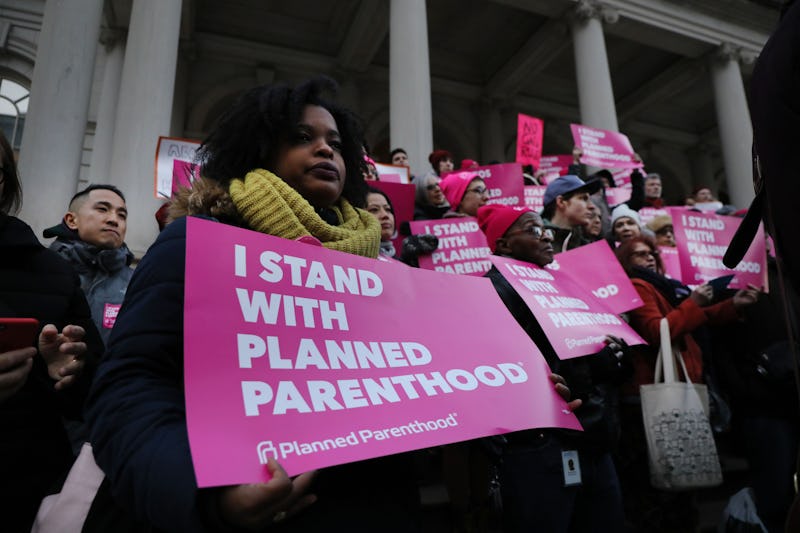 Spencer Platt/Getty Images News/Getty Images
In May, the Trump administration put a "gag rule" in place that stripped federal Title X funding from any organization that referred patients to abortion providers or provided abortions themselves. Although Planned Parenthood and over 20 state attorneys general immediately filed a lawsuit to keep the providers receiving those important funds, a court ruled Thursday that the Title X abortion rule will be now be allowed to go into effect.
Under the terms of this rule, no reproductive health care provider can continue to receive Title X funds if they talk to patients about abortion or provide them with care, and this part of the rule will go into effect immediately. The rule also stipulates that in 2020, providers will be required to physically separate the facilities providing abortion services from those that provide other services, as The Washington Post explained.
According to a news release, Planned Parenthood has a "limited" emergency fund in place that will allow clinics to continue to provide care. Leana Wen, the President of Planned Parenthood Federation of America, said in a statement that the organization will also be "immediately seeking emergency relief" from the appeals court.
"Planned Parenthood will not let the government censor our doctors and nurses from informing patients where and how they can access health care," Wen said. "We will continue to fight the Trump administration in the courts and alongside champions in Congress to protect everyone's fundamental right to health care."
Title X was put in place in 1970, as the only federal program aimed at making sure all Americans have access to family planning counseling and services, according to Bloomberg Law. Part of the law always required that funds not go to pay for abortions, Bloomberg Law wrote. That section of the law has not previously been interpreted to mean that Title X funds couldn't go to organizations that provided or referred patients to abortion services, as long as the funds didn't cover the abortions themselves.
In this ruling, though, the panel of Republican-appointed judges claimed that the Trump administration was likely to win in court because the gag rule was in line with this element of Title X, according to Politico.
The nation's Title X-funded family planning providers — who are united in their determination to keep abortion as an available option for their patients — are not stopping the fight, though, according to Think Progress.
"Despite the devastating effects on Title X care, the government has pushed us one step closer to implementation of its harmful regulation to overhaul the nation's family planning program," Clare Coleman, president and CEO of the National Family Planning & Reproductive Health Association, told Think Progress in a statement. "The government is relentless in its drive to impose this ideological rule; and we remain equally intent on exercising all of our legal options to prevent the Trump administration from succeeding."