A Court Just Stopped Trump's Transgender Military Ban From Being Enforced — For Now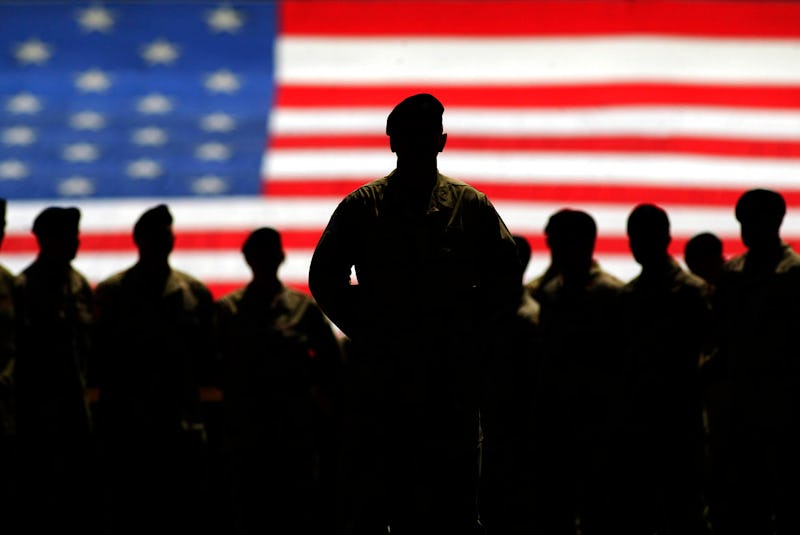 Ronald Martinez/Getty Images Sport/Getty Images
Amid the news of the indictment of former Trump campaign manager Paul Manafort came one more setback for President Trump. A court has stopped Trump from banning transgender people from serving in the military.
In a document outlining the reasoning behind the block, Judge Colleen Kollar-Kotelly asserted that Trump's ban was "driven by a desire to express disapproval of transgender people generally," as the plaintiff had claimed. At the time Trump announced the ban, he wrote on Twitter:
After consultation with my Generals and military experts, please be advised that the United States Government will not accept or allow Transgender individuals to serve in any capacity in the U.S. Military. Our military must be focused on decisive and overwhelming victory and cannot be burdened with the tremendous medical costs and disruption that transgender in the military would entail. Thank you.
And Kollar-Kotelly took those tweets into account. After noting that the "discrimination in this case was certainly of an unusual character," she explained that the "military had recently determined that permitting transgender individuals to serve would not have adverse effects on the military and had announced that such individuals were free to serve openly."
She then pointed out that because of that announcement, transgender service members identified themselves to their officers, and then Trump declared on Twitter — "without any of the formality or deliberative processes that generally accompany the development and announcement of major policy changes that will gravely affect the lives of many Americans" — that trans people could not participate in the military in any way.
The judge's ruling was in response to a lawsuit filed by transgender service members. Kollar-Kotelly ultimately decided that the service members would likely win their case. "These circumstances provide additional support for Plaintiffs' claim that the decision to exclude transgender individuals was not driven by genuine concerns regarding military efficacy," she said.
"This is a complete victory for our plaintiffs and all transgender service members, who are now once again able to serve on equal terms and without the threat of being discharged," Shannon Minter, legal director of the National Center for Lesbian Rights and one of the attorneys representing the plaintiffs, said in a statement. "We are grateful to the court for recognizing the gravity of these issues and putting a stop to this dangerous policy, which has wreaked havoc in the lives of transgender service members and their families."
Meanwhile, Lauren Ehrsam, a spokesperson for the Justice Department, told the Associated Press, "We disagree with the court's ruling and are currently evaluating the next steps." The department could potentially appeal the ruling.
While the judge stopped the outright ban from taking place, she did allow Defense Secretary James Mattis to continue his six-month delay on the transgender enlistment policy. The delay is reportedly meant to allow military officials to review the policy and determine whether allowing transgender people to enlist in the military will affect the "readiness and lethality" of the armed force.