Trump's Travel Ban Has A Huge Problem SCOTUS Can't Solve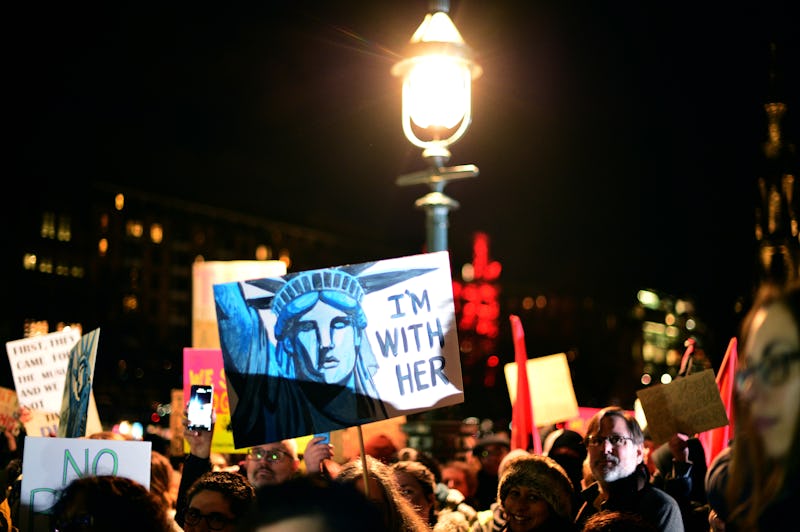 Mark Runnacles/Getty Images News/Getty Images
Since September 11, 2001, there have been 10 major attacks related to Islamist extremist ideology in the United States. But that doesn't mean President Donald Trump's travel ban would have prevented previous terrorist attacks. According to a new analysis by the Washington Post, none of the assailants in those incidences hailed from any of the six Muslim-majority countries targeted in the executive order.
On Monday, the Supreme Court gave the Trump administration a partial victory by permitting a modified version of his executive order to be instated. The highest court in the land is set to hear the case for the controversial ban when it reconvenes in October.
The six countries whose residents are now on the U.S. no-entrance list are Libya, Iran, Somalia, Sudan, Syria, and Yemen. The Trump administration claims that this is necessary because the residents of those six nations pose a threat to national security. "That's right, we need a TRAVEL BAN for certain DANGEROUS countries, not some politically correct term that won't help us protect our people!" Trump tweeted earlier this month.
Despite the president's claim, the Supreme Court added a significant exception to the second attempt at travel ban, which the president had already called a "watered-down" version of the original. The Supreme Court ruled that a travel ban could not be "enforced against foreign nationals who have a credible claim of a bona fide relationship with a person or entity in the United States." This means that students attending American universities, employees of U.S.-based companies, or any person with a family member in the U.S. can continue to travel to the States during the ban.
However, the Washington Post article shows that since 9/11, attacks on Americans have mostly been executed by U.S. citizens or permanent residents. The Post also noted that the countries from which these attackers have actually hailed — Egypt and Saudi Arabia, for example — are not included in the travel ban at all.
In a statement, Trump said of the Supreme Court's decision: "Today's ruling allows me to use an important tool to protect our Nation's homeland. I also am particularly gratified that the Supreme Court's decision was 9-0."
However, others have expressed concern. "We're disappointed with this decision. We believe it will not help in confronting terrorism and extremism, but rather will increase feelings among the nationals of these countries that they are all being targeted," Ahmed al-Nasi, an official in Yemen's Ministry of Expatriate Affairs, told Reuters.
Interestingly, though, the American Civil Liberties Union reacted to the ruling with optimism and defiance. It tweeted out: "The Supreme Court largely denied Donald Trump's request to put his fundamentally unconstitutional Muslim ban into immediate effect and will review the ban at a later date."
Then, in another tweet, it simply added: "We will be ready. #SCOTUS."