Memes & Tweets About Trump's Turkey Pardon Poke Fun At The Bizarre Tradition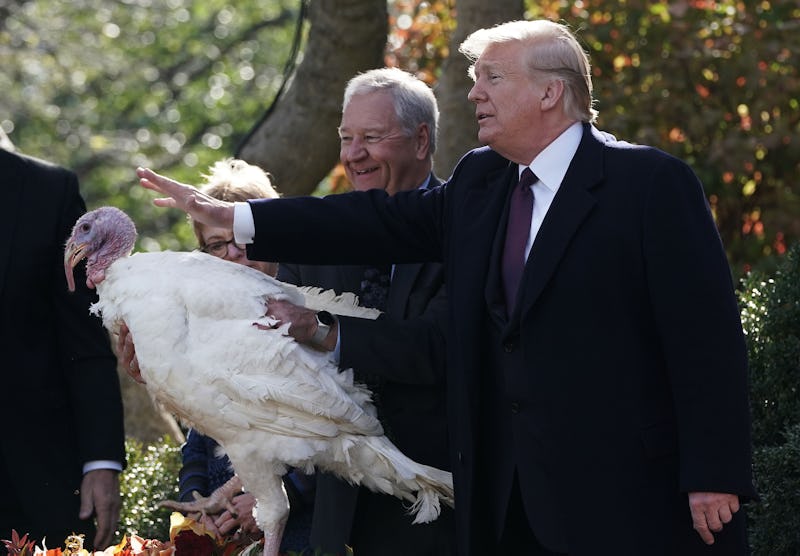 Alex Wong/Getty Images News/Getty Images
On Tuesday, President Trump took part in the long-running White House tradition of "pardoning" a turkey for Thanksgiving. After cracking a few jokes about Democrats, recounts, and the 9th Circuit Court of Appeals, Trump announced that he was issuing a presidential pardon to "Peas," the turkey in question. The event was fodder for jokesters on social media, and the memes and tweets about Trump's turkey pardon poked fun at the strange tradition.
Before the event, the White House held an online vote on which of two turkeys — Peas and Carrots are their names — would be pardoned. Peas won the vote, although the White House made clear that neither turkey would be slaughtered regardless of the outcome. At the event, Trump joked that Carrots demanded a recount and refused to concede, and later suggested that the 9th Circuit Court of Appeals — which has blocked many of Trump's signature policies — might overturn the pardon.
In a sense, Peas wasn't the only one to be "pardoned" by Trump on Tuesday. Minutes before the turkey event, Trump released a statement suggesting that his administration will take no action against Crown Prince Mohammad bin Salman of Saudi Arabia; the CIA recently concluded that Salman ordered the killing of Saudi journalist Jamal Khashoggi, but Trump said Tuesday that "we may never know all of the facts" and that the United States "intends to remain a steadfast partner of Saudi Arabia."
Social media was flooded with memes and tweets about the turkey pardon. Here are some of the best.