Firefighters Are Strongly Condemning Trump's Tweet About The California Wildfires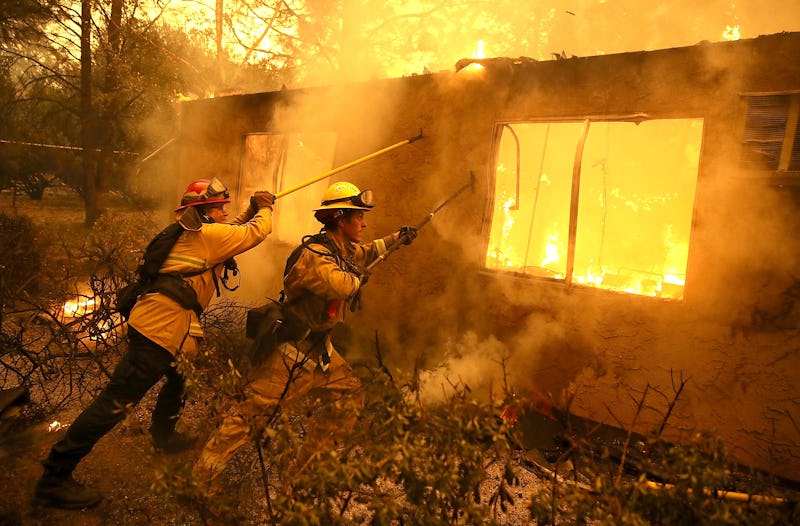 Justin Sullivan/Getty Images News/Getty Images
California firefighters are pushing back on President Donald Trump after he blamed fires currently blazing across California on what he described as the state's "poor" forest management. Leaders from multiple firefighters' organizations, including the California Professional Firefighters (CPF), have moved to condemn and correct Trump's tweet about the California fires.
"The President's message attacking California and threatening to withhold aid to the victims of the cataclysmic fires is ill-informed, ill-timed and demeaning to those who are suffering as well as the men and women on the front lines," CPF President Brian K. Rice said in a statement. "The president's assertion that California's forest management policies are to blame for catastrophic wildfire is dangerously wrong."
On Saturday, Trump blamed the fires on what he called poor forest management in California and threatened to pull federal funding from the state. "There is no reason for these massive, deadly and costly forest fires in California except that forest management is so poor," he tweeted. "Billions of dollars are given each year, with so many lives lost, all because of gross mismanagement of the forests. Remedy now, or no more Fed payments!"
Trump's Saturday tweet was the first time the president had commented on the fires. And despite the outrage and criticism his tweet sparked, Trump again moved to blame forest management in a second tweet Sunday. "With proper Forest Management, we can stop the devastation constantly going on in California. Get Smart!" he tweeted.
In his statement, Rice refuted Trump's claim that California was to blame. "Wildfires are sparked and spread not only in forested areas but in populated areas and open fields fueled by parched vegetation, high winds, low humidity and geography," he said. Moreover, nearly 60 percent of California forests are under federal management, and another one-third under private control. It is the federal government that has chosen to divert resources away from forest management, not California."
In a video message to CPF members, Rice said he was "pissed off" by the president's tweet. "Quite frankly, the president of the United States owes you and every Californian an apology," he told members.
Local chapters of the International Association of Firefighters have also responded to the president's tweet. "Mr. President, with all due respect, you are wrong," the Pasadena Firefighters Association (IAFF Local 809) wrote in a tweet signed by Scott Austin, the association's president. "The fires in So. Cal are urban interface fires and have NOTHING to do with forest management. Come to SoCal and learn the facts & help the victims."
The Pasadena Firefighters Association reiterated its invitation to the president in a second tweet posted a few hours later. "Mr. President, we welcome you to come to CA, assist the victims and talk to professional #firefighers about the #CaliforniaFires and what you can do to help," the organization tweeted.
In Northern California, 23 people have been killed and nearly 7,000 structures have been destroyed in the Camp Fire, which continues to burn near Chico. In Southern California, the Woolsey Fire has so far destroyed 83,275 acres of land and at least 150 homes near Los Angeles while the Hill Fire in Ventura County has burned more than 4,500 acres.