Trump Is Inspiring Thousands Of Women To Run For Office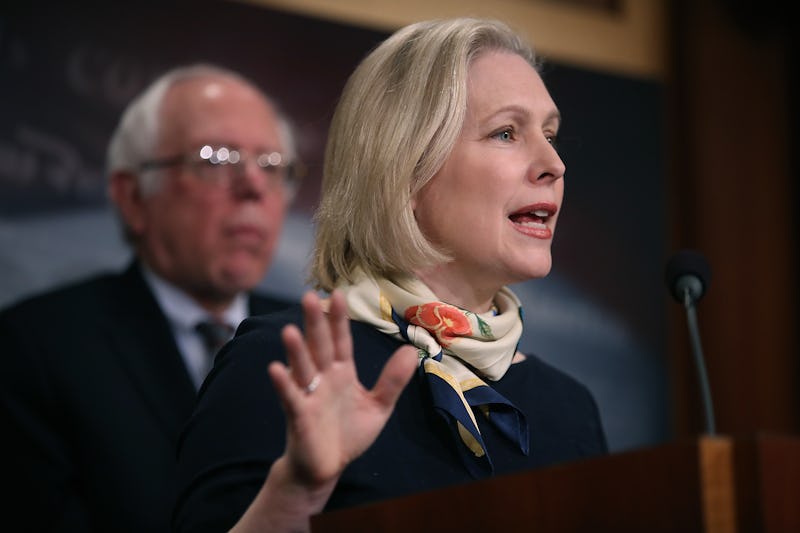 Justin Sullivan/Getty Images News/Getty Images
Although Donald Trump's presidency has arguably been a disaster (depending on who you ask), it appears to be having at least one positive outcome. According to EMILY's List, the progressive organization devoted to recruiting women to run for elected office, Trump's election is inspiring women to seek political office at much higher rates than the previous year, with the number of women expressing interest in running skyrocketing between the 2016 election and April.
Stephanie Schriock, the president of EMILY's List, told the Washington Post that her organization has seen a surge in interest since the election. Schriock said that during the 2016 cycle, the group spoke with around 900 women who'd expressed interest in running for office — but in the five months since the election, over 11,000 women from all 50 states have approached the organization about running for school boards, state legislatures, or Congress. That's a twelvefold increase, and Trump's presidency isn't even 100 days old yet.
"Over 10,000 women isn't a ripple — it's a wave," Schriock said in a statement in March. "The thousands of women who have reached out to EMILY's List since the election are a testament to the energy, determination, and resistance we've seen from Day One of Donald Trump's presidency." Schriock told the Post that several dozen women she's spoken to are seriously considering running for the House of Representatives in 2018.
Studies have shown that female political candidates are elected at roughly the same rate as their male counterparts. Yet women are woefully underrepresented in Congress. Only 21 percent of the Senate and 19 percent of the House is female, according to the Center for American Women and Politics. The numbers are only slightly higher for elected offices at the state and local level.
The problem is that women are less likely to run for office to begin with. According to one study on the topic, there are a number of reasons this is the case. When compared with men, women are less likely to be recruited to run for office, more likely to have negative reactions to modern political campaigns, more likely to be responsible for household responsibilities, and more likely to believe that they'll face sexist treatment in media coverage of their prospective campaigns.
All of these factors can play a role in dissuading women from running for office, and that's the problem EMILY'S List is seeking to fix. The organization has helped elect hundreds of women since its founding 30 years ago, including more than 100 representatives, 23 senators, and 12 governors.
As for the recent influx of women who've expressed an interest in running, the associate director of the Center for American Women And Politics said that there are two main factors.
"Some of it is absolutely a reaction to President Trump and his policies," Jean Sinzdak told NPR affiliate KQED in February. "For others, it is Hillary Clinton's loss," which Sinzdak says "sort of woke [women] up to the idea that maybe we haven't made as much progress as we thought."
For every action, there's an equal and opposite reaction, and it seems that the elevation of an unabashed misogynist to the White House has prompted quite the reaction.