Trump Tweeted About "Wacky Omarosa" & It's Like 'The Apprentice' Never Ended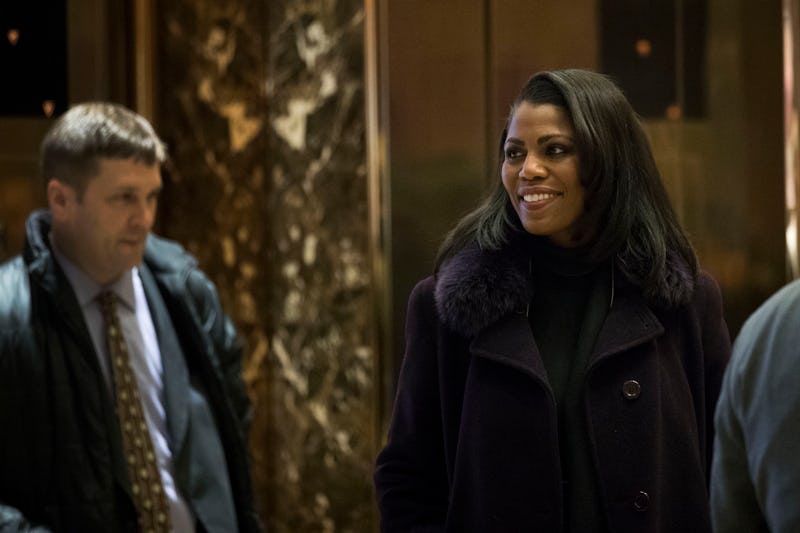 Drew Angerer/Getty Images News/Getty Images
As part of a media tour promoting her new book about life in the Trump White House, former White House staffer Omarosa Manigault Newman hasn't been pulling any punches in her descriptions of how things worked under the nation's 45th president. Now, Trump has responded to Omarosa with a sexist tweet directed at his former aide and Apprentice contestant — and its tone is straight out of the show that Trump and Omarosa once appeared in together.
"Wacky Omarosa, who got fired 3 times on the Apprentice, now got fired for the last time," Trump wrote on Twitter on Monday morning. He continued his attack on Omarosa over two tweets:
She never made it, never will. She begged me for a job, tears in her eyes, I said Ok. People in the White House hated her. She was vicious, but not smart. I would rarely see her but heard really bad things. Nasty to people & would constantly miss meetings & work. When Gen. Kelly came on board he told me she was a loser & nothing but problems. I told him to try working it out, if possible, because she only said GREAT things about me - until she got fired!
While there are no reports confirming or denying whether Trump is correct in his claims that Omarosa would not treat people nicely and frequently miss work, the tone of the tweet and what he says about his opinion of her firing directly conflicts with the recording that Omarosa released on NBC's Today of Trump finding out that White House Chief of Staff John Kelly had fired her.
"You know they run a big operation, but I didn't know it," Trump said in the recorded audio, after apparently being shocked at the news of Omarosa's departure. "I didn't know that. Goddamn it. I don't love you leaving at all."
In his tweets on her departure, though, Trump insulted Omarosa multiple times on multiple fronts — and that included several sexist insinuations. In calling her "wacky," Trump reused a sexist slur that he had already used for Rep. Frederica Wilson. He also implied that she only got the White House post because she "begged [him] for a job, tears in her eyes."
Trump then added a third tweet about Omarosa, somewhat addressing his comments in the previous two tweets:
While I know it's "not presidential" to take on a lowlife like Omarosa, and while I would rather not be doing so, this is a modern day form of communication and I know the Fake News Media will be working overtime to make even Wacky Omarosa look legitimate as possible. Sorry!
CNN reported that Trump had previously referred to Omarosa as a "lowlife" at a meeting with his supporters while in New Jersey, which now makes that a repeated insult.
While he does defend the decision to "take [Omarosa] on," the tweets leave open the question of why he hired her in the first place. Taken at face value, the tweets reveal that the president can be convinced to hire a person with a direct emotional appeal and "because she only said GREAT things about [him]." During the campaign, Trump told the Washington Post that he would hire "only the best people," but his claims about how he decided to hire Omarosa suggest that he doesn't exactly have the most rigorous selection process to determine who is the best. Plus, if he hired one person who he's now repeatedly referring to as "wacky" and a "lowlife," then it raises the question of who else is currently working in the White House.