Trump's Rally Was His Chance To Address Michael Cohen — Here's What Went Down Instead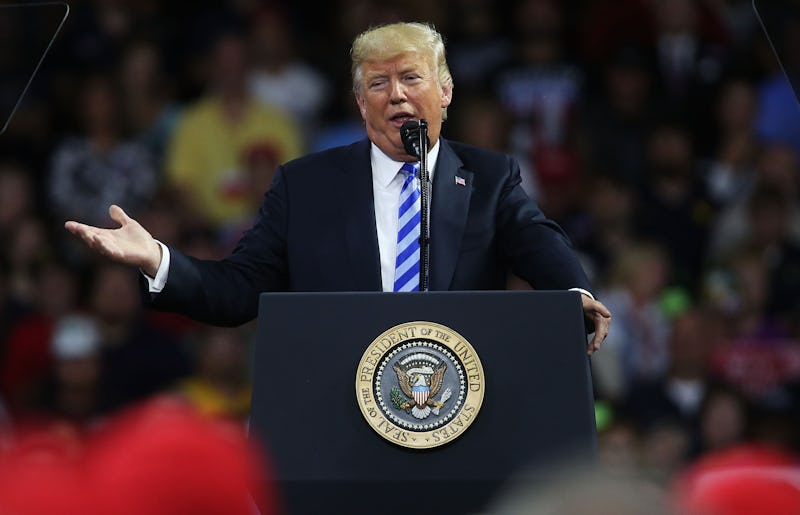 Spencer Platt/Getty Images News/Getty Images
On Tuesday, two of President Trump's former associates learned in separate cases that they could be facing significant prison time on a host of federal charges. Yet just hours later, Trump's West Virginia rally ignored the Michael Cohen and Paul Manafort trials almost entirely, instead mostly focusing on a variety of unrelated issues.
On Aug. 21, Cohen, Trump's longtime personal lawyer, pleaded guilty to eight criminal counts, which could land him in prison for over five years. In a separate case, former Trump campaign manager Manafort was convicted of eight criminal counts and could face a maximum of 80 years in prison (though, as Reuters reported, experts believe he will receive far less time). However, while Manafort's and Cohen's trials dominated Tuesday's news cycle, Trump never specifically mentioned either man during his speech at the West Virginia rally.
Instead, as the Washington Post reported, Trump's speech reflected some of his classic rally talking points. These included discussing tariffs on imported goods, condemning Democrats for their rhetoric, and lamenting what he believes are the perils of undocumented immigration, among other topics. The president only once indirectly referenced the broader investigation of his associates — by condemning the special counsel's probe and referring to it as a "witch hunt."
As Trump put it during his speech,
Fake news and the Russian witch hunt. We've got a whole big combination ... Where is the collusion? You know, they're still looking for collusion. Where is the collusion? Find some collusion!
Manafort was indicted by special counsel Robert Mueller as part of Mueller's investigation. Cohen was indicted by federal authorities in New York after Mueller gave information he found during his probe to the U.S. Attorney's Office in the state's Southern District.
President Trump has repeatedly denied any collusion between his campaign and Russia. He has not faced any charges in the special counsel's investigation.
Trump's reluctance to directly discuss Manafort and Cohen's trials during his West Virginia speech is perhaps unsurprising, given his occasional history of remaining mum for some time on controversial issues. For example, as CNN reported in April 2018, Trump waited for months to directly address allegations that he had had an affair with adult film actress Stephanie Clifford (otherwise known as Stormy Daniels) and that his former lawyer, Cohen, had allegedly paid Daniels to keep the affair quiet.
News of the alleged payment first became public via a Wall Street Journal article in Jan. 2018, though Trump himself did not directly comment on it until April. As CNN reported, at that time, Trump answered questions from reporters indicating he did not know about the alleged payment made from Cohen to Daniels. However, notably, those representing Trump, including the White House, did deny the alleged affair and denied Trump's knowledge of the alleged payment in the months prior to April.
While Trump did not mention Manafort or Cohen in his speech, he did briefly mention Manafort while chatting with reporters in West Virginia ahead of the event, as the Washington Post noted. In part, Trump said, "I feel very badly for Paul Manafort. Again, he worked for Bob Dole, he worked for Ronald Reagan. He worked for many people. And this is the way it ends up." The paper noted that the president did not respond to questions about Cohen.
Overall, while Trump could have used the West Virginia rally to address Cohen and Manfort's trials, he instead chose to avoid the topic, perhaps falling in line with a past tendency to hold off on discussing certain controversial issues. Time will tell if and when Trump will more readily share his thoughts on the trials of both of his former associates.