This Is How Much Trump's White House Furniture Is Costing Taxpayers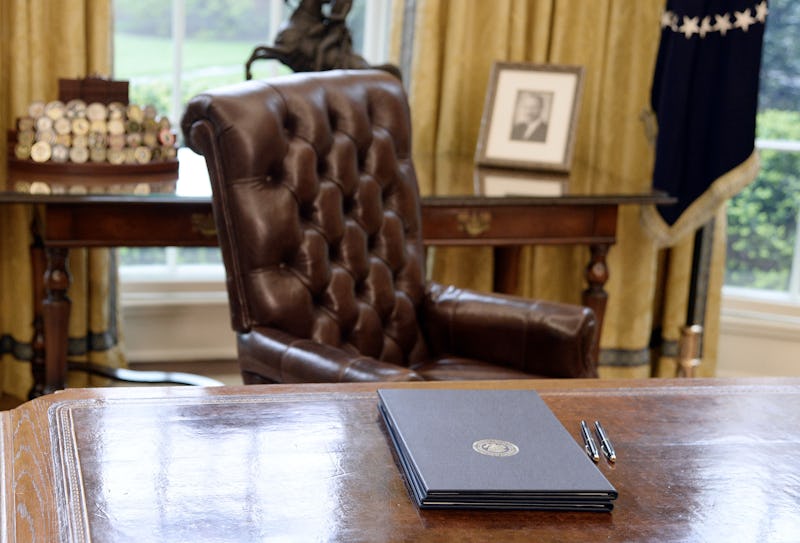 Pool/Getty Images News/Getty Images
As if paying taxes wasn't already painful enough, a new report shows that your hard-earned cash may be funding fancy furnishings for the Oval Office. Mic reported on Wednesday that President Trump has spent $133,000 of taxpayer money on furniture since he took office in January — roughly 2.6 times what former President Barack Obama spent in the same span of time.
Federal procurement records for the Executive Office of the President show that Trump spent almost $35,000 on White House furniture in the month of May alone. By comparison, Obama had spent just over $50,000 in the first five months of his first term in office in 2009.
One of Trump's more extravagant furnishing purchases has been a custom conference table from the Kittinger Company that cost a whopping $13,000.
The luxury company prides itself on providing "custom furnishings for many of the finest offices in this county and throughout the world," and its expensive tables have made their way to the White House in the past. According to Mic, President Richard Nixon ordered a Kittinger conference table during his time on Pennsylvania Avenue, but with one big difference: he paid for the table with his own money.
To be fair, one of the most troubling aspects of this report is that so many thousands of taxpayer dollars seem to be spent on White House furniture each year, regardless of who's sitting in the Oval Office. Although Trump is so far greatly outpacing Obama in his furniture spending, Obama did spend $70,000 in June 2009, compared to the $17,000 Trump has so far spent this month.
That still puts Trump about $24,000 ahead of Obama's furniture spending when comparing the first five months of their presidencies, according to The Hill — and what's worse, this isn't the first time Trump's spending habits have raised red flags for taxpayers.
Trump's frequent weekend trips to his Mar-a-Lago golf resort in Palm Beach, Florida have to date cost taxpayers over $20 million. The Center for American Progress Action Fund, which founded a website, IsTrumpAtMaralago.org, estimates that each trip to the resort costs approximately $3 million. Trump has so far visited at least seven times since his inauguration.
As a private citizen, Trump frequently scorned Obama during his presidency for using taxpayer money to play golf on the job. Unfortunately for tax payers, it looks like Trump is not necessarily leading by example.