TSA Workers Will Reportedly Receive A Little Money To Get Through The Shutdown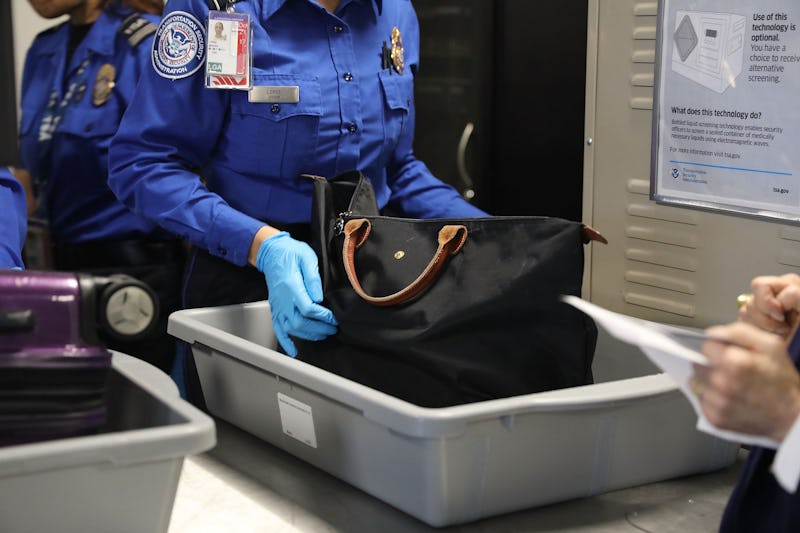 Spencer Platt/Getty Images News/Getty Images
Lines at airport security have grown longer and longer — but the experience is more difficult for Transportation and Security Administration (TSA) workers than travelers, as they have been expected to work without pay during the government shutdown. Now, though some relief is headed their way — even if it's not that much. TSA workers will receive $500 and a day's pay to "alleviate some of the financial hardship" they are experiencing.
The move was announced by Administrator David Pekoske on Twitter Friday. The $500 is technically a bonus "in recognition of [officers'] hard work during yet another busy holiday travel season, maintaining the highest of security standards during an extraordinary period."
In addition, the one day's pay is for anyone who was scheduled and worked on Dec. 22, which was the last day of pay period 25. Pekoske wrote that he and his team decided it was "legally & financially" allowed to move forward making the bonus and Dec 22. payments. The final pay period of the year, pay period 26, remains on hold. "I'm able to do this because of unique authorities provided TSA in law," he tweeted.
Pekoske also acknowledged it was not what workers deserve:
While I realize this is not what you are owed for your hard work during pay period 26 and what you deserve, I hope these actions alleviate some of the financial hardship many of you are facing.
The government shutdown, now the longest in U.S. history, shows no sign of ending. Republican Senate Leader Mitch McConnell has said he will not bring a bill to a vote that President Trump won't sign and painted the standoff as "between a Democratic House, the Democrats in the Senate and the President."
This stalemate has resulted in a growing number of TSA officers calling in sick, knowing that they would be showing up for work with no pay. CNN reported that Pekoske had a meeting with airport security directors from around the country on Monday to discuss the shutdown and how certain effects like fewer TSA officers could affect travelers. Federal workers, by law, cannot strike.
The TSA union has also warned that officers are quitting, potentially leaving the federal agency severely understaffed. "Some of them have already quit and many are considering quitting the federal workforce because of this shutdown," American Federation of Government Employees TSA Council President Hydrick Thomas said in a statement. "The loss of officers, while we're already shorthanded, will create a massive security risk for American travelers since we don't have enough trainees in the pipeline or the ability to process new hires."
Members of Congress, including Rep. Alexandria Ocasio-Cortez, have criticized the effect of the shutdown on TSA officers. "Workers rely on services like childcare and transit to work in the first place," Ocasio-Cortez wrote on Twitter. "Those services don't take IOUs. It's not that workers 'refuse' to work w/o a paycheck. Without pay, many can't."
Workers have also expressed their frustration with the situation. "It's profoundly unfair and almost disrespectful to put us in the middle of this debate over border security when we have absolutely nothing to do with it," TSA officer Mike Gayzagian told CBS News.
For the time being, that's the fact of the matter — along with a day's pay and $500.